Sights of Sheboygan
Surfers, sculptors and sausage makers all follow their passion in this Wisconsin town.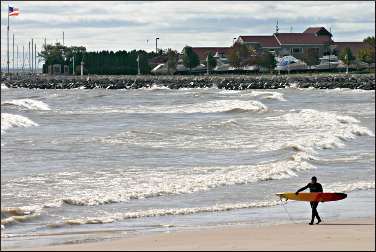 As far as most people know, there's nothing but sausage in Sheboygan.
This town on Lake Michigan is the bull's-eye of brats, for sure, and serious eaters go straight for a double on Sheboygan hard roll.
But serious sightseers come to Sheboygan for other reasons: for surfing, for quirky sculptures, and for sand dunes.
The town's central location on Wisconsin's coastline, which first made it a shipbuilding hub, now brings surfers.
On the first morning of October, they'd gotten up at dawn to ride the last waves of a gale the previous day, and black figures bobbed in the waters off Deland Park, occasionally riding a wave onto the white-sand beach.
"Being in the middle of the lake, the north winds work here, and the south winds work here," said Alex Marks. "Some days it's like a machine, with one wave right after another, peeling perfectly."
Surfers call it the Malibu of the Midwest: "For lake surfing, this is mecca," Marks said.
The surfers are fun to watch. But another mecca is up over the hill, on the edge of downtown.
Ever since John Michael Kohler sold his first bathtub there in 1883, Sheboygan's fortunes have been tied to his family.
Kohlers have given the town mayors, factories, golf courses, a state park — but also an arts center and foundation whose urge to preserve has made Wisconsin the epicenter of outsider art.
Its lovingly preserved "art environments" by artists who lacked money, education and polish — everything except passion — are scattered throughout the state, on the grounds of the John Michael Kohler Arts Center and even inside its walls.
Loy Bowlin's "Beautiful Holy Jewel Home of the Original Rhinestone Cowboy" in Mississippi landed there after the Kohler Foundation rescued it from the wrecking ball and brought it to Sheboygan.
A classic example of outsider art, it's a real house, and every inch of it is covered by glitter, tinfoil, Christmas ornaments, rhinestones and collages cut from magazines. When it was reassembled inside the arts center, it redefined "art" for many people who saw it.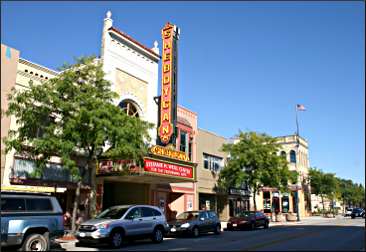 Dorothy Sherman came up from the Milwaukee suburbs to see it with her friend Pat Ulman.
"This was a guy who was a nobody, and now he's in an art museum," she said. "See — follow your passion, Pat."
The exhibit fascinated her, Sherman said, because the artist had dared to think outside the box.
"I'm the kind of person who always takes a class so I do it right," she said. "But these people don't care about that. They don't care what people think about them. They just do it."
Before "just do it" was an advertising slogan, it was a way of life in Sheboygan.
John Michael Kohler just did it when he enameled a cast-iron horse trough and turned it into an empire.
On the lakefront, Larry and Lee Williams just did it when they turned this Midwest burg into a freshwater surfing destination, drawing thousands to their Dairyland Surf Classic over Labor Day.
The city, having found the remains of the 1876 schooner Lottie Cooper while planning a marina, just brought it up and put it on display in Deland Park. Of the thousands of ships wrecked on the Great Lakes, theirs is the only one you can walk through.
Downtown, Stefano Viglietti, inspired by childhood vacations to Italy, helped turn Sheboygan into a dining destination with a popular trattoria, Neapolitan pizzeria and Mediterranean café-grocery.
And yet the locals are self-deprecating, sometimes ironically referring to Sheboygan as SheVegas, also the name of a local lounge.
Actually, there are big blinking marquee lights downtown, because a theater foundation preserved the lighted sign of the 1928 Sheboygan Theatre, now the Stefanie H. Weill Center for the Performing Arts. But it's true that the town isn't known for nightlife.
"Not much is said about Sheboygan," says Peggy Tauschek, who owns Victorian Chocolate Shoppe on Eighth Street and is known for the chocolate-covered raspberries she sells year-round.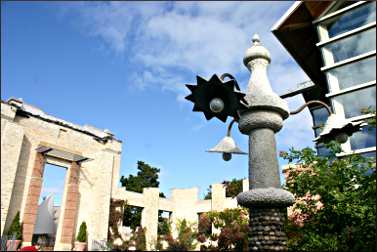 "We had one lady from Indiana here for a wedding, and she said, 'We never heard of Sheboygan, but we love it.' They were kind of amazed."
Many tourists first are drawn to Sheboygan by the Blue Harbor Resort and Conference Center, across the river from downtown on the Lake Michigan waterfront.
It looks like a grand Victorian oceanside resort, but it was built in 2004 and has an indoor water park. A walking path winds through the waving dune grasses that constitute its front yard.
The Sheboygan River is lined with shops and restaurants that occupy brightly colored New England-style buildings on the Blue Harbor side and fishing shanty-style buildings on the town side.
There are lots of interesting shops in Sheboygan, most notably Artspace, the gift shop in Kohler Arts Center, and more in nearby Kohler.
But the ones downtown are closed on Sunday, which is when folks head to the beach, the lakefront walking and bicycling paths and to Kohler-Andrae State Park, just south of town.
The park has a lovely stretch of beach along Lake Michigan. But it's known for its sand dunes, which can be viewed on a boardwalk that crosses them like a suspension bridge, dipping and rising to follow their contours.
From the nature center, hikers can make a loop, following the breezy beach southward and returning amid the sheltered dunes. In spring and summer, hikers can look for bog flowers along the marsh boardwalk and trail.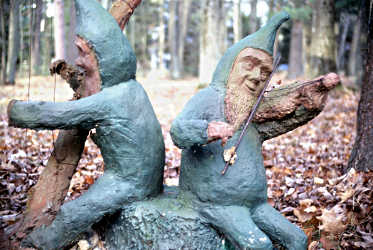 Sheboygan's very own outsider-art environment is less than three miles north of the park, in a wooded residential neighborhood.
James Tellen worked in a furniture factory in Sheboygan, painting decorative details. In 1942, in a hospital recovering from an illness, he was inspired by the concrete sculptures he could see in the churchyard across the street.
For the remaining 15 years of his life, he created concrete figures for the yard of his log summer cottage, often displaying a sly sense of humor.
In the hollow of a tree, below elves snickering in the branches, visitors look past a sign that reads, "If you look into this tree, the one you love best you will see," and into a mirror.
A piece inscribed "We whistle while we work" shows the Seven Dwarves in party mode, playing musical instruments and making wine. A tavern scene shows a woman scolding a man who has toppled onto his hands and knees, while four proper townsfolk look on.
There's a young Abraham Lincoln splitting a log and a 65-foot-long "Fallen Log," is a free-form concrete fence that features a bear, cubs and an Indian man, woman and child.
Around Sheboyan, folks march to the beat of their own drummer. Including the sausage makers: You can buy their brats plain and with beer and cheese, but also flavored by fennel, garlic, jalapenos and caraway.
In Sheboygan, the spice of life is variety.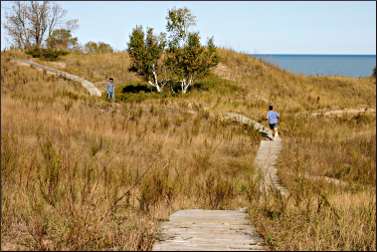 Trip Tips: Sheboygan, Wisconsin
Getting there: It's an hour north of Milwaukee and five minutes east of Kohler. For more about that area, see Kohler's luxuries.
Elkhart Lake is half an hour northwest; for more, see Thrills and hills in Elkhart Lake.
Events: June, Greek Festival in Deland Park. July, Ducktona 500 Family Festival in Sheboygan Falls and Midsummer Festival of the Arts at JMKohler Arts Center in Sheboygan.
Accommodations: Harbor Winds is a pleasant two-story riverfront hotel; the rooms on the city side are an especially good value.
On the other side of the river, the Blue Harbor is a four-story Victorian-style resort with a beachfront on Lake Michigan. There's a conference center on one end and a family-oriented lobby and 40,000-square-foot indoor water park on the other.
It also rents units in Victorian-style cottages. Watch for specials in the off season.
Downtown, Grandstay Residential Suites Hotel is a block from the performing arts center. It accepts pets.
On the north edge of Deland Park, the nine-bedroom, nine-bath Castino Lakeview Mansion overlooks Lake Michigan and is available for large groups.
In Sheboygan Falls, the Rochester Inn B&B is a 1848 Greek Revival with two attractive rooms and four two-story suites.
Camping: Kohler-Andrae State Park has campsites and also rents a tipi and a cabin for people with disabilities.
Dining: It's hard to go wrong with Stefano Viglietti's Trattoria Stefano restaurant and Il Ritrovo Neapolitan pizzeria, both on South Eighth Street downtown.
Next to Il Ritrovo, Viglietti's Field to Fork cafe and grocery serves breakfast and lunch and also is a good place to pick up gourmet picnic supplies and buy local and imported delicacies and cookware.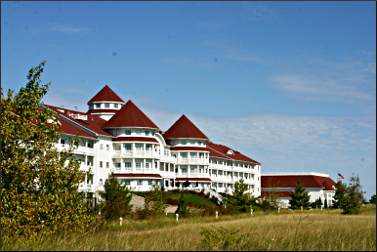 Lino Ristorante Italiano is on the river near the Blue Harbor.
Craft breweries: On Wisconsin 42 at Michigan Avenue, 3 Sheeps Brewing occupies an old factory with Bread & Bean Eatery.
Shopping: There are lots of fun shops along Eighth Street downtown.
Bring a cooler and take home some of the two dozen varieties of sausage at Miesfield's Meat Market or other butcher shops. You'll also want one to take home a box of chocolate-covered raspberries from Victorian Chocolate Shoppe.
Kayaking and biking: Near the Blue Harbor along the river, EOS Expedition Outdoor Supply rents bikes, stand-up paddleboards, surfboards and kayaks for touring the river.
The paved, 17-mile Old Plank Road Trail parallels Wisconsin 23, the old stagecoach route, from Sheboygan past Kohler, Sheboygan Falls and Plymouth to Greenbush and Kettle Moraine State Forest.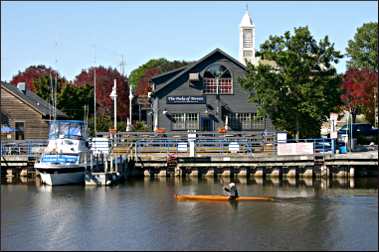 Swimming: Deland Park has a beautiful white-sand beach with a playground and bathrooms.
John Michael Kohler Arts Center: This free museum, at 608 New York Ave., is renowned for its exhibits of outsider and contemporary art and is open daily; if it's not open, check out the Carl Peterson pieces on the grounds.
Check for lectures, workshops and performances, and don't miss the bathrooms.
Loy Bowlin's rhinestone house is in its permanent collection but no longer on display. In the late 1970s, Bowlin was a lonely old man who had just prayed, "Lord, give me something to make me happy" when he heard Glen Campbell sing "Rhinestone Cowboy."
He took on a new persona, sewing rhinestones onto his clothes and dressing up to drive into town in his '67 Cadillac, to which he'd affixed a rack of glittering longhorns.
He would play harmonica, dance, tell jokes and autograph pictures of himself, and eventually he became famous. He was never lonely again.
James Tellen Woodland Sculpture Garden: It's free and open during daylight hours. From Wisconsin 28, turn east on County Road EE, then go south on Evergreen Drive about 1 mile, just past Indian Mound Road.
From Kohler Andrae State Park, take County Road KK/South 12th Street two miles north to Indian Mound Road and turn right. It's on the south side of its junction with Evergreen Drive.
Kohler-Andrae State Park: This park is very popular for swimming, camping and hiking and has a half-mile accessible trail, beach wheelchairs and a cabin for people with disabilities.
From town, head south on I-43 and get off at County Road V.
Information: Sheboygan tourism, 920-457-9491.
For more about Kohler, see Kohler's luxuries.
For more about Elkhart Lake, see Thrills and hills in Elkhart Lake and Foot to the floor in Elkhart Lake.
For more about the annual Civil War Weekend near Plymouth, see Blasts from the past.
Last updated on January 24, 2022