Making waves
The ever-expanding indoor water parks in the Wisconsin Dells have so many rides and slides, it's hard to know which one to pick.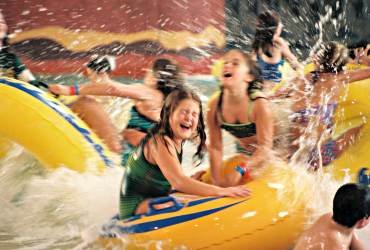 First, we loved the water slides, geysers and whimsical fiberglass figures at the Polynesian's Water Factory.
Then, we loved the bigger slides, chutes, lily-pad walk and tubing river at Great Wolf's Spirit Mountain.
When the Wilderness opened Klondike Kavern, its second park, we loved its indoor-outdoor hot tub and long tube slides.
An arms race was only beginning, as Wisconsin Dells hotels expanded on a good idea — fill rooms year-round by offering indoor water parks.
Great Wolf added a second park, with a gigantic bucket that dumps 700 gallons of water over a maze of chutes and ladders. The Kalahari opened with everything the other parks had, plus a wave pool, funnel slide and family raft ride.
After the Wilderness built a third park, with a wave pool, family raft ride and giant bucket, the Kalahari added the Master Blaster roller coaster and the FlowRider, for surfing and body-boarding.
The Great Wolf put in the Howlin' Tornado, a six-story raft ride that features a steep drop into a funnel.
Then the Wilderness added the Wild WaterDome, which lets in sunlight for year-round tanning, the Hurricane and Cannonbowl rides and dueling racing-raft rides.
Great Wolf added Bear Track Landing, with eight new rides and a wave pool.
The Kalahari added a 100,000-square-foot giant indoor theme park with a six-story Ferris wheel and and elevated go cart course.
The Wilderness came back with a 3-D pirate-themed miniature golf course and an ocean-themed, 3-D, black-light course with six aquariums containing nurse sharks, moral eels and reef fish.
Today's water parks are vast caverns that supply more thrills than anyone needs — but not more than anyone wants.
Rafting at Great Wolf
I made my last trip to check out the indoor water parks with my friend Adele, who'd never been to the Dells at all.
Before we checked in to Great Wolf Lodge, I drove Adele along the Wisconsin River, where sandstone cliffs and oddly shaped formations, named from the French dalles, have been drawing sightseers since the 1850s.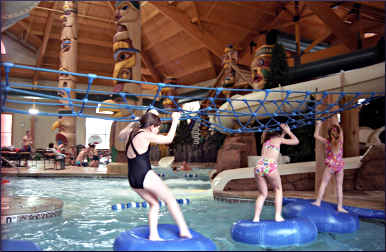 Once, they were the big deal (see The quiet side of the Dells.
Then we drove down the Vegas-like strip, past the gigantic Trojan horse and roller coasters of Mount Olympus and the full-scale, upside-down model of the White House at Top Secret.
By the time we got to Great Wolf's lobby, where an entire moose perches on the side of a three-story fieldstone fireplace, Adele had caught on to the spirit of the Dells.
"Everything has to be big, doesn't it?" she said.
We started at the first of Great Wolf's three indoor water parks, which was the largest in the nation when it opened in 1997. Adele was impressed, but I thought, "Is this all there was?"
It seemed so ordinary, though once I'd been thrilled with the 20,000-square-foot park. I felt like the grasping woman in the Grimms' tale "The Fisherman and His Wife" — no matter how much I get, I want more.
We started on the Lookout Mountain slide, a smooth, open raft ride that's still a winner. Adele bumped her head in one of the closed, narrow body chutes, so we took a break in a hot tub, with a waterfall that poured out of faux cliffs.
Then we walked over to the newer park, where we lugged a four-person raft up 89 steps to the top of the Howlin' Tornado.
For Adele, going over a sheer drop backward was too much, too soon. But she rallied and did it twice more before finding a torrent of water to stand under, letting it massage her tense shoulders.
'Surfing' at the Kalahari
After dinner on the strip at Moosejaw Pizza & Brewing Co., we drove to the Kalahari and bought evening passes to the water park. Adele, who lived in Hawaii for two years and loves to surf, was looking forward to trying the FlowRider, inaugurated by surfer Bethany Hamilton.
But the FlowRider turned out to be a miniscule slope with ferocious torrents of whitewater — shooting backward.
"Is that it? I can't surf on that," she said, disappointed.
Nearly everyone tried to body-board instead, though they wiped out nearly as soon as people who tried to surf — in about two seconds. Once they flipped into the water, the jets hurled them to the top of the slope and slammed them against the foam backboard.
"We had the Great Lakes Surfing Association here, and they couldn't do it," one of the instructors told us. "It doesn't really translate."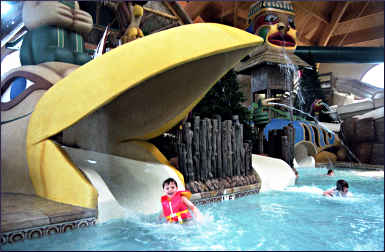 We suffered the same fate body-boarding, though Adele stayed on for a few seconds on her second try. So we retreated to the wave pool, where we bobbed on swells that Adele thought had potential.
"You could probably surf on this, though you'd wipe out a few children on the way," she said.
From there, we tried the Rippling Rhino, a smooth raft ride that Adele loved, and the Master Blaster, a water roller coaster that dipped, dropped and pulled us up, down and around a long series of curves. Now that was an absolute hoot.
The beauty of these water parks is they bring out the kid in everyone, no matter what age. At the Kalahari, we met Mary VandeHei of Eden Prairie, Minn., who had brought her family in from around the nation to celebrate her birthday as well as her son's recent return from Iraq.
"You know what? I'm 60, and I love those slides," she said. "I adore them; I'm nuts about them."
In the morning, back at Great Wolf, we lay in the sun on chaises and watched children pull on fire hoses and swing on ropes.
Riding waves at the Wilderness
Then we went over to the Wilderness and its Wild West water park, which has a wave pool lined with water guns on both sides and a play area called Ransack Ridge, from which a giant mining cart dumps water every seven minutes.
Adele thought it had the liveliest tubing river of the three, and we both loved the indoor-outdoor hot tubs.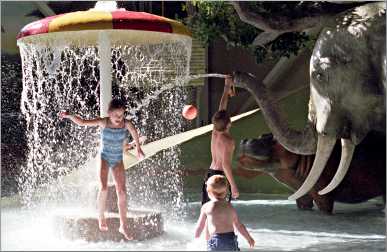 Sitting outdoors in the winter sun, steam curling around our ears, we asked Denise Gillespie, of Lakemoor, Ill., why there were so many school-aged kids around on a weekday, including her own daughter and son.
She said the parks are too crowded and expensive on weekends, so they bring homework and come on weekdays.
"This is their Valentine's Day present," she said. "I look at their grades, I look at the deals, and then we go."
Sometimes, she and her husband, John Hearst, bring his two daughters.
"It's a good thing for families; there's something for everyone," she said.
Chilling at Chula Vista
This resort, the only one that's not on a strip, is a late entrant in the water-park wars. Its Lost Rios indoor park is compact but nicely designed, with a Mayan temple theme.
It was busy when we were there on a Sunday in mid-October, but we didn't have to wait to ride the Fly'n Mayan roller coaster, Emerald Run tube slide or Matador mat-race slide, and only a few minutes for the Jungle Adventure "toilet bowl" ride.
My friend Debra liked the Jungle Adventure — "We went around so many times I lost count," she said — but I got a kick out of the roller coaster, even if it literally kicked me (try to keep your butt elevated an inch or so).
Kids were loving the Matador, especially those who had learned to go fast (limit contact points to your elbows and knees) and beat their parents.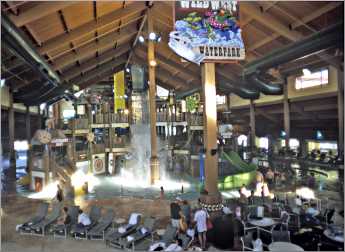 The Action River was a little poky and choked with empty tubes, but a man pushing his wife made it fun for us, too, giving us big pushes and holding us under a waterfall. We ran from ride to ride, doing everything.
As I was toweling off, I talked with a woman who said she'd gone to the Wilderness in March.
"It was so crowded it wasn't even fun," she said. "This was more fun, even if the rides aren't as intense."
Who's best?
There's a lot to consider when choosing a Wisconsin Dells hotel and water park. Denise Gillespie had booked at Great Wolf but switched to the Wilderness when it sent her an "awesome" deal;  she says the Kalahari is too expensive.
The Kalahari has many bells and whistles, and its African-safari decor, in the water park and throughout the hotel, is very attractive. But it attracts many conventioneers, and it was crowded even on a Wednesday night.
On the other hand, that Master Blaster is a great ride, and there are all kinds of activities for families.
Great Wolf is across the highway from the Kalahari, alongside I-94/90. It's also very attractive, with north-woods decor, and its atmosphere is less frantic than the Kalahari's.
For a Wednesday night, we reserved a double-queen room, and when we checked in, we got a $10 coupon as a reward for reserving on-line; we used it to buy a nice breakfast the next morning in the Loose Moose Bar and Grill.
Of the three, the Wilderness consistently offers the best specials. It, too, is very attractive, and its lodging complex has the most attractive setting by far, alongside a ravine filled with white pines.
Its water parks — one is for smaller children — are not contiguous, however, and it's a long hike from the Wild West park to Klondike Kavern.
All three hotels have day spas and big indoor play areas in addition to the water parks.
And then there's Mount Olympus, a cavernous water park with lots of slides, and a dozen other hotels with smaller water parks, any one of which would delight children who hadn't already gotten a look at the flashier places.
Now, the Dells have competition. Water parks are popping up all over the Upper Midwest and around the nation.
The rule of thumb is, all water parks are fun. But if you want to see how the pros do it, go to the Dells.
Trip Tips: Indoor water parks in the Wisconsin Dells
Getting there: It's 45 minutes from Madison, 3½ hours from the Twin Cities and 4 hours from Chicago.
When to go: Weekend and holiday rates are highest. The lowest rates disappear during spring break, mid-March through mid-April. If you go then, expect crowds.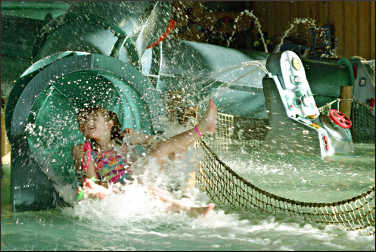 Try to go on weekdays, when rates are much cheaper and lines are shorter. November and early December are the slowest months, and you'll find the best deals then.
What to know: Sometimes, hotels send deals to past guests and those on its e-mail lists. Sign up for e-newsletters and check websites for coupons and specials.
All rooms have mini-fridges and microwaves. Usually, guests can swim all day after checking out. There may be an extra charge for a Saturday night-only stay.
All of the big parks are quite noisy and might be overwhelming for young children.
If you buy a day pass, you might have to pay $5 or more for a locker.
Newer condo units and villas generally are farthest from the water parks (but quieter).
Check for free or low-cost children's programs. And of course, all of the bigger hotels also have outdoor water parks.
Day passes: The Kalahari, Great Wolf, Chula Vista and Hotel Rome/Mount Olympus sell them. Availability is limited during peak times, but they do add to lines and congestion.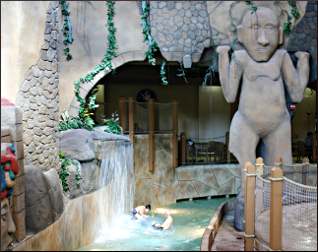 This large resort includes lobby shops, restaurants and a large indoor theme park, and it's next to a 10-screen cinema.
Best features: Its roller-coaster ride, wave pool and long tubing river. It's the largest water park with 125,000 square feet.
Besides the Ferris wheel and and elevated go cart course, the adventure park includes Laser Tag, bowling, a climbing wall and a ropes course.
Drawbacks: It's huge and sprawling, so guests may have to walk quite a distance to the water park. It includes a convention center and often has a convention/party atmosphere. It's right along I-94/90.
This is an attractive resort with a north-woods theme, in a wooded setting just up U.S. 12 from the Kalahari.
Best features: Indoor-outdoor hot tubs, wave pool, water park just for small children, frequent deals.
Drawback: It's a long walk between the two parks for older children.
It has many condos, villas and cabins in satellite complexes. That's good if you're looking for more serenity or options for a large family gathering, not so good if you want easy access to the indoor water parks. The lodgings farther away are connected by shuttle bus.
It has a Laser Tag arena and Dodge 'Em City play area, which includes a bowling game and climbing maze, the Timberland Play Fort and two 3-D miniature golf courses.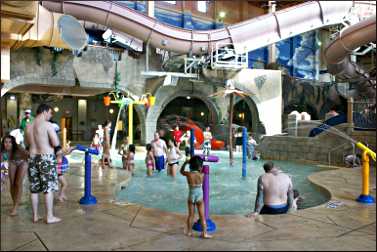 It's a handsome resort with a north-woods theme and well-designed, 100,000-square-foot water park.
Best features: Raft funnel ride, adjoining water parks.
Drawbacks: It's an 89-step climb to the raft funnel ride and, like its neighbor the Kalahari, it's along the highway.
Its separate indoor play area, MagiQuest, features a wizard theme.
The former Treasure Island is an older resort with 87,500 square feet of indoor water park.
Best features: Medusa's Slidewheel rotating slide, loft area for lounging, wave pool, deals.
Drawbacks: Cavernous atmosphere, less attractive decor.
This is the only resort off the strip, on the bluffs of the Wisconsin River. It has an 80,000-square-foot indoor water park that includes a lazy river, raft slides, mat race, tipping bucket and coaster.
Best features: Fly'n Mayan roller coaster (good if you don't like to get wet, bad if you don't like bumps).
The resort has a variety of lodgings, including condos and villas.
Other resorts with indoor water parks
Polynesian: This older hotel, on the west side of the Dells near downtown, has 38,000 square feet of water parks. The Temple of the Black Pearl is for older children and the Water Factory for the younger ones.
The Wisconsin Dells Visitor & Convention Bureau lists the larger indoor water parks.
More information
Dining: Many restaurants are in the Lake Delton area, close to the Wilderness, Kalahari and Great Wolf.
On U.S. 12 near its junction with Wisconsin 23, Moosejaw Pizza & Brewing Co. has a north-woods lodge look and brews good beer. 608-254-1122.
Sarento's, at the Wilderness, provides Italian fine dining, 608-253-3300. Downtown, Monk's Bar & Grill is known for burgers. It also has a Lake Delton location.
On 23/12 near the Copa Cabana, the Del-Bar is a Prairie-style steakhouse established in 1943.
Wisconsin Dells year-round: For more, see The quiet side of the Dells and Wisconsin Dells in fall.
Other Upper Midwest indoor water parks: See Water, water, everywhere.
Last updated on January 8, 2020