Wisconsin Dells in fall
For many, the scenery is best when the crowds are gone.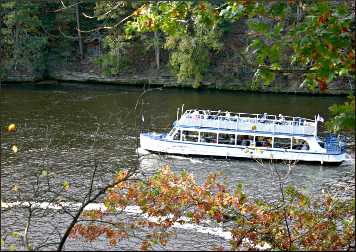 In the Dells, when the children go home, the adults come out to play.
Autumn is a quiet time in Wisconsin Dells. The outdoor water parks are closed and many attractions are shuttered.
In the rush of summer, many tourists spend a whole week in Wisconsin Dells and never see the dells that drew tourists in the first place.
These sandstone formations, left when an apocalyptic rush of of water created a 15-mile gorge at the end of the last Ice Age, are especially striking in the warm light of fall. So are the forests.
There are hiking trails in the Dells, and paddling, too. There are even log cabins with fireplaces.
One October, we traveled to the Dells with friends to stay in one and catch the fall scenery.
My friend Debra and I took off early Friday and made a beeline to Mirror Lake. Named because it's so calm, the serpentine lake lies in a gorge created by Dell Creek, which flows north through Lake Delton and into the Wisconsin River.
It's a kind of junior Dells, with 50-foot sandstone bluffs along its shores. We walked across a footbridge and onto the 2½-mile Northwest Trail, which follows the shoreline.
The terrain was lumpy, a tell-tale remnant of a glacier, and we were surrounded by the warm hues of maples and oaks just past peak.
We wanted to get a glimpse of the Seth Peterson Cottage, which overlooks the lake and was designed by Frank Lloyd Wright, but it's open to the public only on the second Sunday of each month.
"Even I don't get to go there," said park manager Rebecca Green. "When you pay $300 a night, you get all 13 acres to yourself."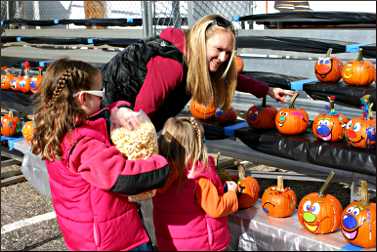 The park also is a paddling destination. The lake is more like a river, with the wide part near the boat landing and a narrow, cliff-lined passageway leading to grassy meadows and wetlands in the west side of the park.
There aren't a lot of traditional cabin resorts left in the Dells, but Birchcliff Resort is one of them. It's run by a young couple, Dailene and Joseph Malacina.
"We tend to attract families looking for more than a water park," Dailene said. "It's just a relaxing getaway in a more natural setting. If this is their thing, they come back year after year."
Their resort is on a wooded hill along River Road, just north of downtown, and it includes newer and older cabins and the original lodge. Our newer cabin had a wood-burning fireplace, so we built a fire, opened a bottle of wine and made ourselves a spaghetti dinner.
The next morning, we made breakfast burritos and walked through the resort grounds and onto a path through the woods. As we walked, we heard tooting from across the river that sounded more like a toy train than a freight train.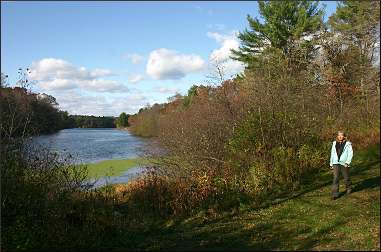 The path ended at a beach, part of the Dells of the Wisconsin River state natural area, whose parking lot is just down the hill from the resort.
Sugar-sand cliffs line the shore here, and as we soaked in the sun, an excursion boat headed for the Upper Dells, crossing paths with a fishing boat going downstream.
We climbed back on a rolling path covered with leaves.
A fall festival
The annual fall festival was going on downtown, so we headed down to take a look. Crafters and artisans were set up under rows of white tents gleaming in the sun.
Small pumpkins that children had festooned with cartoonish decals were displayed on bleachers, and ponies patiently plodded in circles with pint-sized cargoes.
Later, there would be a scarecrow-stuffing contest, a pumpkin ring toss, a juggler and a straw dig for kids, all free.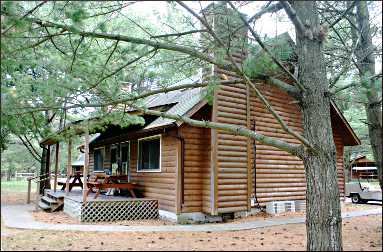 But the people already forming a line at the entrance to a big tent were waiting for something else.
The Dells on Tap beer festival was that afternoon, and experienced drinkers had arrived with pretzel necklaces. The serious drinkers also had stuck string cheese, Slim Jims and Snickers bars onto their necklaces, and they all  looked raring to go.
We've hiked at Devil's Lake State Park many times, but it would be a crime to visit Wisconsin Dells in fall and not go there.
It's Wisconsin's most-visited state park, but the crowds come in summer, mainly for the beach and to camp.
Hiking is best in fall, when a walk on the cliffs 500 feet above the lake supply impressive views and, if you like geology, a dramatic story of volcanoes, a red ocean and 50-foot waves.
This one place tells the entire story of this area. An ancient river cut the canyon but was plugged by debris carried by the last glacier. It caused the rise of the spring-fed lake, often called the state's clearest.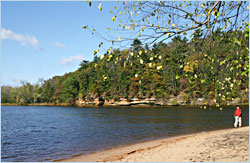 One fall, we walked 10 miles from the East Bluff Trail, past Balanced Rock and the Devil's Doorway, to Parfrey's Glen, which became the state's first natural area in 1952.
This time, we walked the less-strenuous West Bluff Trail, pausing to take in the views. On the other side of the lake, we could see the former riverway stretching into the horizon.
We made a 2½-mile loop by returning on the Tumbled Rocks Trail, picking our way through a field of 800-ton quartzite boulders, many gleaming pink in the afternoon fun.
Then we drove over to Parfrey's Glen. Once it had boardwalks, but the DNR has returned this otherwordly little gorge to its natural state, and visitors seemed to enjoy jumping from rock to rock instead of treading wooden planks.
A group of Illinois college students were there on a geology field trip. Like everyone else, they were fascinated by the walls of plum-puddingstone — globes of quartzite embedded in sandstone — and the skein of water cascading down the far cliff.
We also couldn't resist a return visit to Pewit's Nest state natural area. It's an even narrower gorge, a mere slit covered by a canopy of cedar, hemlock and birch.
In fall, colorful leaves blanket the dozens of tiny terraces that form its moist walls and also the pool of black water at its mouth.
All three parks are described in our Greatest hits of the Ice Age story.
A train in the woods
We finally figured out where the tooting was coming from. Farther up the river, near Stand Rock, the narrow-gauge Riverside & Great Northern Railway offers rides in tiny cars pulled by a small but real steam locomotive.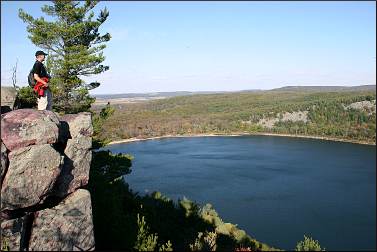 During World War II, an American GI named Elmer Sandley was stationed in Europe and was impressed by the narrow-gauge railways hauling people up and around mountains.
When he got back, he founded the Sandley Light Railway Equipment Works, and he and his son, Norman, built rolling stock for hundreds of amusement parks.
Today, the railway is a labor of love, completely run by volunteers. They stoke the locomotive's boiler for two hours in the morning, make burgers and popcorn in the sunny little cafe and take kids to pumpkin patches in the woods.
It's a charming complex, with a depot, gift shop and museum plus water tank, roundhouse and joinery. And for the Dells, it's shockingly low-key and non-commercial.
On second thought, the Dells in fall may or not be for adults. Since there's a kid still inside all of us, it's a little hard to tell.
Trip Tips: Wisconsin Dells in fall
Getting there: It's an hour northwest of Madison on I-94/90.
2023 events: Sept. 15-17, Wo-Zha-Wa Days Fall Festival, with a parade at 1:30 p.m. Sunday. Oct. 13-14, Dells on Tap Weekend.
Accommodations: Birchcliff Resort on River Road, north of downtown, has log cabins with wood-burning fireplaces in a wooded setting, a tennis court, rec room with games and hiking access to the Dells of the Wisconsin River SNA and beach. Pets are allowed in some cabins.
Meadowbrook Resort, also on River Road, is a large resort with a log lodge and cabins. It has an indoor children's pool with play features.
On Wisconsin Dells Parkway near the Wilderness and next to the Cheese Factory, the Dell Creek Motel is a modest but well-tended motel with a playground and outdoor swimming pool.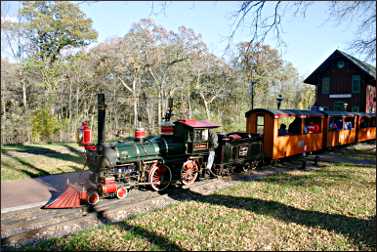 Fall is the shoulder season for water-park resorts, so rates are lower then. For more, see Making waves.
Hiking: To get to the Dells of the Wisconsin River state natural area, take River Road north of downtown for 1.7 miles (at the roundabout, head to the left). There's a parking area next to Birchcliff Resort.
Mirror Lake is just south of the 92 exit of I-90/94. To get there, take U.S. 12 south and head west on Fern Dell Road.
To get to Devil's Lake State Park, take U.S. 12 south of Baraboo, then head east on Wisconsin 159. Parfrey's Glen is east of Devil's Lake along County Road DL.
Riverside & Great Northern Railway: This narrow-gauge excursion train offers three-mile round-trip rides in cars pulled by a small but real steam locomotive. The charming complex, run by volunteers, includes a depot, cafe, gift shop and museum.
It's open from April through October and on Thanksgiving weekend.
To get there from I-94/90, take Exit 85, then turn north on 60th Street. At Stand Rock Road, turn right.
Dells Boat Tours: Tours go out daily through October, and on weekends there are Ghost Boat tours.
Details: For more about the area, see The quiet side of the Dells.
For tourism information, see Wisconsin Dells tourism, 800-233-3557.
Last updated on February 2, 2022