The quiet side of the Dells
Sidestep the Strip, and you'll see an area little changed since a photographer made the world come running.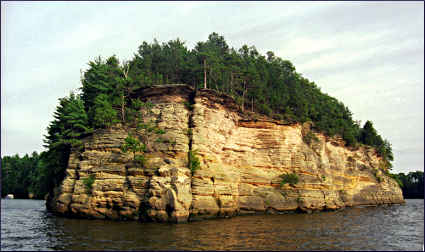 See the FUDGE sign in blinking white lights. See the plane tail protruding from the faux-ruin façade of Ripley's Believe It or Not. See the Wax World of the Stars, the Dungeon of Horrors, the Trojan Horse . . .
Yes, it's Wisconsin Dells. But it's not the only Wisconsin Dells.
Tourists always have been part of the scenery in this picturesque part of Wisconsin. The first settler was a printer and publisher, and one of the first residents was a young carpenter who crippled his right hand in the Civil War and became a photographer.
H.H. Bennett loved photographing the Dells — the fantastic sandstone formations, the shadowy gulches, the Winnebago who agreed to pose if he beat them at moccasin. And, through Bennett's photos, tourists came to love these things, too.
They loved it so much they came in droves, and over the years, a gantlet of other attractions was built to draw some of their dollars. In 1952, promoter Tommy Bartlett brought in his Water Ski and Jumping Boat Thrill Show.
In 1979 came Noah's Ark Waterpark, now the largest in the nation. Theme resorts arrived, along with magic shows and musical revues and go-cart parks.
In fact, today it all looks a little like the Las Vegas Strip, with the old brick downtown serving as Glitter Gulch.
Sometimes, tourists spend a whole week in Wisconsin Dells and never see the dells.
The dells, however, still are there, as they have been since the end of the last Ice Age, when an ice dam holding back the waters of a melted glacier suddenly gave way. Over just a few days, it created a 15-mile gorge lined with serpentine canyons and odd outcroppings.
Tourists have been coming to see them since 1856, when Leroy Gates bought a rowboat and advertised excursions "for the purpose of penetrating the numerous occult caves of the Dells."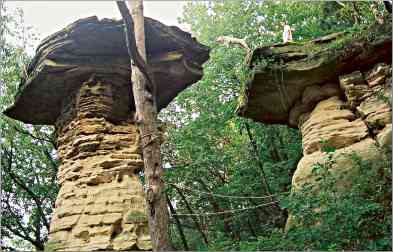 H.H. Bennett had a rowboat, too, and used it to lug his cameras around the dells, sometimes whitewashing the interiors of caves so they'd show up better on his glass negatives.
He walked up ravines and, in winter, skated up the river. In 1871, he discovered Witches Gulch by cutting notches into the frozen waterfall at its entrance and climbing in.
When the first steamboat arrived in 1873, H.H. Bennett photographed its passengers and sold them the pictures as souvenirs.
He toured the country giving "magic-lantern" slide shows; his famous 1888 stop-action photo of his son Ashley leaping the chasm to Stand Rock made audiences gasp.
For a long time, the sights along the river and the Indian dance ceremonials at Stand Rock were the only attractions. The local Winnebago, to whom the dells were sacred, had been evicted but, under the direction of Yellow Thunder, kept walking back.
In 1849, Yellow Thunder bought 40 acres in Delton, which served as haven for the Winnebago until 1875, when they filed claims under the Homestead Act and resettled in the area.
This old Wisconsin Dells — more accurately, old Kilbourn City; tourism-minded civic leaders renamed it in 1931 — still exists, though the ceremonials ended in 1997.
There are no billboards and neon on the river, thanks to the efforts of H.H. Bennett's daughter Nellie and her husband, George Crandall.
Over the years, whenever farmers wanted to sell their land, the Crandalls bought it, tore down the barns and planted trees. They failed in efforts to make the riverbank a national park, but their family turned the land over to a foundation, which later sold it to the state DNR.
Today, the boat tours still attract tourists from all over the world. The Lower Dells tours start below the power dam, which was built in 1909, a year after Bennett's death, and raised the water level 17 feet.
From a colorful bevy of candy and souvenir shops, launches head past sandy beaches lined with fishermen, especially after the opening of sturgeon season in late summer.
Singing college-student guides explain that this is one of only three places in the world where 500 million-year-old sandstone juts out of the Earth, its softer layers eroded away into the famous formations.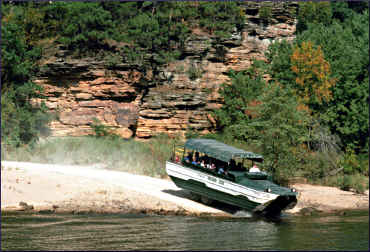 We learn their fanciful names: Cow in the Milk Bottle, where darker rock forms the profile of a cow's head inside the outline of a milk bottle. The Hawk's Bill. The Ink Stand.
The Sugar Bowl and Grotto Rock, with caves in which the Winnebago would light fires and wait with spears for 5-foot sturgeon, which followed insects attracted by the light. And there's the Baby Grand Piano, "where hard-rock music originated."
It's a slightly corny excursion, but it also seems far away from the motels and souvenir shops.
The appearances of the Ducks are another diversion. When they trundle out from the woods to river's edge at the base of Echo Point, everyone watches to see if the silly-looking amphibious vehicles really float.
They do, and have since they were brought to the Dells in 1956.
There are formations on the Upper Dells, too: Black Hawk's Head, Romance Cliff and Devil's Elbow, where lumberjacks had to nudge their log rafts around a sharp bend.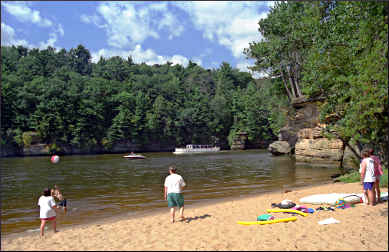 On this tour, however, passengers can get off the boat and walk into the cold, spooky recesses of Witches Gulch, where Witches Falls tumble into Witches Bathtub near Witches Window.
At the end, there's a concession stand, the descendant of one started in 1877, after H.H. Bennett and a steamboat captain built boardwalks.
And there's a stop at 46-foot-tall Stand Rock, where a white Lab jumps back and forth across the 5½-foot chasm — twice — for the benefit of passengers.
There are other outposts of the old Dells, too. Just north of downtown, the Thunder Valley Inn comes almost as a shock after the boisterous strip.
At this former dude ranch, children's entertainment consists of a huge pile of white sand under a tree and some goats and bunnies to pet.
In the restaurant, Lila from France may play the accordion, and Cristina from Spain may do a flamenco dance in honor of a guest's birthday. Summer helpers on an agricultural exchange moonlight here at Anita Nelson's B&B and inn.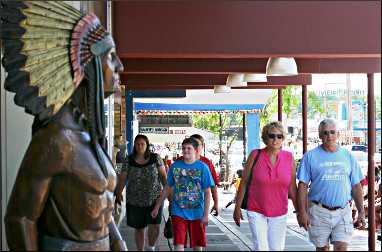 Nelson's Norwegian ancestors were among the first farmers in the area, and she grew up on a farm nearby.
Now she rents rooms in an 1870 farmhouse and serves huge breakfasts, Sunday smorgasbords and threshing suppers of pot roast, garden vegetables and home-baked bread, followed by entertainment that usually includes daughters Kari and Sigrid on fiddle.
"Lots of people just love these exciting Dells," Nelson said. "But some are disappointed, and we get some of those folks."
By running this little oasis, Nelson does her bit for the Dells she fondly remembers from her '50s childhood.
"I'm mainly disturbed about the downtown; I don't mind seeing the carnival on the strip," she said. "Downtown was beautiful; the main street was all brick. All the farmers used to get their chores done early Saturday night, so they could drive downtown, get the best parking space and watch the tourists."
When guests ask for other quiet spots, she sends them down River Road to the Dells of the Wisconsin River state natural area.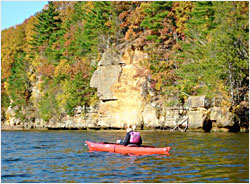 There, a wood-chip trail leads through a meadow filled with wildflowers, into a grove of Norway pine and down the bluff to a beautiful, secluded beach in the Upper Dells, where sunbathers can swim and watch the tour boats go by.
The old-fashioned Winnebago Indian Museum was nearby, at the junction of River Road and Wisconsin 13. It held an assortment of heirlooms — cradleboards, quill boxes, dresses adorned by cowrie shells and elk's teeth — as well as newly made artisan goods.
Today, the local Winnebago — who, in 1994, took back their pre-fur trade name, Ho-Chunk — run a flourishing casino on Wisconsin 12.
The visages of their 19th-century ancestors, meanwhile, are preserved at the H.H. Bennett Studio and History Center, among thousands of stunning photographs.
Bennett never achieved the cachet of an Ansel Adams or Edward Weston, perhaps because his photos convey the accessibility of the Dells rather than their grandiosity.
They show it as it was, and they mean the old Dells will live, no matter how many arcades and adventure parks are built.
The late Jean Reese, Bennett's granddaughter, worked with the state to make the studio Wisconsin's ninth historic site, and she and her husband contributed $1 million in negatives, equipment, land and cash.
Reese said her grandfather would not be dismayed by the Dells he helped create.
"The river probably is better and more natural than when I was a kid," she said. "I think he'd be pleased the scenery is still there."
Trip Tips: The quiet side of the Wisconsin Dells
2023 events: July 4, Fourth of July Fireworks Extravaganza. Sept. 15-17, Wo-Zha-Wa Days Fall Festival. Oct. 14, Dells on Tap.
When to go: Spring break is quite busy, and July and August are frantic, but the Dells are fairly quiet the rest of the year.
Autumn is lovely; for more, see Wisconsin Dells in fall.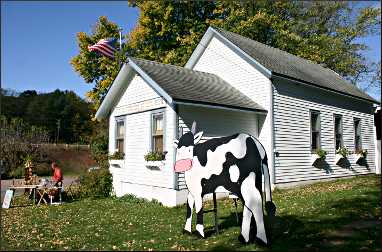 Accommodations: Many motels and resorts include water-park passes with a stay.
The quiet Thunder Valley Inn, off River Road at Waubeek Road and Wisconsin 13, has six rooms in the Farm Hus, with rates that include a full farm breakfast; three rooms in the Svenska Hus; and the pet-friendly Wee Hus. Children are welcome.
Birchcliff Resort on River Road, north of downtown, has log cabins with wood-burning fireplaces in a wooded setting, an outdoor pool, tennis court, rec room with games and hiking access to the Dells of the Wisconsin River SNA and beach.
Pets are allowed in some cabins.
Meadowbrook Resort, also on River Road, is a large, newer resort with a log lodge and cabins. It has a large outdoor pool and indoor children's pool with play features.
There are several traditional motels on the side streets of downtown Wisconsin Dells, including the Black Hawk Motel, Fitzgerald's Motel and Ambers Inn & Suites.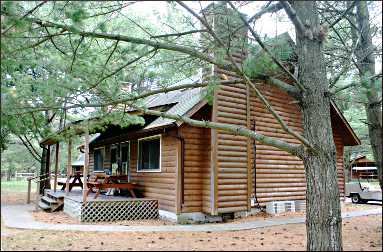 On Wisconsin Dells Parkway near the Wilderness and next to the Cheese Factory, the Dell Creek Motel is a modest but well-tended motel with a playground and outdoor swimming pool.
Camping: It's available at two nearby state parks, Rocky Arbor and Mirror Lake. Reservations can be made up to 11 months in advance, 888-947-2757. There are also many private campgrounds.
Water-park resorts: For more, see Making waves.
Dining: Thunder Valley Inn serves breakfast daily and a Sunday smorgasbord. Threshing luncheons and suppers, with musical entertainment, are given many days; call 608-254-4145 for reservations.
The High Rock Cafe, at 232 Broadway downtown, serves wraps and sandwiches, pastas and entrees that include fajitas, Friday-night fish and Saturday-night prime rib.
Monk's Bar & Grill, at 220 Broadway downtown, serves burgers.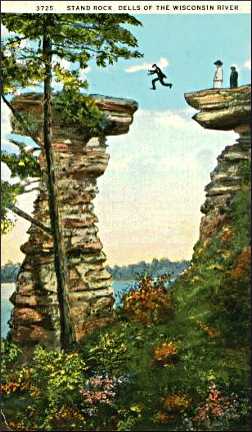 Dells Boat Tours: In summer, boats leave every 20 or 30 minutes between 9:30 a.m. and 7 p.m. Upper Dells rides are two hours and Lower Dells trips one hour.
Wisconsin Ducks: One-hour, 8½-mile tours are given from 8 a.m. to 7 p.m. daily.
Hiking: To get to the Dells of the Wisconsin River state natural area, take River Road north of downtown for 1.7 miles (at the roundabout, head to the left). There's a parking area next to Birchcliff Resort.
H.H. Bennett Museum and Historic Studio: It's open daily from Memorial Day weekend to mid-September, then Thursdays-Sundays through October.
For more, see H.H. Bennett's Dells.
Other activities: Lake Delton Watersports rents kayaks and canoes from its location on U.S. 12, a mile west of Exit 92.
In Mirror Lake State Park, just south of Lake Delton, Mirror Lake Rentals rents kayaks, canoes, paddleboats, stand-up paddleboards and pontoons.
In the Upper Dells, the narrow-gauge Riverside & Great Northern Railway offers three-mile rides in tiny cars pulled by a small but real steam locomotive. The charming complex, run by volunteers, includes a depot, cafe, gift shop and museum.
It's open from April through October and on Thanksgiving weekend.
To get there from I-94/90, take Exit 85, then turn north on 60th Street. At Stand Rock Road, turn right.
Information: Wisconsin Dells tourism, 800-233-3557.
Last updated on February 2, 2022