Farmers for a weekend
At peaceful inns, guests relish the simple pleasures of country living.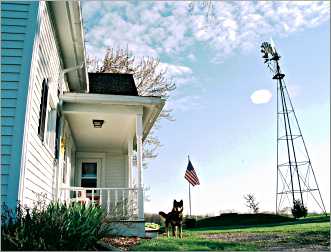 To a city kid on vacation, amusement parks are nice — but nothing is more appealing than a friendly wet nose.
Mewling barn kittens, curious cows, a trusty mutt — for a weekend one May, they were part of the family when my children and nieces and I stayed in the guest house of a Wisconsin dairy farm.
"Awesome," my son Peter said after a Holstein nuzzled his hand. "I'm going to be a farmer when I grow up, after I'm in the NBA."
Around the region, simple childhood experiences once taken for granted — jumping on hay bales, chasing around a cow pasture, fishing in a creek — can be revisited at farm B&Bs, where children also have their own petting zoo of cats, dogs, lambs, horses, calves and rabbits.
"I think the kittens are the high point of this farm," said my daughter Madeleine.
Our turn-of-the-century guesthouse was on a country road, a short walk from the hosts' farm. In the mornings, we walked over and collected eggs from the hen house, scrambling them in our kitchen and eating them for breakfast with pastries purchased from nearby Amish farms.
During the day, we rode our bicycles on the nearby Elroy-Sparta State Trail and toured the countryside, visiting Amish farms, round barns and cheese factories.
Back at the farm, we'd wander into the barn to visit the month-old kittens who skittered across the hay-strewn floor between the cows' hooves.
Outside, we performed a bovine pas de deux with cows in a pen — whenever we stepped forward, they'd shrink back, only to inch forward curiously when we'd retreat.
In the milk house, our host explained how the milk runs through pipes from the cows into the plate cooler, then the bulk tank and through a hose straight into the milk trucks that come to pick it up.
Then she went into the cornfield across the road to pick rocks with her daughter. For a while, Peter joined them.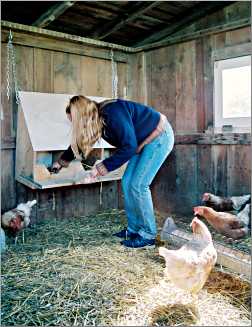 "If the whole world was like this place, it'd be great," he said.
It was one of the most peaceful, relaxing weekends we'd ever had.
Spring is high season at many farm inns, with animals at the peak of cuteness.
Trip Tips: Farm B&Bs
The inns below are among those that include animals and welcome children of all ages.
Thunder Valley Inn B&B in Wisconsin Dells . This peaceful former dude ranch has goats, bunnies and a huge pile of white sand under a tree; other animals can be seen at the family dairy farm two miles down the road.
Huge breakfasts, Sunday smorgasbords and threshing suppers are served in the inn's restaurant, which is a busy one. Guests stay in nine farmhouse rooms and a cottage.
The proprietors are Dells natives Anita, Kari and Sigrid Nelson, who often entertain guests on their fiddles. 608-254-4145.
For more about the area, see The quiet side of the Dells.
The Farmer's Inn near Viroqua, Wis. This is a working dairy farm in the beautiful coulee country southeast of La Crosse includes cows, horses, dogs, cats, a goat and chickens; guests can help with chores and gather eggs.
A Norwegian-style log cabin sleeps six in a bedroom with a queen, a loft with two twins and a queen sofa sleeper. It has a fully equipped kitchen, porch, gas grill and fire pit. Rate is $99 for two, $10 for each additional person 11 and older. Proprietors are Gary and Jean Bekkedal, 608-675-3553.
For more about the area, see Valleys of Vernon County.
The Dairy at the Wegmueller Farm near Monroe, Wis . Guests are welcome to milk the cows, bottle-feed the calves and pet the dogs and cat at this farm. Hosts are Dan and Ashley Wegmueller, who give tours of the farm.
The house sleeps 11, with four bedrooms and two baths. Guests have it to themselves.
For more about the area, see Wisconsin's cheese country.
Palmquist's The Farm, Brantwood, Wis. : This 800-acre resort in north-central Wisconsin is known for winter recreation, but it also has ponds for fishing, nature trails and many animals — rabbits, calves, horses, cats on the farm and frogs and deer in ponds and fields.
Guests go on hayrides and scavenger hunts and learn to make homemade ice cream.
Lodging is in cabins, a new inn and the farmhouse, where everyone gathers for meals. The rate includes breakfast and dinner. Jim and Helen Palmquist carry on the family's tradition of Finnish hospitality. Call 800-519-2558.
Rainbow Ridge Farms near Onalaska, Wis . This hobby farm B&B in the river bluffs north of La Crosse has llamas, goats, sheep, donkeys, chicken and ducks; guests can gather eggs and give bottles to baby goats.
It has four rooms from April through October, and rates include breakfast. Families can rent a room with a queen and a room with two twins. 608-783-8181.
For more about the area, see Bikes, birds and bogs and Hitting the trails in Trempealeau.
Last updated on October 23, 2019