Playtime in Milwaukee
For children, this easygoing city is just the right size.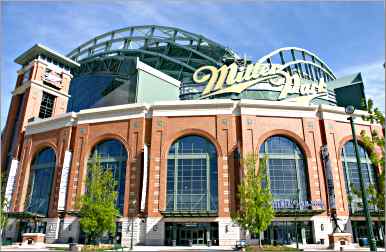 There's one city in the Midwest that never will get too big for its lederhosen.
Milwaukee, sometimes called the biggest small town in America, doesn't brag — though it should. It has a swell baseball stadium, a beloved art museum and a beautiful lakefront.
Lake Michigan borders downtown, lined with beaches, bike trails and playing fields. Craft breweries and restaurants reflect a culture steeped in Gemütlichkeit, the German term for congeniality and good life.
In the 1950s, Milwaukee was the 11th-largest city in the nation, a blue-collar behemoth. It's been shrinking ever since but still is the state metropolis.
It doesn't exactly bustle, though — it's just a big, good-natured city that thinks it's small, the Baby Huey of Wisconsin.
Not surprisingly, Milwaukee is a good place to take small people. My son Peter and I went there one April, to watch the Brewers play under the retractable roof of Miller Park, now American Family Field, and to see what else was going on.
We stayed at the downtown Hilton Milwaukee City Center, from which we walked to the Old World Third Street Historic District, once the center of German culture and society. The Milwaukee Bucks were playing nearby at Fiserv Forum.
The next morning, we walked to the Milwaukee Public Museum, a block from the Hilton.
The big museum has been a favorite of Wisconsin schoolchildren for generations, especially for its "Streets of Old Milwaukee," where cobbled lanes pass a toy store filled with tin soldiers, a candy store stocked with old-style sweets and a drugstore with a ventilated jar of leeches sitting on the counter.
The skeleton of a humpback whale hangs over a muskrat display that, in 1890, was America's first habitat diorama. The museum still is renowned for the realism of its displays and environments, such as its rain forest.
Children love that as well as the dinosaur exhibits, especially one in which a Tyrannosaurus Rex attacks a Triceratops.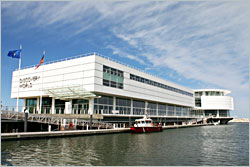 "Cool, look at the guts," Peter said. "Let's see what he bit out."
The butterfly wing, a humid haven for butterflies from around the world, also is hugely popular. For a while, we shadowed a volunteer docent, who carried a fading red swallowtail on her shoulder and a Blue Morpho sucking at an orange in her hand.
The fragile lepidoptera, she said, live only seven to 10 days.
"Every night, we go through and pick up 25 or 30," she said. "And in the morning, we open the door of the chrysalis house and let the ones whose wings have hardened fly out."
Visitors aren't allowed to grab at the butterflies, but they can try to attract them by wearing denim, khaki and orange colors, we were told. Sure enough, a Heliconia landed on my light-blue pen, allowing me to lift it and examine its delicately curled proboscis.
Under the same roof, we saw an IMAX show. In the science center, we tried out an exhibit that was highly practical, like the city.
Labeled "Milwaukee muscle — outsmarting gravity since 1835," it allowed us to lift a 100-pound fieldstone with a lever, a 300-pound block of ice with a windlass and Peter's 85 pounds with a pulley.
We also played with electricity and let sound waves measure our height, but we didn't have time to dabble in the R & D Cafe, where a "chef" takes orders for experiments and delivers boxes full of polymers, plastics and old appliances.
We tried to do it all justice, but eventually wore ourselves out. So we walked toward the Milwaukee River and Mader's, one of the city's oldest German restaurants.
Mid-afternoon turned out to be a good time to arrive: We got our own room and lounged there, listening to classical music, sipping drinks out of crystal glasses and ogling the high-Teutonic decor.
Dishes on the lunch menu were a bargain, and the children's menu included Wiener schnitzel, beef goulash, breaded pork chop and boiled knackwurst.
From Mader's, we walked along the river to Pere Marquette Park, where Peter climbed a birch tree, and then crossed to the Safe House, a goofy spy-themed bar and restaurant in alley-like Front Street.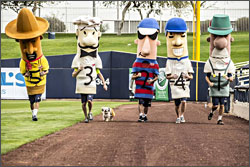 He didn't really get the Mad magazine and 007 references posted throughout the maze-like place, but he did like operating the swinging bookcase through which patrons enter.
At 6 p.m., we caught a special city bus outside the Hilton, and it took us straight down Wisconsin Avenue to the $399 million American Family Field, pride of Milwaukee. With its clock tower and fan-shaped roof, it's handsome inside and out, an old-style ballpark.
It definitely delights the locals. When that night's attendance was announced — 34,998, just 7,500 short of a sell-out — the crowd roared.
"On an April night at the old stadium, it'd be maybe 2,000 or 3,000," said my neighbor, Diane Knight of Wauwatosa. "It'd be just too chilly."
Knight was my interpreter for the evening, explaining the twisting yellow chute that lederhosen-clad Bernie the Brewer slides down after homers and the seventh-inning sausage race, run by an oversized brat, a hot dog, a Polish, an Italian sausage and a chorizo.
"Only in Milwaukee," she said fondly.
The high point of the game came after it was over. As the theme from "2001: Space Odyssey" played, the crowd watched raptly as the roof gracefully folded back over itself, to let in air and sun for the grass field.
City buses were waiting to take us back downtown, where honking marked the end of an Admirals hockey game.
In the morning we drove through downtown, past the stunningly ornate 1876 Mitchell Building and other old stone buildings.
As we turned onto the lakefront drive, Peter pointed and said, "What's that boat?" It was the Milwaukee Art Museum's $100 million expansion, designed by Spanish architect Santiago Calatrava with a blindingly white "wing" that also resembles a sail with mast and rigging.
It was a sunny day, so we pulled in at North Point for a last stroll. Peter made a beeline for the boulders strewn along the shore, jumping from one to another. Then he discovered a piece of rock embedded with dozens of fossils, which made him jump for joy.
"I love Milwaukee!" he shouted. "I could climb on these rocks all day. I want to stay in Milwaukee forever."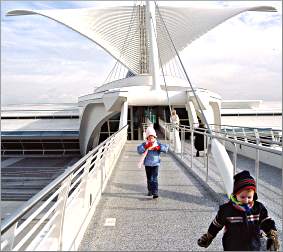 Seeing neighboring Bradford Beach, with its gleaming white sand, made him love it even more. "We have our swimsuits — just for half an hour?" he pleaded.
But it was April, way too cold for swimming in a Great Lake. So Peter had to leave Milwaukee to the boys of summer — on the beach, in the ballpark and everywhere else in this kid-friendly city.
Trip Tips: Milwaukee with kids
For more visitor information, see Party in Milwaukee.
Accommodations: The Hilton Milwaukee City Center is well-located.
In the summer, you can get an inexpensive room in the Straz Tower of Marquette University, just a few blocks farther down Wisconsin Avenue.
Mashuda Hall, a mile farther down Wisconsin Avenue, also rents rooms in summer and has a guest wing open to tourists during the academic year. For more, see On budget in a dorm.
Dining: Mader's, on Old World Third Street, is more expensive but has a great kids' menu, 414-271-3377.
Brewers games: Check for promotions.
Attractions: Discovery World is at Pier Wisconsin on the lakefront, just south of the art museum. It includes an Automation Dream Machine, TechnoJungle, Innovation Labs, video and audio studios and aquariums.
Information: Milwaukee tourism, 800-554-1448.
Last updated on March 17, 2021