On budget in a dorm
In summer, college residence halls are a boon to budget travelers.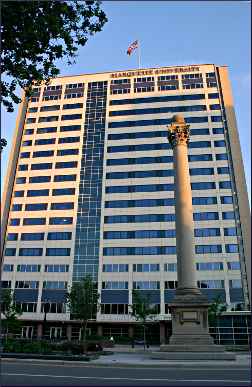 Until recently, my memories of college dorms mostly involved sloppy drunks, sloppier roommates and a bathroom shared by the whole floor.
Then my husband and I stayed at Marquette University in Milwaukee. It was as quiet as a cathedral, and we had a private bath and a panoramic view of the city from our 17th-floor picture windows.
We got a great deal, which was nice because we like to save money. But mostly, we stayed at Marquette because it was so convenient, three blocks from the special bus that takes summer visitors to the lakefront Henry Maier Festival Park and right on the route that takes baseball fans to Miller Park on game days.
We also brought our bikes, and we knew we could bring them up to our room — at a college, nobody bats an eye about that.
We were supposed to stay in the year-round guest wing of Mashuda Hall, a former hotel that's next to the Pabst Mansion and housed the Beatles when they played Milwaukee in 1964.
But when we got to Marquette, we found we'd been moved to the 18-story Straz Tower, which suited us because it's much closer to downtown.
The Straz once was the central branch of the YMCA, so we had access to a fitness center with a lap pool, indoor running track, racquetball courts, sauna, steam room and whirlpool.
On the 17th floor, our room had cable TV, microwave, refrigerator, phone, Internet access, a folder of tourist information and a little basket of toiletries in the bathroom.
We had a sweeping view of freeways, factories and grain elevators from our room, spectacular at night, but Steffani King of Louisville, Ky., had done even better.
Her top-floor room had a beautiful view of downtown and the landscaped grounds of the Wisconsin Club, which occupies an ornate French Second Empire mansion across the street and hosts weddings nearly every Saturday.
King was on her first solo road trip and had meant to mostly camp her way west, but then she stumbled across Marquette.
"It's such a cheap room; I could never have found anything else this nice," she said. "Although the guy at the front desk is not exactly a concierge."
In summer, campus lodgings often are manned by students, and ours obviously wasn't at the top of his class. He couldn't find our check-in information, and he didn't know where we should park. We'd also been billed for just one night, but not two.
But everything got straightened out, and we had a great time. There's a festival every summer weekend in Milwaukee, and the town fills up for such events as Summerfest and Festa Italiana, both on the lakefront.
Just remember, a college dorm is not a hotel. It's not romantic, either, because all the beds are twins. But for those who can channel their inner students, it's a great way to travel.
Trip tips: Summer stays at colleges
Below are some of the colleges that open their halls to visitors in summer. Few colleges advertise; if you want to find out about availability elsewhere, call and ask.
Some colleges reserve their summer housing for participants in conferences and other programs but may make it available to others if it's not filled. Some colleges have a few year-round guest accommodations.
Some colleges, such as the University of Minnesota-Duluth, have one- or two-month summer rental programs for seniors, which are very popular with people from southern states.
Milwaukee
Marquette University is very well-located, on the edge of downtown and with good access to public transportation.
Its Straz Tower is three blocks from the special bus that takes summer visitors to the lakefront Henry Maier Festival Park and right on the Wisconsin Avenue route that takes baseball fans to Miller Park on game days.
Or ride your bike; it's a college dorm, so you're free to take your bike up to your room in the elevator. Milwaukee is a great place to bicycle; see Bicycling along Lake Michigan.
You also can stay a mile farther along Wisconsin Avenue at the seven-story Mashuda Hall, a former hotel where the Beatles stayed after their Milwaukee gig in 1964. It's next to the Pabst Mansion.
The air-conditioned rooms, all with WiFi, are available from late May to mid-August, but only if a conference also has booked rooms in one of the dorms. That's most days, but usually not holiday weekends.
Mashuda Hall also has a guest wing that's open every day during the academic year. Every room has a microwave, refrigerator and cable TV. To reserve, call 414-288-7208.
For more, see Party in Milwaukee and other Milwaukee stories.
Duluth/Superior
For Grandma's Marathon festivities in mid-June, three local colleges pitch in to house the 50,000 spectators and 17,000 runners.
The colleges also are open at other times, and the University of Minnesota-Duluth and St. Scholastica both operate popular programs for seniors who leave their winter homes in Arizona and Florida to spend a cool summer on the shores of Lake Superior.
For Grandma's, UMD rents double rooms and two-bedroom suites. The rest of the summer, seniors can rent furnished apartments that sleep four and include phone, utilities and a meal card. Call 218-726-7390.
For Grandma's, the College of St. Scholastica, just west of UMD off Skyline Parkway, rents dorm rooms for two, with bath down the hall, and two- or four-bedroom suites and apartments. Call 218-529-5777.
The University of Wisconsin-Superior rents rooms during Grandma's and at some other times. Call 715-394-8575.
For more, see Duluth 101.
Thunder Bay
Two colleges on the north end of town offer lodgings from May through mid-August.
Lakehead University offers pleasant single and double rooms with mini-fridges. Bathrooms are shared, and there's a shared living area with a kitchenette and large flat-screen TV.
There are also four-bedroom apartments and townhouses with TV and all appliances and utensils.
For more, see Exploring Thunder Bay.
Chicago
Chicago can be very expensive in summer, so campus housing is an especially good deal.
At Congress and State in the Loop, the 1,700-bed University Center houses students from Columbia College and DePaul and Roosevelt universities during the year. In summer, it rents four bedroom, two-bath apartments and semi-suites, which share a bath with another semi-suite. Rates include one meal in the dining center.
The University Center also rents year-round guest suites that have a queen bed, flat-screen TV, kitchen and bath. Call 312-924-8089.
Just west of downtown in the University Village neighborhood, the University of Illinois-Chicago rents apartments mainly to students who have come to Chicago on internships, but it also will rent to others. Call 312-355-6317.
For more, see Cheap Chicago and other Chicago stories.
Traverse City
This beach town near Sleeping Bear Dunes National Lakeshore is very popular in summer.
To stay on a budget, reserve a room at Northwestern Michigan College. It offers single and double rooms and family suites.
It's at the foot of the Old Mission Peninsula, between the two arms of Grand Traverse Bay.
For more, see The good life in Traverse City.
Decorah, Iowa
In this northeast Iowa town, Luther College helps house the 60,000 people who flood into town for Nordic Fest in late July. The college will rent summer accommodations at other times if local hotels are full.
For more about Nordic Fest, see Nordic nirvana.
Staying in hostels
Hostels are another low-cost accommodation; there are several in Chicago.
For information on hostels in general, check Hostelling International or Hostel World, which includes ratings from guests and features on hostels and towns around the world.
Last updated on May 15, 2015