Fast times in Nisswa
Swift turtles mix with power shoppers in a Minnesota lake-country oasis.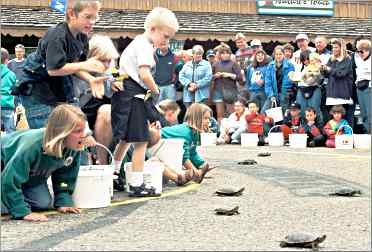 As soon as we turned off the highway into Nisswa, my children's heads began to swivel.
"Souvenirs . . . Gift Shop . . . Moccasins," read my daughter Madeleine. "And look — Candy Store."
"This is a cute town," said my son Peter, noticing the covered sidewalks. "It's like a cowboy town."
As soon as we parked, Madeleine was pulling on my arm; she'd spied the words "Rainy Days Toy Store and Bookstore" above one shop.
I first spent time in Nisswa when I rode into it on the Paul Bunyan State Trail, which cuts through town on a corridor once used by logging trains. It was Crazy Days, and throngs of shoppers prowled the boardwalks.
Nisswa became a resort town after the loggers left, with the usual souvenir and ice cream stores in the three-block downtown, 20 minutes north of Brainerd.
But its complexion changed in the 1990s, with the opening of top-flight golf courses nearby.
Now, people who can afford to spend $350 for a day's lodging and golf at neighboring Grand View Lodge can come into town and spend even more in the 50-plus shops.
But we were in town for an event started even before upscale was a word: The Nisswa Turtle Races, held every Wednesday afternoon in summer since 1966.
First, we checked out the shops. When we walked into Zaiser's, heard Pachelbel's Canon over the sound system and saw shelves of aromatherapy wraps and soap by the slice, I started shaking my head over the disappearance of good old-fashioned junk stores — until I heard an excited cry, "Look, Mom!"
And there it was, a whole room full of sling shots, magic ink, lucky rabbit's feet, arrowheads and exploding golf balls.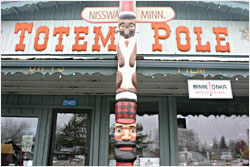 Everywhere we went, storeowners asked, "Going to the turtle races?" After lunch, we headed for the parking lot behind the Chamber of Commerce, where big circles were painted on the parking lot.
There was already a crowd, so we went to pick out turtles, a big one that Peter named Charger and a medium one Madeleine called Tortoise.
I asked vendor Robert Litzau if it was true that bigger is better. He smiled and put a finger to his lips.
"Mum's the word," he said slyly. "If I said so and they didn't win, I'd be in hot water, wouldn't I?"
As we waited for the races to begin, we talked with Clark Christiansen and his son Sam, who had brought his own turtle; Christiansen was attending his first race in Nisswa in three decades.
"I was a turtle hunter as a child; all the local kids were," he said. "I had a whole stable, and we'd have tryouts in the yard."
The races haven't changed much, said Christiansen, though Nisswa has: "It used to be the real boondocks around here; we used to think we were way out there," he said. "Now, it's a strip all the way from Minneapolis."
Then the first heats began, with children kneeling inside the first circles, pounding the pavement and shouting their turtles on to victory. Charger moved a respectable distance, but Tortoise just sat at the starting line as Madeleine stared at him forlornly.
Finally, a 7-year-old from Iowa won the grand championship, earning $5 and his name on the radio, though he got to race again: After the main race come races for button-holders, out-of-staters, resort guests and "mighty midgets."
That day, 229 turtles were entered, with more than 600 people looking on.
"It gets bigger and bigger every year," Litzau said when we returned our turtles.
Then he relented and gave us a tip: "Yeah, the bigger ones are faster," he said, handing me a 40-year-old turtle the size of a football. "They've got a bigger stride. When they get going, they go."
Trip Tips: Turtle racing in Nisswa, Minnesota
Getting there: It's about 2½ hours north of the Twin Cities.
Turtle races: They're held at 2 p.m. every Wednesday from June through the third week of August. Registration starts at 1 p.m.; cost to rent a turtle is $5. Participants can't bring their own turtles.
For more about racing turtles and other creatures, see Critter races.
Where to stay: Two resorts on Lower Cullen Lake are a ¾-mile walk or bike ride on the Paul Bunyan State Trail from downtown Nisswa: Good Ol' Days Family Resort, with upscale townhouse cabins and lodge, 800-298-2478, and the more traditional Eagles Nest, which has a large playground, 800-922-0440.
The Nisswa Motel is downtown, 800-254-7612.
Where to eat: Friendly Rafferty's is a good place to get a pizza or sandwich and has a children's menu.
On Main Street, Big Axe Brewing serves burgers and sandwiches.
For more about the area, see Summer in the Brainerd Lakes.
Information: Nisswa tourism, 800-950-9610.
Last updated on January 24, 2022