Critter races
In Minnesota resort towns, creatures great and small run for the money.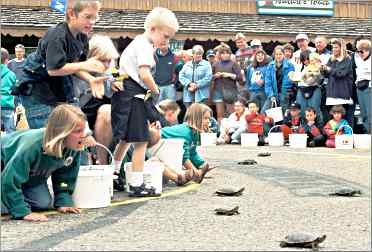 In June, racing season moves into full throttle in resort towns around Minnesota.
Speeding turtles begin their weekly sprints in Nisswa and Longville.
In Perham, the "International" Turtle Races-the town says they've attracted competitors and spectators from Africa, Europe, Asia and the Middle East-begin the week after Memorial Day.
Pelican Rapids holds weekly minnow races.
In Wayzata, dachshunds run the hurdles, and they also race at Oktoberfest celebrations around the region.
Prizes are awarded, but mostly, the four-legged hot rods win bragging rights for their owners. It's not NASCAR, but competition is fierce.
Wednesdays in summer , International Turtle Races in Perham. This west-central town is known for turkeys and, in summer, tourists from the many lake resorts in Otter Tail County.
Races begin downtown at 10:30 a.m.; visitors can borrow a turtle or bring their own. Turtle Fest is in June.
Wednesdays in summer , Turtle Races in Nisswa. Races in this village, the heart of the Brainerd Lakes, begin at 2 p.m. Prizes are awarded.
For more, see Fast times in Nisswa.
Wednesdays in summer , Turtle Races in Longville. In this town on the shore of Girl Lake, just south of big Leech Lake, games and contests start at 1 p.m., and the races at 2 p.m.
There's fair food, too. Turtle Town Art Fair is the last Saturday in June.
Tuesdays in summer , Minnow Races in Pelican Rapids. This Otter Tail County town, not far from Perham, holds its free races in EL Peterson Park, starting at 10:30 a.m.
September, Dachshund Races during James J. Hill Days in Wayzata. In this western suburb of Minneapolis, dogs compete in the hurdles, sprints and sofa jump, followed by a costume contest and smart pet tricks.
October, dachshund races at Oktoberfest celebrations around the region . For details, see Toasting Oktoberfest.
Last updated on January 17, 2022