Toasting Oktoberfest
These festive tributes to Bavarian tradition put the oompah into fall.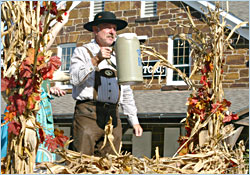 When fall arrives, we get a sudden urge to hoist a stein of beer, eat a grilled bratwurst and listen to red-cheeked men in little felt hats play the accordion.
Fall belongs to the Germans, who streamed into the Upper Midwest in the 1850s and still are the largest ethnic group in every state. Which is a good thing, because Germans like to have fun.
In October 1810, they had so much fun at the wedding of Princess Therese of Saxe-Hildburghausen and Crown Prince Ludwig of Bavaria, held in a meadow near Munich, that they decided to do it every year.
Emigrants to America brought the tradition with them, along with their recipes for beer and sausage, and started hundreds of smaller Oktoberfests all across the Midwest.
For a long time, the closest in spirit to Munich's beer-drinking bacchanalia was La Crosse's celebration, held since 1961 in a city that once had seven breweries.
But like most Oktoberfests, it's more of a family event now. Dachshund races have become popular, along with such American staples as wagon rides and pumpkin decorating.
You'll also find typical German strength competitions, such as nail-striking (hammering nails into the top of a barrel) and Maßkrugstemme (holding up full steins of beer for as long as possible).
To catch the best weather, Munich's Oktoberfest now starts in September, and so do most in the Upper Midwest.
Here are the best events in 2023.
And don't forget to check at your local breweries and German restaurants; many of them hold Oktoberfests, too.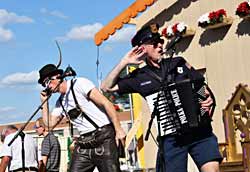 Trip Tips: Oktoberfests in Wisconsin, Minnesota, Iowa and Illinois
Admission to most Oktoberfests is free, but some charge a small fee. If you don't like to drink out of plastic cups, bring your own stein.
For more about German traditions, see Germans among us.
September weekends and first weekend of October, Oktoberfest in Glendale, Wis. This festival on the northern edge of Milwaukee was held in Heidelberg Park for many years and now is at the Bavarian Bierhaus. It's the oldest in the Midwest.
Sept. 8-9, Oktoberfest in St. Paul. The Germanic American Institute on Summit Avenue celebrates with music, food and dancing.
Sept. 8-10, German-American Oktoberfest in Chicago. The local German-American Societies hold this street party in Lincoln Square, featuring two tents, carnival games, dancing and a parade at 2 p.m. Saturday.
Sept. 14-17, Wauktoberfest in Waunakee, Wis. This town just north of Madison celebrates with a craft-beer tasting, music and lots of contests: brat toss, nail-striking, dachshund dash and Limburger cheese and sauerkraut eating.
Sept. 15-16, Oktoberfest in Chippewa Falls, Wis. On the fairgrounds, there will be a kids' costume contest, card tournaments, a German car show, dumpling demonstrations and parades at 3 p.m. Saturday and 1 p.m. Sunday.
Sept. 15-17, Oktoberfestival in Duluth. In addition to German food and music, there will be stein-holding, barrel-rolling and pretzel-tossing contests, a kids' zone and a dachshund derby on Sunday. Admission is $20, $10 in advance.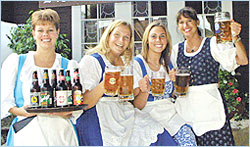 Sept. 17, Oksoberfest in Chicago. The Lincoln Zoo hosts this adults-only evening with alcohol-free beer, mocktails, food and polka.
Sept. 21-24, Oktoberfest in New Glarus, Wis. The festival in this Swiss town southwest of Madison features an antique tractor pull, horse-drawn wagon rides, a giant pot of cheese fondue and, of course, New Glarus beer.
Sept. 23 and 30 and Oct. 7, Oktoberfest in Lake Villa, Ill. This indoor-outdoor festival on three Saturdays in Chicago's far northern suburbs is sponsored by the American Aid Society of German Descendants at the German/American Cultural Center.
Sept. 22-23, Oktoberfest in Des Moines. Take polka-dancing lessons, enter the Bier Maiden or stein-holding contests and win costume prizes at this outdoor fest in Water Works Park.
Sept. 22-23, Oaktoberfest in Oak Park, Ill. In this western suburb of Chicago, famous for its Frank Lloyd Wright district, there's music, craft beer, food from local restaurants and, for kids, a root-beer garden, games and zucchini-car races.
Sept. 22-24, Oktoberfest Chicago. This longtime festival outside St. Alphonsus Church in West Lakeview features food and music on two stages.
Sept. 23, Northside Oktoberfest in Iowa City, Iowa. The day starts with BrewFest and continues at the Outdoor Bier Hall, with nail-driving, keg bowling, a beer slide and music. For non-drinkers, there's SodaFest.
Sept. 23-24, Oktoberfest in Germantown, Wis. In this town north of Milwaukee, there's a dachshund dash and children's activities as well as music, dancing and food.
Sept. 28-30, Oktoberfest in La Crosse, Wis. There's non-stop music, food and carnival rides at this large festival on riverside fairgrounds, plus the Maple Leaf Parade, German Heritage Day and the Torchlight Parade.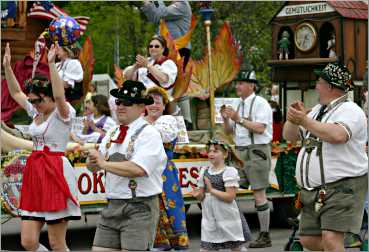 Sept. 29-Oct. 1, Oktoberfest in Amana, Iowa. This formerly communal village in eastern Iowa features a brat-eating contest and the Eisenmann (Iron Man) competition, in which teammates roll kegs, walk a balance beam with full steins of beer, saw logs and keep full steins of beer lifted.
There's a parade at 10 a.m. Saturday, plus artisan demonstrations, music and a lot of food, beer and wine.
Sept. 30, Octoberfest in Appleton, Wis. This large downtown festival is more general civic celebration than heritage festival, with an arts and crafts show, car show and music on five stages.
Sept. 30, Oktoberfest in Galena, Ill. The Lions Club puts on this riverfront festival, which includes wiener-dog races, polka lessons, nail-striking, pumpkin-decorating and a beanbag tournament.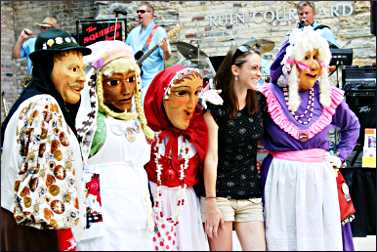 Oct. 6-7, Oktoberfest in Naperville, Ill. The fest at the Naper Settlement museum features music, food stein-holding and lawn games.
Oct. 6-7, Twin Cities Oktoberfest in St. Paul. This fest at the Minnesota State Fairgrounds includes music, dance and nail striking.
Oct. 6-7 and 13-14, Oktoberfest in New Ulm, Minn. Minnesota's most German town offers food and music from homegrown and regional bands at locations that include picturesque Schell's Brewery and Morgan Creek Vineyards.
Oct. 6-8, Oktoberfest in Milwaukee. There will be a dachshund beauty pageant and stein-hoisting and brat-eating competitions as well as music and dancing in Cathedral Square Park.
Oct. 7-8, Oktoberfest in Cedarburg, Wis. There are lots of contests in this Yankee mill town north of Milwaukee-sauerkraut-eating, German spelling, best dirndl and lederhosen-plus beer, wine and music.
Oct. 7-8, Oktoberfest in Lake Geneva, Wis. Music, food and free pumpkins are part of the fest in this southeast Wisconsin vacation town.
Oct. 21, Oktoberfest in Elkhorn, Wis. This downtown festival near Lake Geneva features wine and beer tasting, music, a car show, arts and crafts and a chili cookoff.
Oct. 21, Oktoberfest in Alexandria, Minn. The festival at 22 Northmen Brewing will include nail-driving and stein-holding contests, craft beer, pumpkin tic-tac-toe, horse-drawn wagon rides and live bands.
Last updated on January 11, 2022