Carrying the torch
In Wisconsin's north woods, Lac du Flambeau offers a portal into Ojibwe culture.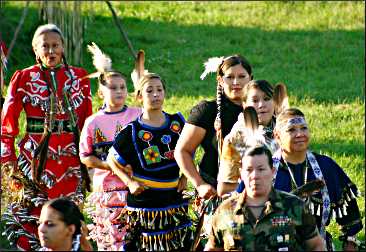 In a quiet corner of Wisconsin lake country, Ojibwe culture lives and breathes.
The French called this place Lac du Flambeau, "lake of the torches." To the Ojibwe it was Wa-Swa-Goning, "the place where they spear fish by torchlight."
Violent protests shattered its north-woods serenity in the 1980s, when the courts upheld spear-fishing treaty rights. The backlash traumatized the community, but also strengthened its commitment to tradition.
The area's tourist hub is Minocqua, with its full slate of attractions. But just 15 minutes to the west, Lac du Flambeau also has attractions, and they give tourists a revelatory glimpse into a proud culture.
In 1993, the late Nick Hockings fulfilled a dream by re-creating and opening a traditional Ojibwe village on 80 acres of land, which he called Waswagoning Ojibwe Indian Village. In summer, he, his wife Charlotte and volunteers gave tours of it to fascinated visitors from around the world.
Some arrived knowing nothing at all about modern Indians.
"They expect us to be running around in leather and feathers," Charlotte Hockings said. "When they get here, they say, 'Where are the Indians?' and Nick is standing right there.
"But they're so happy when they leave. They see the culture, they see the language, they see the ricing sticks and the birchbark canoe. We explain how to make fire and use the bow drill-people are just mesmerized."
The village has closed, but Waswagoning's artifacts are displayed at the Powwow Bowl. At the weekly social powwow in downtown Lac du Flambeau, visitors learn the basics of their hosts' world view and are invited into the circle to dance alongside their hosts.
The past also is on display next door at the George Brown Jr. Ojibwe Museum & Cultural Center, which shows exhibits on the fur trade, the logging era, the advent of tourism and the so-called walleye war of the 1980s.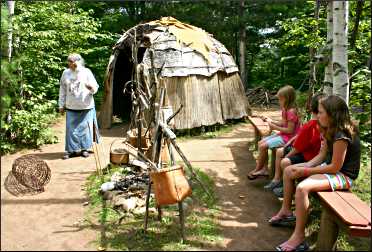 And everyday Ojibwe are at work across the street, running the handsome Lake of the Torches resort hotel and casino on Pokegama Lake.
Like everyone else, the Ojibwe have a past, a present and — thanks to Indian gaming — a future.
After Europeans settled in, the Lac du Flambeau Ojibwe lost their living along with their land. They were restricted to a reservation in 1854, and in 1887, their reservation was taken away and exchanged for allotments of 160 acres per head of household.
The leftover land was sold to whites, who acquired even more land from Ojibwe who were unable to make a living on their swampy plots.
They were nearly unable to maintain their culture, which the government tried to suppress. From 1895 to 1934, the Bureau of Indian Affairs operated a boarding school in Lac du Flambeau in which children were punished for speaking their own language.
It was the tourists who indirectly helped keep the culture flourishing.
The land the white people bought, almost all of it on a beautiful chain of 10 lakes, was used to begin the resort industry. The vacationers liked Ojibwe handicrafts and dancing, and they bought beadwork and birch baskets and paid to watch powwow shows.
Since the 1890s, dancers had been performing for tourists who wanted to see "a real Indian," and the lakeside Indian Bowl was built in 1951 for weekly powwow shows.
They've been held ever since, and regularly since 2010. They're a virtual Powwow 101, an unparalleled chance for people to find out what powwows are all about in a low-key setting.
When I visited in August, the show was my first stop.
Spectators sat in bleachers, and as dancers entered the circle, the emcee talked about the different clans that make up the social order, including the Deer Clan, which provides poets and musicians; the Marten Clan, which provides warriors; and his own Bird Clan, the keepers of tradition.
He explained the difference between the names Anishinabe, Ojibwe and Chippewa and described the origins and meanings of the different dances as the Wind Eagle group from the Menominee Nation accompanied with "drumbeats like the heartbeats of Mother Earth," Larson said.
When the emcee invited spectators to dance in the circle, the bleachers nearly emptied out. Like a square-dance caller, he announced various themes, including a fish dance.
"I'm almost sure that if you join in this dance, tomorrow you're going to have a fish fry," he said. "It shows honor and respect for that fish you're going to catch."
And when he called the feather dance, the kids jumped to the challenge, bending to pick up a feather off the grass using only their mouths.
I camped that night on the tribal campground, on the shores of Flambeau Lake, and the next day I went to Waswagoning, in the woods near downtown.
My first guide was Bob Hudack, who said he was taken from his parents as a child and sent to live with foster parents in Ashland, Wis. But his real parents moved to live near him, and he was able to spend summers with them.
"So I wound up with two sets of parents," he said cheerfully.
The other guide was Ramona Union, who grew up in a non-Indian community and had different issues.
"I grew up in Nebraska, and a lot of people call me an apple — red on the outside, white on the inside," she said.
Like the Ojibwe themselves, we moved with the seasons, from the village's winter lodge to the spring maple-sugaring camp and from the summer lodge to the fall wild-rice harvesting camp.
Life for the Ojibwe wasn't all work, but nearly everything had a purpose. Union showed us a leather thong with a sand-filled ball at each end that was used for doubleball, a women's game that taught the dexterity needed for harvesting wild rice.
"The men loved to watch their women play," she said. "They'd place bets."
The boys and men played lacrosse, "an alternative to war," she said, running seven to 12 miles for each goal.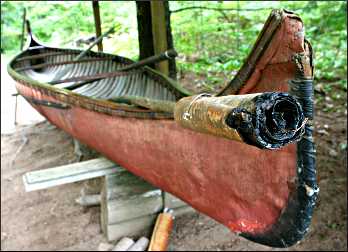 "It's a hard game," Union said. "They're breaking fingers and breaking arms, but they didn't kill each other. They settled arguments by having a game of lacrosse."
In the canoe arbor, we saw the famous birchbark torches, tips smeared with pine sap, and spears tipped with obsidian.
At the arrow-makers' lodge, we saw exquisitely decorated arrows. Nick Hockings made everything in the village by hand, using traditional materials and techniques.
Gangster history
Lac du Flambeau also has a more recent, more notorious history.
Nine miles north of town, Dillman's Bay Resort is known for its beautiful location on a peninsula, for its summer arts workshops, and also for its cameo in the infamous 1934 shoot-out between the FBI and John Dillinger at Little Bohemia in Manitowish Waters.
The resort's Cabin 5 is where Baby Face Nelson ended up after he killed an FBI agent and stole his car.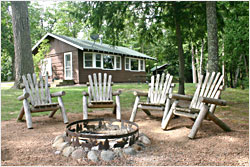 When the car threw a rod, the gangster walked 20 miles west through the forest and spent three nights in a maple-sugar shack with an elderly Ojibwe man, who later was photographed wearing wingtip shoes and a three-piece suit while beating drums at a powwow.
The shack was moved to the resort and became one of its cabins; one side still has the original chinked timbers.
"Some people insist on staying in Cabin 5," says owner Sue Robertson, whose parents, Marvin and Peg Dillman, bought the 1918 boys' camp in 1934 and turned it into a resort. She suspects Nelson hopped a train and rode out of the north woods dressed as a hobo.
It's a fun story. But most people who stay at Dillman's treasure it for an old-fashioned atmosphere that increasingly is hard to find.
When I was there, I talked with Rich and JoAnn Janke of Grafton, Wis., who had arrived the day before. Already, they'd been invited to a play some of the guest children had put on.
"We love this place already," Rich Janke said. "A lot of resorts have been sold out from under us. We've been wanting to stay here for years."
There are a lot of attractions around this lakes area. But in Lac du Flambeau, simple tradition is the most cherished of them all.
Trip Tips: Lac du Flambeau, Wisconsin
Getting there: It's 14 miles west of Minocqua. For more on the area, see Summer in Minocqua.
Annual events: June, LakesFest. July 4, Celebration with parade, powwow and fireworks. July, Bear River Traditional Powwow. September, Wild Rice Fest.
Wa-Swa-Goning Ojibwe heritage village. It's no longer operating.
Waaswaaganing Indian Bowl powwows: They're held downtown at 7 p.m. most Tuesdays from mid-June to mid-August. Admission is $10, $5 for children 7-17, and food is sold.
George W. Brown Jr. Ojibwe Museum and Cultural Center: It's open Monday through Friday and some Saturdays; check for hours. Admission is $4, $3 children 6-17.
Accommodations: Lake of the Torches Resort and Casino on Flambeau Lake has attractive rooms with lake views, two restaurants and a nice indoor pool complex with play features.
Dillman's Bay Resort, north of town on a peninsula in White Sand Lake, has a lovely setting for its cabins, one of which served as a hideout for gangster Baby Face Nelson (for more, see Chasing gangsters in Wisconsin ). Pets are welcome.
From May through September, Dillman's brings in professional instructors to teach Creative Workshops on painting, writing and other pursuits.
Camping: The Tribal Campground and Marina is on a small peninsula and has grassy tent sites and RV sites. There's a swimming area, boat launch, nice bathrooms with showers and a grocery store within walking distance. Call 715-588-4211.
Information: Lac du Flambeau tourism, 715-588-3346.
Last updated on April 14, 2021