Summer in Minocqua
In Wisconsin's north woods, vacationers flock to this Island City.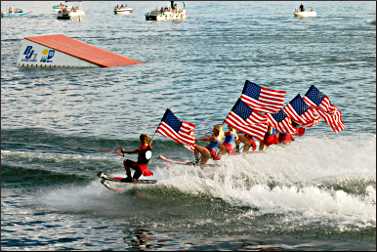 In northeast Wisconsin, Minocqua is all things to all tourists.
It's been a boating destination for more than a century because it's on a chain of lakes and nearly surrounded by Lake Minocqua. In fact, it's Nature's Original Water Park, and the town has the trademark to prove it.
But summer is short, and these days, tourists like to keep busy. That's why you'll also find water-ski shows, lumberjack shows, boat tours, wildlife parks, bicycle trails, city-style shopping, golf and, in the middle of downtown, mini-golf.
So much to do, so many places to go — and yet the biggest crowds are always outside the fudge shop.
Minocqua is just a little town of 4,400, but it has an outsized reputation as a lake resort. Financiers and industrialists from Chicago and St. Louis came up and built estates, which included the fanciful boathouses for which the area now is famous.
Elizabeth Taylor vacationed on the lake for 10 years when she was a teen-ager, staying at the estate of her great-uncle Howard Young.
Young, an art dealer and investor who endowed the local medical center, also entertained Dwight Eisenhower before and during his presidency. Eisenhower, like Taylor, loved to fish for muskies and bass.
Gangsters liked Minocqua, too. Al Capone went to Hayward, but his rival Roger Touhy vacationed in Minocqua, fishing with a machine gun. It had brothels and gambling dens; the Belle Isle, still a sports bar, had a direct phone line to Arlington Park racetrack in Chicago.
The town is a favorite of vacationers from the Chicago area, though people come from all over. When I was there one August, watching a performance of the Min-Aqua Bats water-ski team, the announcer flushed out visitors from California to Connecticut.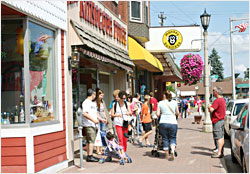 The Min-Aqua Bats are part of old Minocqua. Founded in 1950, the team puts on the world's longest-running amateur water-ski show, and perhaps the most popular — it performs three evenings a week in the Aqua Bowl, a short stroll from downtown.
Except for the isthmus that carries traffic to points north — to adjoining Woodruff, then Boulder Junction, Manitowish Waters or Lac du Flambeau — Minocqua is an island.
It's not exactly an island of tranquility. Vacationers from resorts on surrounding lakes — one of the largest concentrations in the world — flood in to eat, drink and shop in the businesses packed onto three blocks of Oneida Street, also U.S. 51.
There's no stoplight, but somehow, traffic always comes to a stop when a gaggle of tourists starts across the crosswalk.
A concrete bridge brings cars in from the south, and a high wooden trestle bridge carries bicyclists out on the Bearskin State Trail.
Traffic underneath, on Lake Minocqua, is just as brisk. I joined the pontoons and powerboats one Sunday to see the historic boathouses by rented sea kayak.
The speeding boats kept me alert, that's for sure. But I got used to them, like the loons and the bald eagles circling overhead, who seemed unperturbed.
Most of the boathouses were built in the first three decades of the 20th century, part of sprawling estates. Some are Craftsman-style or Queen Anne; some look like little Swiss chalets, with window boxes full of geraniums.
The 1908 boathouse of The Beacons, with its lighthouse-style tower, is right across the lake from the Aqua Bowl. The condo resort itself is newer, however, like most of Minocqua.
One of the last old-style resorts was the Coachlite, started in 1920 as Warner's Circle Pines. Its five cottages sat on a rise overlooking the south shore, shaded by white and red pines.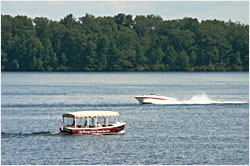 But the old lake culture seems to be disappearing in town, said Jane Teresinski, who last managed the resort with her husband.
"I've stayed at a lot of those new places, and it's like staying in a hotel," she says. "A lot of the people won't even swim in a lake; they think a shark or something is going to gobble them."
The big new condo resorts are easy to spot around town, but the woods still are full of small, traditional lake resorts. There are campgrounds, too, some just a bike ride away from town, and one of Wisconsin's most popular places to camp, Northern Highland American Legion State Forest, is just 10 miles north.
Everyone can find something to love about Minocqua.
"Once people come here, they always come back," Teresinski said.
Trip Tips: Summer in Minocqua, Wisconsin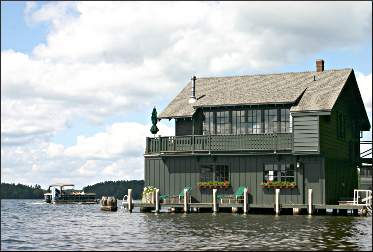 Getting there: Minocqua is a little over an hour north of Wausau on U.S. 51. It's about four hours from the Twin Cities and seven hours from Chicago.
When to go: May is a nice time to go, with low rates at lodgings until Memorial Day weekend. July and August are very busy, especially on weekends. Fall is quieter and lodging rates go down, except for the weekend of Beef-a-Rama in September.
2023 events: June 3, June Bloom Arts & Crafts Festival. June 16-17, Antique and Classic Wooden Boat Show. Aug. 19, Dragon Boat Festival. Sept. 30, Beef-A-Rama.
Min-Aqua Bats: Ski shows at the Aqua Bowl are at 7 p.m. Sundays, Wednesdays and Fridays from mid-June to mid-August.
Boat tours: Minocqua Pontoon Cruises offers tours from mid-May to mid-October.
Bicycling: The crushed-limestone Bearskin State Trail starts in downtown and heads 18 miles south to County Road K, through forest and past lakes. Six road miles separate the Bearskin from the 6.6-mile Hiawatha trail between Heafford Junction and Tomahawk.
From Northern Highland-American Legion State Forest north of Minocqua, the paved BATS-Crystal Lake trail, part of the Heart of Vilas system, winds 11 miles to Boulder Junction.
Kayak rental and tours: Just north of downtown on U.S. 51, Chequamegon Adventure Co. rents kayaks, bicycles and stand-up paddleboards.
For more about kayaking to the boathouses, see Historic boathouses of Minocqua.
Swimming: You can swim from the sand beach in Torpy Park, on the north edge of downtown. There are bathrooms in a historic stone pavilion.
Shopping: Gaslight Square downtown has the most upscale shops. Ann Marie's Garden of Gifts is reached through a lovely front garden. The Root Cellar sells Boho-chic gifts and apparel.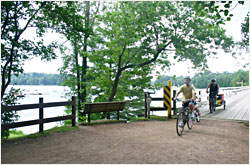 On the north end of downtown, the Boardwalk Shoppes sell gourmet goods, kitchenware, ice cream and gifts.
Attractions: In Woodruff, Fred Scheer's Lumberjack Shows are held from Memorial Day to Labor Day weekends, five days a week in peak season. Wildwood Wildlife Park just west of town includes more than 750 creatures from around the world.
Golfing: There are many good places to play, including Plum Lake Golf Club near Sayner, which became the first golf course in Wisconsin's north woods when it opened in 1912.
For more, see Swinging through northern Wisconsin: Minocqua.
Where to stay: There are many condos, cottages, resorts, hotels and vacation rentals in the area.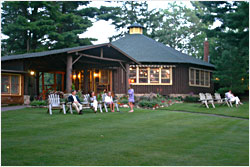 The Beacons, which has a historic boathouse, is a condo resort on an attractive wooded setting. It's directly across from downtown but not within walking distance.
The Pointe is a condo resort on a wooded hill directly across the bridge from downtown. Farther down the road from the Pointe and the Beacons, Nitschke's Northern Resort includes small brick cottages and a sand beach on an open point.
On the southern edge of town, the Waters of Minocqua is a log hotel that includes a 10,000-square-foot water park.
The Aqua Aire, a mom-and-pop motel, is across from Torpy Park on the north edge of downtown.
For a big splurge, spend a week at the very genteel, classic north-woods resort Coon's Franklin Lodge near Arbor Vitae.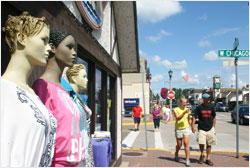 Near Sayner, Froelich's Sayner Lodge on Plum Lake has been hosting vacationers since 1892.
Camping: The private Patricia Lake Campground has a lovely wooded site on a quiet lake just west of downtown.
Ten miles north, Northern Highland American Legion State Forest has very popular lake campgrounds.
Dining: The Thirsty Whale is built over the water on the south side of downtown, next to the Aqua Bowl.
On the north side of downtown, next to Torpy Park, Minocqua Brewing Company is in a 1927 former Masonic lodge overlooking the lake.
On Oneida Street downtown, the Island Cafe has good soups and sandwiches. Otto's Beer & Brat Garden is popular for its hopping beer garden.
Two miles west of town, at the end of a long driveway, Norwood Pines Supper Club was popular with gangsters and still is popular. It's off Wisconsin 70 on Patricia Lake.
More information: Minocqua tourism, 800-446-6784.
Gangsters in Minocqua: For more about the area in the 1920 and '30s, see Chasing gangsters in Wisconsin.
Winter in Minocqua: It's a great place to go cross-country skiing. For more, see Minocqua's white magic.
Lac du Flambeau: For more about the north woods' Ojibwe cultural capital, see Carrying the torch.
Last updated on January 31, 2022