Celebrating Syttende Mai
On their special day in May, Norwegian-Americans wave the red, white and blue.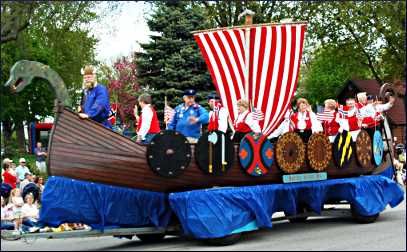 It's a wonder that we love the Norwegians so much, considering the food they brought from the old country.
Lutefisk, or dried cod soaked in lye? Rømmegrøt, a butter-soaked cream pudding that should be called heart-attack-in-a-cup?
We forgive Norwegians because they have a sense of humor about everything, including their food ("O Lutefisk, how fragrant your aroma. O Lutefisk, you put me in a coma. You smell so strong, you look like glue, you taste yust like an overshoe.")
The food and the sense of humor are on display at Syttende Mai celebrations, which include rømmegrøt- and lutefisk-eating contests.
Syttende Mai (pronounced SEH-tend-ah MY) means the 17th of May, Norwegian Constitution Day. That's when Norwegian-Americans drop their famous reserve and indulge in an orgy of folk-dancing, lefse-baking and troll-hunting.
Today, North Sea oil has brought Norway the world's highest standard of living — which is to say, they don't eat a lot of lutefisk anymore.
But once it was desperately poor and dominated by Denmark, which used Norway as a source of taxes, timber and young men to fight its wars. Norway's language and culture were suppressed, a time playwright Henrik Ibsen called the "400 years' night."
But on May 17, 1814, Norway declared independence and adopted the most democratic constitution in Europe.
It wasn't really independent until 1905, when it dissolved its ties to Sweden. And 1991 was the first time in more than 600 years that Norway had a king born in Norway.
That May 17 marked the beginning of a new national pride. But Norway still was poor, and by 1915, it had lost 750,000 people to the United States, the highest percentage of population for any country except Ireland.
The emigrants didn't forget Syttende Mai, though. Tens of thousands come every year to Stoughton, Wis., which likely has the largest celebration in the world, including Norway, which marks the occasion mainly with parades (here's a Syttende Mai parade in Oslo.)
Here's where you'll find Norwegian culture — and yes, lutefisk — around the 17th of May.
Trip Tips: Syttende Mai in the Upper Midwest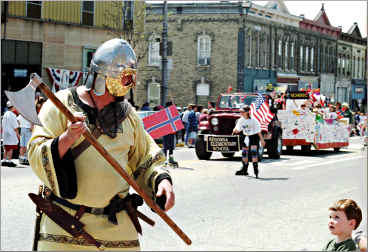 When to go: Decorah celebrates on May 17; other towns celebrate on the closest weekend to May 17.
Syttende Mai in Decorah, Iowa. This is the most traditional celebration, with a children's parade at 12:30 p.m. May 17 from Vesterheim Norwegian American Museum, followed by a performance by the Norwegian Dancers. Admission to the museum is free that day.
For more about Decorah, see A pocket of Norway.
Syttende Mai in Spring Grove, Minn. In Minnesota, Norwegians settled first in this town in bluff country. There's Norwegian food, music and dance, a big parade at 1:30 p.m. Saturday and the national lutefisk-eating contest Sunday.
For more, see In the land of Norwegians.
Syttende Mai in Stoughton, Wis. The festival in this town south of Madison, which celebrates Norwegian constitution day, is the largest in North America and probably the world, and includes many Wisconsin as well as Norwegian traditions. The big Norwegian parade is at 1:30 p.m. Sunday.
For more, see Syttende Mai in Stoughton.
Syttende Mai in Westby, Wis. This Norwegian town, southeast of La Crosse, holds a bicycle tour, troll hunt, rømmegrøt-eating contest, old-time music, children's tractor pull and a big parade at 1:30 p.m. Sunday.
For more, see Valleys of Vernon County.
Syttende Mai in Woodville, Wis. This small western Wisconsin town, east of Hudson, celebrates with music, food, a carnival, nightly tent dances and a parade at 12:30 p.m. Saturday.
A Taste of Syttende Mai in Milan, Minn. This small town on the west end of the Minnesota River valley celebrates with music, arts, food and a 2 p.m. Uff-Da Parade on Saturday.
Norwegian Constitution Day Parade in Park Ridge, Ill. Syttende Mai festivities in this near-west suburb of Chicago start in Hodges Park at noon Sunday, with the parade starting at 1 p.m. at Talcott and Cumberland streets. There's food and entertainment before and after the parade.
Last updated on April 29, 2021