On the Iron Trail
In northern Minnesota, a rich deposit of ore brought the world running.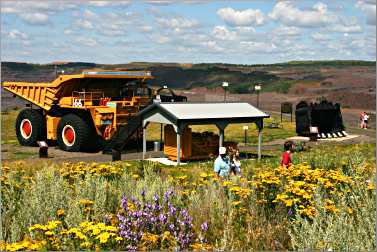 They would have preferred gold. But the iron made them rich, too.
In 1865, reports of gold brought a rush of prospectors to the shores of Lake Vermilion. What they found, instead, was red earth.
Those who didn't go home disappointed stayed to develop one of the world's richest deposits of iron ore into an industry that would give rise to dozens of towns, help the nation win two world wars and create a distinctive piece of Minnesota's cultural fabric.
The first mine was on the shores of Lake Vermilion, on the end of a body of ore that stretched from Tower to Ely. The Vermilion Range ore sat in layers, requiring extraction from deep underground shafts.
Just to the south, an even larger vein lay along a wooded ridge of hills, an exposed stretch of the Laurentian Divide that the Ojibwe thought of as the sleeping giant, or Mesabi.
It ran nearly 120 miles, from Coleraine to Hoyt Lakes, and the soft ore was so shallow it could be dug from open pits.
It produced up to a third of the world's iron ore before the high-grade ore began to run out in the 1950s, after which lower-grade ore began to be produced in the form of taconite pellets.
The thousands of unskilled jobs drew a wave of immigrants that included Finns, Slovenes, Italians, Swedes, Croatians, Poles, Germans, Serbs and many other nationalities, who became incorporated into the lumpy melting pot on the Range.
Vestiges are apparent today, in bakeries that sell the Slovenes' walnut potica, at halls where the Slavs' polkas are danced and at government centers all over the Range.
Famous for its populist politics, the Range was profoundly influenced by the Finns, who included longtime U.S. Communist Party secretary Gus Hall, born Arvo Halberg in Cherry, a rural area between Hibbing and Virginia.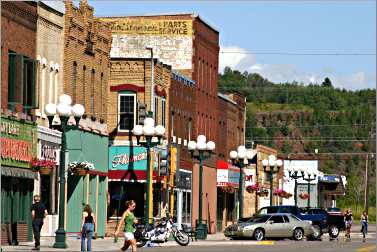 Once, nearly 400 ore pits operated on the Mesabi Range. The days when the whole Range hummed with industry and excitement are over, but mining still is its economic backbone.
Today, tourists can watch operating mines from the edge of giant pits, and see abandoned ones from close-up. Museums recall mining's heyday, and Ironworld in Chisholm pays fond tribute to its culture and history.
In Hibbing, visitors see the skeleton of a town that got in the way of the shovels, as well as a palatial high-school paid for mining companies and a famous bus company that began life as a mining shuttle.
But there is recreation, too-bicycling along the paved Mesabi Trail, which links the attractions and towns between Grand Rapids and McKinley, and golfing on two of the state's most scenic courses, at Giants Ridge in Biwabik.
In winter, Giants Ridge is able to retain snow for alpine skiing and cross-country ski racing longer than anywhere else in Minnesota.
Today, this stretch is known as the Iron Trail. One of the most interesting stops is at its western edge, virtually in the back yard of Calumet.
This was the Hill Annex Mine, from which 63 million tons of ore were taken between 1913 and 1978 on land leased from the state, which now runs it as a state park.
Its centerpiece is an emerald-green lake, surrounded by birch and jack pine and frequented by ospreys and loons. Once, it was an open pit, where the grinding of giant shovels filled the air and explosives shook the earth three times a day.
Guides drive a little trolley bus around the rim of the lake and point out an old steam drill, blasting shacks and a 1951 electric shovel. Gleaning usable ore left mountains of waste rock, created by running train cars full of waste onto a high scaffold and dumping.
It was dirty work, and it was also dangerous, especially for the blasters and the truck drivers who spent their days at the edge of 500-foot precipices.
The gaping red craters and detritus of open-pit mining are everywhere along the Mesabi Range. Just up Minnesota 169, the towers and conveyor belts of National Steel Pellet Co. loom over little Keewatin, giving it the air of a rust-tinted Emerald City.
In Hibbing, the town was too close, so the mine moved it in 1919.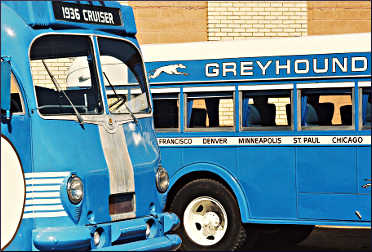 Today, all that's left of the old town are a few lampposts and street signs in a grassy meadow at one edge of the vast Hull Rust Mahoning Mine, the world's largest open-pit ore mine. Crawling through the red dirt two miles away, giant dump trucks look like Matchbox cars.
Retired employees man the observation center at pit's edge, talking about the Range's heyday, when mine companies made sure every church in town was freshly painted and that schools had nothing but the best.
Hibbing High school, built in 1920 for nearly $4 million, is palatial even today, with its marble, murals and chandeliers. Tours are given in summer and during the annual Bob Dylan Days, which honor the school's most famous alumnus.
A miner's shuttle made Greyhound Lines famous; a few blocks from the high school, the Greyhound Bus Museum traces the line's evolution from its 1914 start in Hibbing.
Until 2015, the Mineview in the Sky observation center in Virginia gave visitors a look at the 3-mile-long Rouchleau mines, which started shipping ore in 1893 and soon became one of the many Minnesota mines swept into the financial empires of John D. Rockefeller, Andrew Carnegie and J. Pierpont Morgan.
The star attraction was the giant King of the Lode, a dump truck that was 300,000 pounds and 44 feet long. It was retired in 1998, worn out and too expensive to overhaul: Each tire cost $29,000, and a chain $60,000.
When the mine expanded, claiming the land under Mineview in the Sky, the truck was cut up for scrap.
Another kind of mining was practiced on the Vermilion Range, where the rich ore is in hard vertical layers of hematite. The Soudan Mine was the first in the state when it began operating in 1884.
It became an underground mine in the 1890s, with a shaft that eventually reached 2,400 feet, or seven football fields, into the earth.
Today, it's the Soudan Underground Mine State Park, and visitors can take a three-minute ride in an elevator cage to the bottom, where they get into electric trains and ride to a stope, part of a crossword-puzzle maze of excavations created when miners drilled and blasted into fingerlike veins.
It's cold and dark, and miners suffered hearing loss from the noise, but this was considered "a Cadillac" of mines: Only 13 men died in 79 years.
There's still many tons of ore left, but excavation costs became prohibitive. The mine closed in 1963, only four years before the closing of the Pioneer Mine in Ely marked the end of mining on the Vermilion Range.
It was a hard life. But it was one that made the people of the Range proud.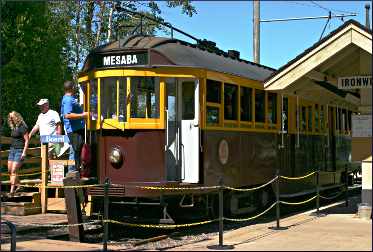 Trip Tips: Minnesota's Iron Trail
2023 events: June 17-18, Land of the Loon Arts & Crafts Festival in Virginia. July, Hoyt Lakes Water Carnival. Aug. 5, Mesabi Trail Tour from Ely.
Hill-Annex Mine State Parkin Calumet: It's open from Memorial Day weekend to Sept. 1 and offers mine tours and fossil-hunting tours.
Soudan Underground Mine State Park: Mine tours have been suspended due to shaft rehabilitation.
There are also five miles of hiking trails among open-pit mines.
Hull-Rust Mahoning Mine View: It's on the north end of Hibbing and open daily from mid-May through September. Admission is free.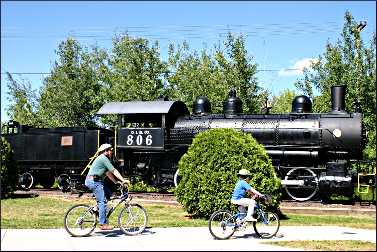 Minnesota Museum of Mining: It's just off U.S. 169 in Chisholm and is open daily between Memorial Day and Labor Day. Admission is $6, $4 ages 6-17.
Minnesota Discovery Center: Formerly known as Ironworld, this center in Chisholm holds exhibits on Iron Range history and culture. Admission is $12, $7 for youths 3-17.
The center includes the Redhead Mountain Bike Park, with an initial 15-mile trail system.
Mesabi Trail: There are 75 miles between Grand Rapids and McKinley, with another four miles on a spur from Gilbert to Eveleth. There are also three miles paved between Tower and Soudan and three miles in Ely.
In Grand Rapids, the trail starts at the Itasca County fairgrounds, on the northern edge of town.
A Wheel Pass, $5 for two days and $15 annually, can be bought from local businesses and visitor centers.
For more, see Rolling through the Iron Range.
Golf: The Legend and The Quarry at Giants Ridge, deep in Superior National Forest, are considered one of the best and most scenic in the state.
Skiing: Giants Ridge has 37 downhill runs and 60 kilometers of well-maintained cross-country trails grooming for striding and skating, including three kilometers that are lighted.
For more, see Downhill on the Iron Range and A Giant advantage.
Snowmobiling: The Taconite and Laurentian trails are part of a 2,000-mile network.
Accommodations: Giants Ridge has villas, lodge rooms and guesthouses.
Camping: McCarthy Beach State Park, 20 miles north of Hibbing, has a popular campground on Side Lake and a sandy beach on Sturgeon Lake with shallow water, suitable for small children.
Scenic State Park, 32 miles north of Grand Rapids near Bigfork, has camping and a cabin.
Dining: In Gilbert, the Whistling Bird offers a colorful menu of Caribbean dishes as well as steaks and chops.
Information: Iron Trail tourism.
Last updated on January 15, 2022