Barn storming
Driving tours in five states showcase these simple but cherished farm buildings.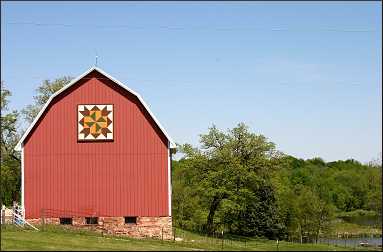 There's just something about barns.
They appeal to everyone-city folk, country folk, anyone who's ever played with a barn kitten. They're graceful structures, built in every size and shape. And they evoke a nostalgia for simpler times, when ordinary people who worked hard could prosper.
Many people like to drive around the countryside looking for them. But they're disappearing fast.
Iowa
Iowa was first to form a preservation society, and every year, the Iowa Barn Foundation holds a statewide, self-guided barn tour in fall.
It also holds a tour in June that rotates among regions.
Many Iowa counties also feature barns with quilts, a project that quickly has spread across Iowa, bringing in tourists from across the country to see barns adorned with colorful wooden blocks.
Sac County, in west-central Iowa, even has published a book, "Barn Quilts of Sac County."
The foundation's web site contains maps and photos of dozens of restored barns featured on past tours.
The Amana Heritage Society hosts an annual guided tour of 10 communal-era Amana Colonies barns. Cost is $25 and includes admission, transportation and snack.
In the west-central part of the state, the town of Manning includes a handsome 1660 half-timbered brick Hausbarn brought over from the northern German state of Schleswig-Holstein and reassembled with a roof thatched with reeds grown near the Baltic Sea.
The Hausbarn Heritage Park includes a 1915 restored Craftsman-style bungalow, a carriage house, a 1913 church and a gift shop. It's open daily from May through October.
Wisconsin
Wisconsin also has many picturesque barns. In the coulee country of the state's southwest corner, Vernon County is famous for its round barns, many of them built by Alga Shivers, the son of freed slaves who became a prominent citizen in the county's Cheyenne Valley.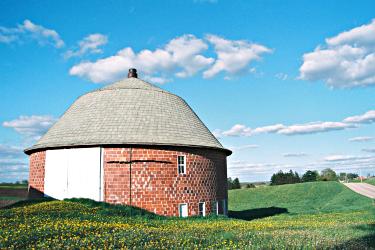 Today, 12 round barns remain. In Viroqua, the Vernon County Historical Society sells "Round Barns of Vernon County," $12, 608-637-7396,  It's also available at Bramble Press, 117 S. Main St. in Viroqua.
For more, see Valleys of Vernon County.
And Wisconsin's Rustic Roads often lead to interesting barns. One near Wausau, R-47 between Wittenberg and Tigerton , takes motorists past a gray round barn, an aqua-blue barn, a red barn with rows of paned windows and a round barn with a double-peaked roof, all within 14 miles.
For more, see Wisconsin's Rustic Roads.
In cheese country, many barns in Green County, around Monroe, sport quilts.
For more, see Cheese country.
Michigan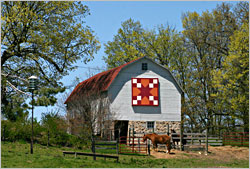 On the second Saturday of October, historic barns are open during the Barns & Byways Tour in Mason County, around the Lake Michigan port town of Ludington.
Illinois
One of the nation's largest round barns is in Johnson-Sauk Trail State Recreation Area in northwest Illinois, six miles south of Interstate 80 and five miles north of Kewanee.
Built in 1910, the Ryan Round Barn is more than 80 feet high. The Friends of Johnson's Park Foundation gives tours May through October on the first, third and fifth Saturday of the month from 1 to 4 p.m.
Minnesota
In southeast Minnesota , four " poetry barns " near Red Wing have been a conversation piece since 1983, when county extension agents around Minnesota got an unusual request: Could they think of any barns that would make good canvases for poetry?
The agent in Goodhue County warmed to the task, and soon four barns just west of Red Wing-two along County Road 19 and one each along 6 and 1-bore verses, each describing one of the seasons.
Artist Mark Mendel from Massachusetts painted them as part of Word Works, a festival sponsored by Walker Art Center and the Minneapolis College of Art and Design.
On one County Road 19 barn, the poem became obscured when its owner put on an addition. The full text is: "Wind walking after the storm/Tracks filling with moonlight/Stars in a mare's silhouette/Fenced snow waits for dawn."
For directions, contact the Goodhue County Historical Society.
In the southeast tip of Minnesota, the town of Caledonia has started a Barn Quilt Tour, with 27 barns sporting 8 by 8 squares in a variety of patterns. There's a map on its web site.
The best selections of barns in Minnesota can be found in dairy country, in such well-settled areas as Washington and Carver counties, says photographer Doug Ohman.
His book "Barns of Minnesota" includes 85 full-color photos of barns. Often the most scenic areas, such as Goodhue, Wabasha and Winona counties in Mississippi Valley bluff country, also have the most scenic barns, he says.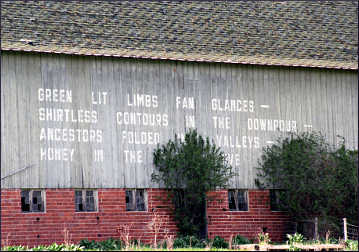 While creating the book, Ohman learned to identify Yankee threshing barns, which have steep gables and few if any windows, and Dutch barns, which have sloping roofs and sharp hay hoods.
Swedish barns have off-center doors, and German barns sometimes have an extended forebay from which farmers could drop feed for their cows.
His book doesn't include locations or directions for Sunday drivers, but Ohman supplied an eastern Minnesota driving route , below, that includes two barns in Washington County and two in Chisago County, half an hour northeast of the Twin Cities.
Starting in St. Paul, drive north on I-35E to Minnesota 36 and head toward Stillwater. From 36, head north on Manning Avenue about 2½ miles to Dellwood Road. Turn right, and in about a mile you will see an 1880s Yankee post-and-beam barn (page 60).
Next, head north of Stillwater on Minnesota 95 to Minnesota 97 (about 15 miles). Turn left on 97 and drive to the small town of Scandia. Turn left on Oakhill Road, and you will see an 1880s Swedish barn with an off-center sliding door (page 69).
From Scandia, drive west on Minnesota 97 for 2½ miles. Turn right (north) on County Road 1 and drive four miles across the Chisago County line, where the road becomes County Road 24.
Between the road and Moody Lake, you'll see a 1915 round barn known as the Moody Barn, listed on the National Register of Historic Places (page 48).
Continue into Chisago City and take U.S. 8 into Lindstrom and Center City. From Center Center, take County Road 9 north through Sunrise and Harris; it's a pretty route with many nice barns (not pictured in the book).
From Harris, take I-35 north to the Rush City exit and head west on County Road 1. On the east shore of Rush Lake, across from a campground, you'll see twin 1930s barns (page 67).
Last updated on February 22, 2021