Wisconsin's Rustic Roads
On quiet lanes, motorists ramble into the heart of the countryside.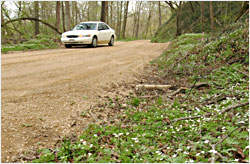 In Wisconsin, people build whole trips around the roads less traveled.
Their destination? Nowhere. And on one of the state's lovely Rustic Roads, nowhere usually is enough.
Across the state, brown-and-yellow signs point to lightly traveled roads that preserve remnants of the past — the 1870 Cana Island lighthouse (Rustic Road 38 near Baileys Harbor), or Amish farms (Rustic Road 56, south of Ontario.)
In the north woods near Park Falls, Rustic Road 105 goes through a covered bridge — though it's a replica of one of the classic bridges.
But often, the road is just a pleasant country lane that happens to be spectacular in the fall or flush with wildflowers in spring.
In the fall, Rustic Road 1 near Rib Lake is a gorgeous drive, winding around lakes through the glacial terrain of the Ice Age National Scenic Trail.
Another rolling country road connects it to Rustic Road 62, which skirts the lake at the feet of Timm's Hill, the state's highest point. Those who climb the observation tower are literally on top of Wisconsin.
On Rustic Road 33 near Hubertus, motorists have a view of Holy Hill, whose spire they can climb for an even better view, especially in fall.
The 12-mile Rustic Road 60 is another fall beauty, following a county road from Boulder Junction past the lakes of Northern Highland-American Legion State Forest.
In fact, all the roads are lovely in fall; exploring them is a good way to enjoy the colors without billboards or traffic.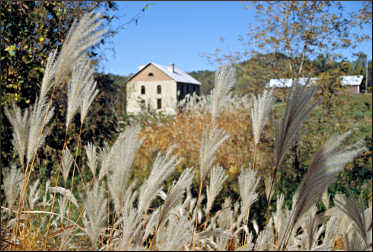 In the spring, those who traverse five-mile Rustic Road 28 north of Amery will pass country churches and cemeteries and find themselves at Apple River County Park, where thick beds of trilliums crowd out even the dandelions.
South of Maiden Rock, Rustic Road 51 is more rustic than most, with rogue streams often crossing dips in its narrow, packed-dirt surface. When it ends, those who don't double back may find themselves lost in the ridges above Lake Pepin.
But in spring, its four miles are lined with an amazing array of wildflowers.
When I was exploring the stretch one May, Laurie Hilden of nearby Onalaska was there visiting her father and picking Mother's Day flowers for her grandmother, who had requested them. She grew up just over the hill.
"This hasn't changed since I was a kid," Hilden said. "It's so unique — it's the kind of place you don't find much anymore."
'This place is special'
Since 1975, motorists have been able to find their way to Wisconsin's prettiest nooks and crannies, thanks to the Rustic Roads program.
"It seems to be near and dear to the hearts of Wisconsinites," says coordinator Jane Carrola.
The roads are nominated by local jurisdictions and receive no special protection, though one of the criteria is that the road not be slated for development.
"The Rustic Road designation is good for the first step, in saying, 'This place is special,'" Carrola says.
Posted speed limits shouldn't exceed 45 mph, but slower is better. No signs point to interesting sights, and the free guide offers only hints.
One fall, I revisited Rustic Road 26 south of La Crosse on a Sunday morning, and I not only crawled along, I frequently stopped and got out.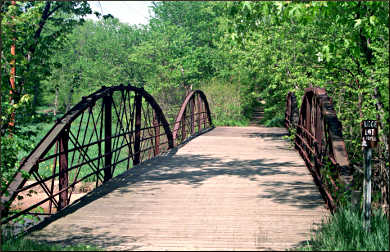 It's one of the older Rustic Roads, and a few mobile homes and newly built houses are clustered around the end closest to La Crosse. Then, it rounded a corner, where the 1854 Oehler Mill sat along Mormon Coulee Creek, framed by cotton grass.
From there, it becomes as close to a mountain road as Wisconsin gets, using switchbacks to climb up to Brinkman's Ridge.
From the top, there was a panorama of the Mississippi River Valley. A windmill poked over the top of a cornfield, and an enormous white pine grew incongruously at the end of a farm drive. At another ridgetop farm, bison grazed.
Of course, there's not much of southwest Wisconsin coulee country that isn't picturesque. South of Ontario and Wildcat Mountain State Park, Rustic Road 56 follows another ridgetop past views of the Kickapoo River Valley, an 1855 chinked-timber settler's cabin, a round barn and a series of Amish farms.
On a trip to the historic lead-mining district in the southwest tip of the state, I drove three, including Rustic Road 66 near Hazel Green, which follows a creek sunk deep into the flat coulee floor and passes the tunnel of an old rail line from Galena and an abandoned mine.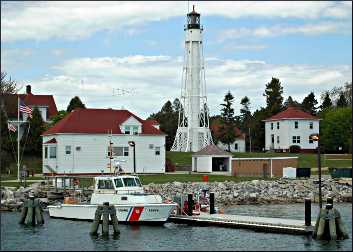 Not far to the north, Rustic Road 70 is one of the most atmospheric Rustic Roads, a 10-mile roller coaster that winds along a ridge and down through a dark, creepy forest canopy; at the end, there's a church with a witch's-hat steeple and cemetery.
One of the newer routes, Rustic Road 99, is around Potosi, where visitors are sure to stumble on the St. John Mine and perhaps the remains of 1830s "badger holes," or miner's huts, on the opposite hill.
Watch for an upcoming attraction
Often, the Rustic Roads are simply beacons, leading to sights people wouldn't see otherwise. That's how I ended up climbing Indian Moccasin Nature Trail to the 35-foot-high sandstone arch of Natural Bridge State Park in Sauk County. Rustic Road 21, lined with drifts of lavender dame's rocket in early summer, goes right past it.
Near Trempealeau, Rustic Road 64 is a rather ordinary road lined with country ramblers. But off it is McGilvray Road, a footpath that once was a road to a town, now vanished, on the Black River bottomlands.
Now part of the Van Loon Wildlife Area, the isolated path has an Amazonian feel, crossing red-tinted streams on five rare bowstring-arch bridges. It even has its own fan club, the Friends of McGilvray Road.
Many of the roads are good for bicycling, though some are gravel.
Near the Waupaca Chain O' Lakes, I bicycled on Rustic Road 23 from Rural, a tiny village that was settled in the 1850s by Scots and looks transplanted from New England, with white Greek Revival-style houses set along the Crystal River.
I also bicycled on Rustic Road 24, which starts from the edge of Rural and winds through a corridor of red pines and past an 1854 coach house with a yard filled with flea-market finds, where I stopped to chat with its genial owner.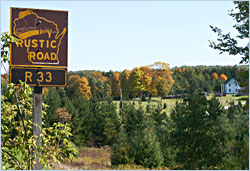 Not far to the north, I took a detour from Mountain Bay State Trail and bicycled the 14 miles of Rustic Road 47 from Wittenberg.
The road was lined with all kinds of interesting things: the stone 1935 Germania Town Hall; errant boulders heaped at the edge of a cedar forest; an Arts and Crafts high school and three country cemeteries. It was also a route for barn lovers.
State bicycle trails often intersect Rustic Roads, and with a good map, bicyclists can ride over and check them out. From the Great River State Trail north of Onalaska, County Road XX leads to Rustic Road 64, from which McGilvray Road starts.
South of Menomonie, the Red Cedar State Trail parallels Rustic Road 89. South of Danbury, the Gandy Dancer State Trail intersects Rustic Road 79. And south of Minocqua, the Bearskin State Trail crosses Rustic Road 58.
And some of the roads are so short they can be walked or jogged, even round-trip; the minimum length is two miles. In the cranberry country east of Spooner, for example, 2.2-mile Rustic Road 71 follows the western shore of Stone Lake, under a canopy of trees.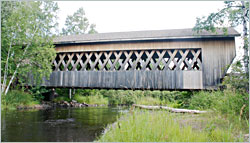 Not all the routes are rural. In southeast Wisconsin, which has the state's densest concentration of Rustic Roads, Rustic Road 29 takes motorists past the famous estates of Lake Geneva.
We'd already seen the mansions up close on the Lake Geneva walking path, so it was fun to see their backyards, many of which feature horses, woods and split-rail fences.
From Sturgeon Bay, Rustic Road 77 gets travelers off busy Wisconsin 42, for a quiet cruise along the shore of Lake Michigan from the ship canal and a fog-signal station called Big Red.
However you travel a Rustic Road, be sure to take your time. The highways are for rushing; these are for savoring.
Check online for up-to-date descriptions of all Rustic Roads.
To find your way around, you may want a Wisconsin DeLorme Atlas & Gazeteer, available from bookstores, sporting goods stores and Targets.
If you happen to have the 2004 edition, hang onto it; it shows the Rustic Roads.
Last updated on October 1, 2019