Riding the rails
On vintage-train excursions, the scenery is only part of the fun.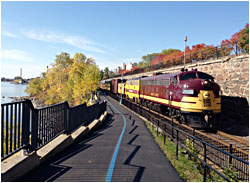 Thanks to volunteers who love locomotives, excursion trains live on.
These days, trains also are rolling entertainment venues, offering murder mysteries and beer tasting in addition to barbecue, pizza, brunch, happy hour and holiday trains.
In autumn, there are pumpkin trains and fall-color excursions, including one on the Milwaukee Road 261 steam locomotive, which often make a run from Minneapolis to Duluth.
The scenery is great year-round. Below are some of the best trains to ride.
Reserve early for weekends in fall and special excursions.
For more about train festivals, museums and lodgings, see For the love of trains.
Minnesota
Friends of the 261 runs special excursions on their 1944 Milwaukee Road steam locomotive.
Sometimes, it takes its Skytop Observation car from St. Paul to Milwaukee and Chicago and back on the Windy City Express.
Often, it also offers fall-color trips down the Mississippi from St. Paul to Winona and back, often running a spur train from Winona to La Crescent and back. The group schedules other special excursions, too.
Zephyr Route offers occasional tours from Chicago to St. Paul and Duluth.
North Shore Scenic Railroad, downtown Duluth: From the Lake Superior Railroad Museum, this train makes regular excursions to the Lester River, to the Sucker River with music and pizza and to Two Harbors.
It also offers many special excursions, some pulled by a steam locomotive.
Book early, especially for fall weekends. For more, see The Lighthouse Express.
Lake Superior & Mississippi Railroad, West Duluth: This line follows a scenic route that hugs the St. Louis River estuary, from cattail marshes full of birds to the site of a Superfund cleanup.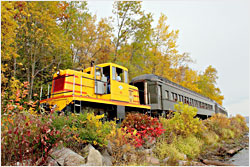 Volunteers narrate the 90-minute, 12-mile round-trip tours at 10:30 a.m. and 1:30 p.m. on Saturdays and Sundays from late June through mid-October. It leaves from a parking lot behind the Little Store, across from the Lake Superior Zoo at Grand Avenue and 71st Avenue West.
For more, see Duluth's other waterfront.
Wisconsin
Wisconsin Great Northern Railroad, Trego: Around the scenic Namekagon River in western Wisconsin, this railroad offers rides and also overnights.
There are pizza, wine and cheese, dinner and holiday trains.
It also offers a Bed & Breakfast Train ride, with five-course dinner, overnight lodgings and breakfast. Check the schedule for more complete information or call 715-635-3200.
Osceola & St. Croix Valley Railway, Osceola: From the little depot in Osceola, volunteers of the Minnesota Transportation Museum run excursions to Dresser, Wis., and across the river to Marine on St. Croix.
Regular trains and pizza and brunch trains run Saturdays and Sundays from mid-June to mid-October. In fall, there are pumpkin trains.
For more about the area, see Sightseeing on the St. Croix.
Mid-Continent Railway Museum, North Freedom: Eight miles west of Baraboo, this railroad offers seven-mile, 55-minute diesel-train trips through the Baraboo Hills daily from June through Labor Day and weekends in May and from September through the third weekend in October.
In October, there are fall-color and pumpkin trains. A Santa Express goes out the weekend after Thanksgiving, and a snow train on President's Day weekend.
For more about the area, see Baraboo's gilt complex.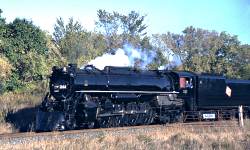 Lumberjack Steam Train, Laona: In this northeast Wisconsin hamlet, east of Rhinelander, a 1916 4-spot steam locomotive pulls coaches, an observation car and cabooses from an old Soo Line depot to Camp 5, an old logging camp west of town.
The trains run Mondays-Saturdays from late June to late August plus the last two Saturdays in September and the first Saturday in October.
East Troy Electric Railroad, East Troy. This actually is a trolley, the last remnant of Wisconsin's Interurban Line. It runs six miles from the Electric Railroad Museum in East Troy to the Elegant Farmer farm market in Mukwonago.
There are many special trains, such as the Mother's Day Express, when moms ride free. For those, buy tickets in advance.
Iowa
Boone & Scenic Valley Railroad in Boone: West of Ames, this railroad makes 15-mile round-trip excursions in the Des Moines River Valley that include the crossing of two bridges, one a 156-foot-high trestle.
Regular 1¾-hour excursions go out daily from Memorial Day weekend through October.
A steam locomotive is used most Saturdays. weekends. Dinner, lunch and picnic excursions are offered on a 22-mile, 2¼-hour  trip. Special excursions include Thomas the Tank Engine appearances in September, the Pumpkin Express and the Santa Express.
On most Saturdays, a 30-minute electric trolley ride to downtown and back also is offered.
Tickets include admission to the James H. Andrew Railroad Museum & History Center.
Michigan
Coopersville & Marne Railway in Coopersville: The excursion train in this town, just east of Grand Haven on Lake Michigan, runs 1¼-hour, 14-mile excursions to the village of Marne on Wednesdays and Saturdays.
It also runs many theme excursions: Bunny Trains in April, Great Train Robbery runs in July, Pumpkin Trains in late September and October and Santa Trains in late November and December.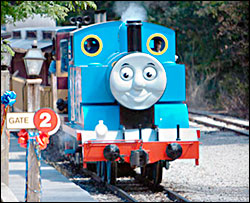 Steam Railroading Institute in Owosso: This nonprofit line, between Lansing and Flint, offers a variety of excursions by diesel and steam locomotive, including theme trains featuring Old West train robberies, the Nightmare Express and the North Pole Express.
In the fall, it offers excursions in other parks of the state.
Trips include an all-day round-trip trip from Cadillac to Boyne Falls, with a one-hour side-trip from Boyne Falls the same day; a trip from Petoskey to Fife Lake, with a one-hour side trip from Fife Lake the same day; and a trip from Mount Pleasant to Cadillac, with a side trip from Cadillac the same day.
Illinois
Silver Creek and Stephenson Railroad in Freeport: Just across the Wisconsin border, the Stephenson County Antique Engine Club offers a 3.4-mile round-trip pulled by a 1912 steam locomotive on a stretch of the old Milwaukee Road line.
In October, it offers rides on the Train of Terror. There's also a museum.
Illinois Railway Museum in Union: This large, volunteer-run museum complex in the northeast corner of Illinois offers short rides that are included with admission. Rides on electric cars are offered daily, and steam trains alternate with diesel trains on weekends from Memorial Day through September.
It offers many special events, include Day Out With Thomas in August and Terror on the Railroad in October.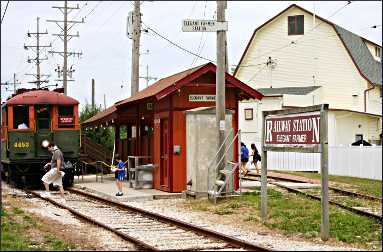 Chicago commuter trains. Chicago is a hub for trains that people ride every day to their jobs. Metra trains run regularly between Milwaukee, Chicago and its suburbs.
The Union Pacific/West Line takes passengers to Geneva, where they can visit the pretty towns of the Fox River.
The South Shore Line follows the shore of Lake Michigan to Indiana Dunes National Park, a fun weekend trip in summer. Amtrak delivers passengers to the Michigan resort town of New Buffalo, a block from the beach.
Amtrak's Empire Builder
The cross-country Empire Builder runs from Chicago to the Wisconsin Dells, La Crosse and, in Minnesota, to Winona, Red Wing, St. Paul and Detroit Lakes.
Last updated on July 18, 2019