Agates in Moose Lake
Every year, this Minnesota town introduces budding rockhounds to the thrill of the hunt.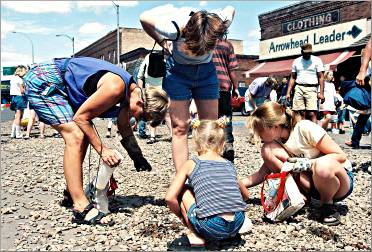 It's no secret there's buried treasure right here in Minnesota.
It's in every gravel pit, along every railroad track, on every beach. All you have to do is look to find a Lake Superior agate, Minnesota's official state gemstone.
And every July, agates also can be found spread over Moose Lake's main street — 400 pounds of them, some even polished, hidden along with 2,000 quarters in 4 tons of rock.
It's the Agate Stampede, centerpiece of Moose Lake's annual Agate Days, put on by the diehard rockhounds of the Carlton County Gem and Mineral Club.
Carlton County, at the rim of the basin that once held Glacial Lake Duluth, is at the heart of Lake Superior agate country. Agates were created more than a billion years ago by dissolved minerals that flowed, layer by layer, into gas bubbles that formed in cooling lava.
Squeezed into hard stone, they were freed from surrounding rock by fracturing and erosion, and eventually picked up and spread by glaciers.
Today, the colorful, semiprecious stones are found with other deposits of glacial debris, primarily in gravel pits, but also washed up along rivers and lakes.
The distinctive, glassy bands left by silica and other minerals appear in endless variations on the agates, which makes them fun to collect — and show off.
When my kids and I went to the Agate Days show in Moose Lake High School, Stan Peterson of Cloquet took a shadow agate out of his case and showed it us.
"Because the lines are so close together, when you move it, it changes your perspective," he said, moving it from side to side. "It looks like water, doesn't it? It's an optical illusion."
Peterson said that he and his wife, Fran, live near a gravel pit and have been picking for decades; as longtime members of the Gem and Mineral Club, they contributed many pounds of agates to the stampede.
"We do this for the joy of picking and showing them off," he said.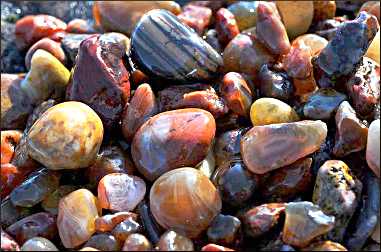 Other rockhounds were showing pink rhodochrosite from Argentina, "crazy lace" agates from Mexico and momsonite from Oregon, with green, blue and red splotches that looked like little watercolor paintings.
Of course, we knew we weren't going to find agates that looked like that. Margaret Maine of New Hope, Minn., helping out at a friend's stand, showed us what an agate in the rough might look like — coated with waxy, peanut-butterlike jasper, perhaps, and pitted, like a rotten potato.
"This is a really fun hobby," she said. "Oh, it's so exciting. The largest one I found was this big." She cupped her hands as if around an ostrich egg.
In downtown Moose Lake, a crowd was watching as a green dump truck spread rocks all along Elm Street, in front of the Lake Theatre. At the crack of a cannon, people ran in.
"Oh, I see one right there, 4 inches from that guy's shoe," said longtime collector Margret Todd of Chisago City, who nevertheless kept quiet as her granddaughters looked. "Oh, I just want to dig in."
But eventually, little Courtney found a red half-pounder with a glassy surface, and she held it up as a TV cameraman zoomed in for a close-up.
"Pretty darn good for a 6-year-old, huh?" Todd said proudly. "I think all kids should learn how to do this."
On one end of the street, Heidi Bailey of Lakeville, Minn., was dressed for success, with long gloves, a bag slung over her shoulders and red plastic tongs and a spray bottle in her hands.
When she found a likely rock, she'd spritz it with water to see if a shiny surface peeked through the dirt.
"We make it a rockhound weekend," said Bailey, who was camping nearby with her sister and their daughters. "It's a fun deal, and you can go up to Duluth. We've gone up the lake from Duluth, but we've never found anything. We've found more on the dirt road outside the campground."
My kids didn't fare so well. Madeleine had simply picked out pretty rocks, and Peter had stuffed his newsboy's cloth bag with rocks, period. "I just wish they were all agates," he said glumly.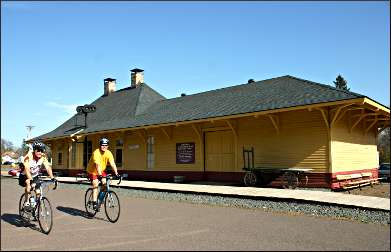 Madeleine gave one of her rocks to Lois Allen of Minneapolis, who spat on it and rubbed it with her finger. "You can always tell a rockhound; she's got dirt in her teeth," she joked, before telling Madeleine the rock was indeed an agate.
Allen, who once ran a rock shop and was on the committee that made the agate the state gemstone in 1969, had brought her daughter Nicole and two of Nicole's friends up to the stampede.
Between them, they'd found a half-dozen beautiful agates, including a zebra and an eye agate. They must've been good luck; as I turned away, I looked down at my feet and saw a polished topaz agate, the size of a small arrowhead.
Then we returned to the high school for another look at the exhibits. Peter paid $1 to buy a polished agate from retired teacher Ed Bender, and 25 cents to get a handful of little ones from a gumball machine.
But then, Bender gave him another quarter's worth free, as well as a shiny piece of jasper. Peter was awestruck.
"I love this place," he said. "That guy is super nice. Can we come back tomorrow? All of a sudden, I'm so interested in rocks."
Voila! Another rockhound is born.
Trip Tips: Agate hunting in Moose Lake, Minnesota
Getting there: Moose Lake is 105 miles north of the Twin Cities and 45 miles south of Duluth.
Agate Days: It's the weekend in July.
The agate show is at Moose Lake High School. The stampede is at 3 p.m. Saturday.
Agate-picking permits: You can print out your own free agate-hunting permit from the Moose Lake Chamber of Commerce website. A map to the gravel pits is $3.
For more, see How to find an agate.
If you want to look on the North Shore, you'll find tips about good spots at Beaches of the North Shore.
Moose Lake State Park: There's a geological interpretive center just off I-35 that has wondrous displays of agates.
Other things to do: There's swimming from the city park on Moosehead Lake, and bicycling on the Willard Munger State Trail, which runs right through town.
For more on the 32-mile stretch between Moose Lake and Hinckley, see The Fire Ride.
Afterward, visit the congenial taproom of Moose Lake Brewing Co., on the shores of Moosehead Lake.
Other attractions: The Fires of 1918 Museum tells about the worst single-day natural disaster in Minnesota.
Accommodations: There's a Days Inn off the interstate in Moose Lake, and the Moose Lake Motel is downtown.
Between Moose Lake and Sturgeon Lake, Sand Lake Resort has lake cabins and access to the Munger Trail.
Camping: Moose Lake City Campground has sites on Moosehead Lake plus a beach, shower house, boat landings, playground and tennis courts. There's a tent area on the Moosehorn River. Cost is $30-$40.
It's a short walk to downtown restaurants and shops.
On the other side of I-35, Moose Lake State Park has campsites.
Information: Moose Lake tourism, 800-635-3680.
Last updated on January 15, 2022