Birding by rail
On Wisconsin's Chippewa River, a little train rolls into a bird-watcher's Eden.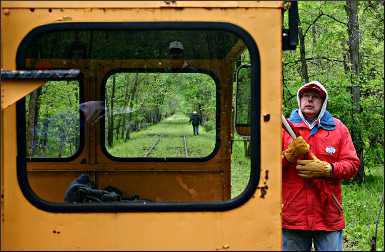 If you don't know a birder, you might think they have a severe case of attention-deficit disorder.
They tend to stare off into space. They often stop talking mid-sentence. It's hard to finish conversations with them.
But their enthusiasm for nature is contagious. And in spring, birders know all the best places to go.
One May, I followed a bunch of them to Durand, Wis., where we all hopped onto little yellow train cars and chugged into the Tiffany Wildlife Area, a bird-filled jungle along the Chippewa River.
Built in 1882, this 14-mile stretch of rail line was used to haul lumber to the Mississippi River. It was abandoned in 1977, and cars used by maintenance crews now carry groups of nature-lovers into a green cathedral of sloughs and wetlands.
The silt-prone Chippewa has created the most extensive river delta in the Midwest. At its mouth, it dumped sediment that backs up the Mississippi River into Lake Pepin, its widest spot.
South of Durand, both banks are part of the wildlife area and the Tiffany Bottoms state natural area. There, dead trees provide dens for wildlife, and beaver dams create a watery maze in which insects thrive.
It's paradise for raptors and shorebirds as well as migratory waterfowl and songbirds, who stop to rest and feed on their way north.
"Spring is really fun because you feel like your old friends are coming back," said my friend Karen, an avid birder.
Our first stop was in a back yard, where the birders lifted their binoculars to track goldfinches, bluebirds and a bald eagle. Their ears were just as busy as their eyes.
"There's a rose-breasted grosbeak still singing over there," Karen said. "It sounds like a robin, but it just keeps going." Then she heard a throaty rumble: "Sandhill crane!" she exclaimed.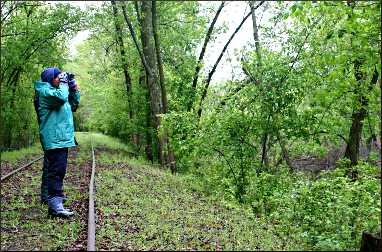 She was good, but birding prodigy Chris West of Richland Center, Wis., was even better. He's a guide who's traveled the world since he was a teen-ager: "I've always had a pair of binoculars in my hand," he said.
When another birder described the call of a field sparrow as a bouncing ping-pong ball, West whistled it, then put it into words — "Like-what? Like-what?"
We chugged farther down the line, passing two channel sloughs, then got out again.
West cocked his head and listened, like a surgeon to a heartbeat.
"That's a pie-billed grebe," he said. "Overhead, there's a gnatcatcher; you can hear the little 'seep-seep-seep,' " he said. "And there's a song sparrow. And a red-shouldered hawk and a red-bellied woodpecker."
A man from Manitowoc, Wis., listened, open-mouthed.
"I think they make it up," he said. "That's unbelievable."
The cold and dampness was keeping most birds in the bushes, so the birders had to use their ears. Local artist Gail Pommerening, who sells paintings of birds in nearby Alma, said she had come to learn their songs.
"I've always loved birds, but I'm a slow learner," she said.
Karen showed her one of the tricks of the trade.
"Oh, there's a towhee," she said. "Did you hear that? 'Drink your tea' — that's a mnemonic that works for me."
The year before, 76 species were identified on the spring trip; that day, we wouldn't do so well. Some of us looked down instead of up, spotting clumps of blue wood phlox in the woods, unfurling ferns and interesting weeds underfoot.
Right between the tracks, one woman identified bedstraw, once used to stuff mattresses because its scent repels fleas. Another pointed out plantain and yarrow: "You'll never starve out here," she said.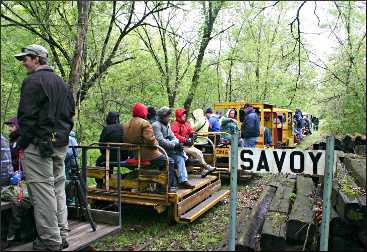 A washed-out bridge marked the turn-around point of our 20-mile round trip, and we stopped to eat our bag lunches and explore the gully and sagging bridge.
On the way back, we stopped to see a huge bald-eagle nest and its occupant. We also saw the wreckage from the derailment that caused the Chicago, Milwaukee, St. Paul & Pacific to abandon the line.
"It was nothing but problems," said Arlyn Colby of the Chippewa Valley Motor Car Association, which maintains the cars and track. "Either there was a flood, or ice dams - the pressure built up, then washed it out. The train derailed right here — it hit the bridge, and one box car turned over right into the slough, and three cars tipped over."
This fecund land reclaims what goes into it. Branches of toppled trees melted into the soil. Pools of water, reflecting clouds, were black with organic matter. Honeysuckle hugged the tracks — invasive, but fragrant and beloved by birds.
"On a nice day, this is so beautiful," Colby said.
Birds, birds, everywhere
Eventually, the skies cleared and a hazy sun helped us shake off the chill. After the mini-train trip, we drove down to the Mississippi and Alma, where the Wings Over Alma nature center sponsors the trips.
Then we headed farther down the river to one of my favorite places, the Prairie Moon Sculpture Garden between Cochrane and Fountain City.
I looked at Herman Rusch's folk art and at clumps of lupines, but Karen headed straight for the willows and bushes, where she spotted a vireo, flicker and yellow-bellied sapsucker.
"There's all kinds of things going on there," she said. "This is great habitat."
On the way out of Alma, we saw two bald eagles sitting in a dead tree and six egrets at Rieck's Lake, best-known for hosting tundra swans in November.
We were staying at the Round Hill House across the river from Durand, and there were two phoebes nesting in the eaves across from our door.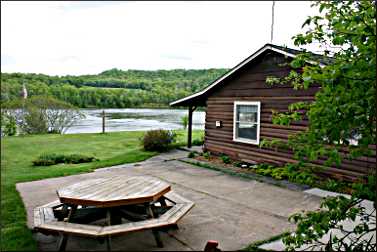 The house, once a Catholic retreat center, is right on the Chippewa River, and in the morning, we watched swallows diving and kingfishers stalking fish from a sandbar near the banks.
Vintage birdhouses — an acorn, a beehive — hung from trees on the grounds, and a chorus of birds called from the woods behind the house.
As I admired the three shades of lilacs and dainty columbines along the portico, Karen made a list of birds she'd seen or heard, including six kinds of sparrow, an ovenbird, a black and white warbler and the Eastern towhee.
Her greatest find came in the oak and maple woods near the house — morel mushrooms. She came running back to the house with one enormous morel and two medium-sized ones, and together we went back, hoping to find a mother lode hiding in the leaves.
We looked and looked, as a sandhill crane circled overhead. We only found two more, but as we prowled the grounds, we did find another phoebe nest, this one with eggs.
On the Chippewa River in spring, life is busting out all over.
Trip Tips: Birding by mini-train in western Wisconsin
Getting there : The mini-train ride starts two miles south of Durand along Wisconsin 25. Durand is halfway between Nelson, on the Mississippi River, and Menomonie.
Birding by Mini-Train : Trips are offered in May and September. The five-hour trips cost $40 and include lunch. Tickets go fast, so reserve as soon as possible.
Several other conservation groups also schedule rides on the mini-train through the year, and free rides are offered during Fun Fest in Durand on the second weekend of June.
For other events, see Spring bird festivals.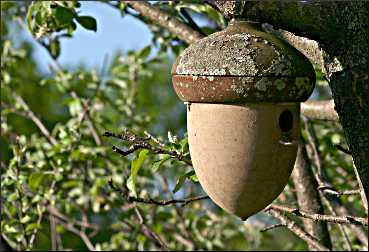 Tiffany Wildlife Area : The 13,000 acres line both sides of the river. It's available for fishing, paddling and swimming from sandbars as well as birding.
Tiffany Bottoms state natural area : These 717 acres within the wildlife area can be reached from a parking area on Wisconsin 25, seven miles north of Nelson, or from the old townsite of Ella on the west shore.
Bird-watching year-round : The Wings Over Alma observation deck and nature/visitor center is at 118 N. Main St. in Alma. Birders also come to the area to see tundra swans in fall and bald eagles in winter.
Accommodations : Five miles from Durand, across the river, the Round Hill House occupies a choice spot on the Chippewa River and adjoins a wooded hill with trails.
A former retreat center, it's owned by the Diocese of La Crosse and has two attractive bedrooms, a fully equipped kitchen and a living room with a lovely view of the river across a lawn. It sleeps six.
The diocese also rents the Bowe Cabin up the road, which sleeps four.
In Durand, the Cobblestone Inn & Suites has many amenities and is pet-friendly.
There are more places to stay in Wabasha, across the river from Nelson; see All eyes on Wabasha.
Information : Pepin County tourism, 888-672-5709. Alma tourism, 608-685-3330.
For more about the area, see A spin around Lake Pepin.
Last updated on February 3, 2022