Open sesame on the sloughs
In winter, eagle-watchers and snowshoers can explore frozen Mississippi byways.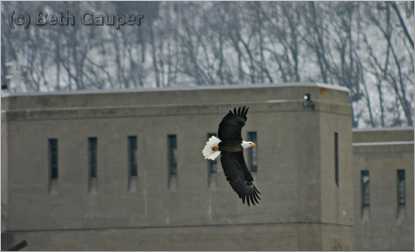 For people who love nature, winter is a time of opportunity.
When it's cold enough, you can walk onto the Mississippi River. You can see bald eagles up close. You can explore sloughs and backwaters without being eaten alive by insects.
"Most of these places, you'd almost die in a few minutes in summer," says Scott Mehus, education specialist at the National Eagle Center in Wabasha. "So now is a good time to get out there and see things."
Until temperatures drop, bald eagles are spread out, fishing in streams and snacking in the stubble of farm fields. But when snow covers fields and rivers ice over, eagles have to congregate around dams and the mouths of big rivers, where the water is open.
That makes them easy to find.
My first stop on a trip down the river one February was Reads Landing, and the minute we turned off the highway, we saw a bald eagle in flight. There were four of them, searching for fish in open water at the mouth of Wisconsin's Chippewa River.
That's instant gratification as far as eagle-watching goes. They were easy to see, flying to and from a tree just overhead, and we could watch from the warmth of the car.
In Wabasha, we looked for eagles along the river, near the  National Eagle Center. Volunteers staff the city's observation deck on winter weekends, often instructing visitors to look for "blobs" in the cottonwoods across the river, but the bar had been raised; we wanted to see eagles right in front of us.
We found them across the river in Alma, where five eagles were working the pool beneath Lock and Dam No. 4. Up to 100 eagles congregate here in winter, sitting on ice floes while they watch for shad coming over the dam.
Eagles supposedly are lazy, but these were working hard, flying back and forth over the open water in search of fish. We couldn't watch from the car, but a walkway crosses the train tracks to a small observation deck over the lock, and from there, the eagles were easy to watch.
From the mouth of the Chippewa, the Mississippi becomes a tangle of sloughs and islands, part of the 260-mile-long Upper Mississippi River National Wildlife and Fish Refuge.
Tiffany Bottoms Wildlife Area near Nelson is a good place to snowshoe or hike, and Mehus recommends Winona's Aghaming Park, a strip of bottomlands across the river's North Channel from Latsch Island.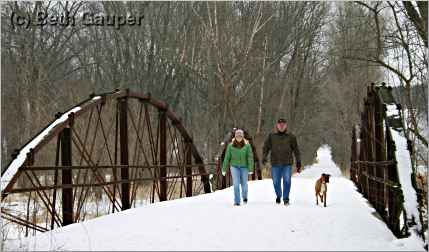 The sloughs are quiet in winter, except for the hollow tapping of woodpeckers. People also will hear chickadees and nuthatches, and perhaps see a red-shouldered hawk or coyote. And at winter's end, some people like to look for shed deer antlers.
"It's part of my excuse for getting out in the woods," says Pat Manthey, avian ecologist for Wisconsin's DNR in La Crosse. "Look for deer trails, or places where they've bedded down or had to jump over something. It might be where they were browsing on a tree or something succulent — sometimes the antlers get tangled."
We took a lazy man's slough hike, on Seven Bridges Road in Van Loon Wildlife Area, near Trempealeau. Built on a raised bed through floodplain forest, the road once led to the settlement of McGilvray's Ferry, which also was the name of the business that Scottish immigrant Alexander McGilvray built in the 1850s.
In 1892, a steel bridge across the Black River put the ferry out of business, and in 1905, La Crosse County had five bowstring-arch truss bridges built to replace rotting wood bridges.
Today, the river bridge is gone, but the five bowstring-arch bridges remain. Their graceful strands of forged steel, held not by bolts but by loops welded to bars, are rare now, and all five bridges are listed on the National Register of Historic Places.
Along with a 1921 truss bridge brought in from Pierce County, they give hikers an enchanting passage through a world from which all other signs of civilization have vanished.
In summer, these marshes hum with life. In winter, everything's tucked away, awaiting spring. Bird nests sat exposed and empty in bushes; I picked a walnut-size gall off a bush, but the insect inside already had exited through a pinhole.
We didn't see a living thing, until a bald eagle dropped out of a tree right in front of us.
We looked for more eagles at Lock and Dam No. 6 in Trempealeau, and along Black River Beach and Riverside Park in La Crosse, where dozens of eagles had been hanging out before the cold snap. We spotted only one patch of open water, and it was filled with ducks and geese.
But six eagles were fishing below Lock and Dam No. 8 in Genoa, not far from a bunch of ice fishermen.
The open water was closer to the opposite shore, so we followed tracks across the frozen river and, picking up a couple of mooneye shad the fishermen had abandoned, stashed ourselves between two trees near the eagles' roost.
The eagles would forget about us, we figured, and fly down to get the fish when we threw it out. But these are birds who can spot food from a mile away, and they could see us just fine.
They ignored us as well as the fish, but we still got to watch them as they flew in circles around the dam.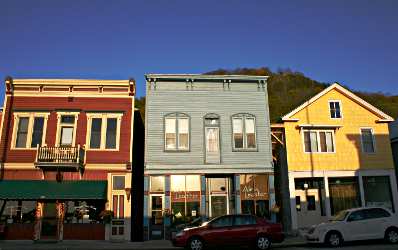 There was a swan there, too, bobbing in water rushing through the dam's roller grills, which stun fish and make them easy pickings for eagles.
We couldn't fault the eagles for wanting to take it easy — if we hadn't been such slugs ourselves, we would have gotten up at daybreak and seen 15 or 25 eagles breakfasting below the dam.
For us, though, even a few are a feast.
Trip Tips: Winter rambles on the Mississippi
Finding eagles: For best viewing, get out just after dawn. In March, bald eagles start migrating back to northern lakes along the Mississippi flyway.
Accommodations: The closer an inn is to the river, the closer it is to train tracks. If you think the trains will bother you, bring ear plugs.
Red Wing : Colvill Park, on the south end of town off Minnesota 61, is a good place to look.
Reads Landing: It's off Minnesota 61, just north of Wabasha. Just drive down to the river and watch.
River Nest B&B has river views. Two two-room suites have gas fireplaces and whirlpools. Reads Landing Brewing Co. has a large selection of craft beer plus a nice menu of soups, sandwiches and a few entrees.
Wabasha : Through March, volunteers with spotting scopes and binoculars staff the observation deck 1-3 p.m. Saturdays and Sundays. The National Eagle Center, which has four resident eagles, is open daily, $10, $7 for children 6-17.
The center holds its Soar With the Eagles festival on weekends in March. The Grumpy Old Men Festival is held in late February.
Nelson: The Tiffany Bottoms natural area stretches along the south side of the Chippewa River.
Alma: See eagles below Lock and Dam No. 4 and off Dairyland Landing, on the south edge of town. The Wings Over Alma observation deck and nature/visitor center is at 118 N. Main St., 608-685-3303.
The Tritsch House B&B is at the foot of the bluffs, buffered from train noise. The 1902 Victorian has four rooms, three with two-person hot tubs.
Winona: To get to Aghaming Park , cross the bridge to Latsch Island, park, and set off on foot toward the Wisconsin side. 800-657-4972.
Trempealeau : To get to Seven Bridges Road, also known as McGilvray Road, drive seven miles east on Wisconsin 35 and turn left on Amsterdam Prairie Road. The parking lot is a mile up on the left. It's a 3.7-mile hike to the Black River and back.
Perrot State Park, along the river on the northern edge of town, and Trempealeau National Wildlife Refuge, five miles northwest of town, also are good places to explore.
La Crosse: Black River Beach, just north of the Clinton Street Bridge on the east side of the river, and Riverside Park downtown are good places to see eagles if there's open water.
Just south of town, the 1917 Wilson Schoolhouse Inn is a wonderful place to stay, with a large kitchen, living room, two bedrooms and two baths.
Genoa: There's a large parking lot just south of town; cross the highway to the river, just below Lock and Dam No. 8. If fishermen are on the ice, follow their tracks, but don't go near the open water.
Last updated on February 9, 2021