All eyes on Wabasha
Bald eagles are drawn to this Mississippi River town, along with flocks of binocular-toting visitors.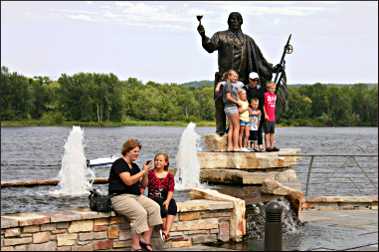 Along the Mississippi River, the fortunes of Wabasha have risen right along with the once-endangered bald eagle.
Eagles reappeared slowly after DDT was banned in 1972, and one of the first places they could be seen was in this Minnesota town, just downriver from the mouth of the Chippewa River, which kept water open in winter so eagles could fish.
The city built a deck downtown and staffed it with spotting scopes and volunteers from November through March.
Then it started a makeshift eagle center behind an empty storefront, and in 2007, it opened the National Eagle Center in a handsome brick building on the river banks.
Bald eagles now can be seen up and down the river. But Wabasha still is one of the best places to see them.
A friend and I drove there one December, pulling off U.S. 61 just north of Wabasha at Camp Lacupolis. Instant success: Four bald eagles sat on a sand bar in the Mississippi, scanning the water for fish.
A juvenile eagle perched in an oak tree, its brown head and tail blending with the branches. Nearby, a tangle of sticks marked the beginning of a nest.
Wabasha also is famous as the setting of the 1993 film  "Grumpy Old Men." The comedy about two eccentric ice fishermen does capture the town's flavor, locals say.
The city is the only one north of Winona that's not separated from the river by a highway or rail line. Along Main Street, the brick storefronts have changed little over the decades.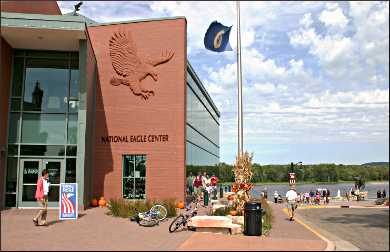 In winter, with its quiet streets, old-fashioned lampposts and still-operating Gambles store, it looks like another movie setting: Bedford Falls of Frank Capra's "It's a Wonderful Life."
That December day was unseasonably warm, so we drove up the bluffs to the Kruger Trail in Dorer Memorial State Hardwood Forest.
From a campground thick with red pines, we hiked a mile to an overlook with a spectacular view of the Zumbro River, winding into the horizon with so many oxbow loops it looked like a piece of ribbon candy.
Then we drove back to U.S. 61, on the way spotting eight deer gamboling on a Zumbro sandbar. We turned right onto LARK Lane, which leads to other wildlife — the fantastical figures of a hand-carved carousel, the centerpiece of a little complex of shops on the hill.
The late Donn Kreofsky — LARK stands for Lost Arts Revival by Kreofsky — designed all 26 of the carousel's basswood beasts. There's a pop-eyed goldfish and a giraffe with orangutans dangling from its neck. A river otter wears a string of freshwater-clam shells, representing the button industry that once flourished on Lake Pepin.
When former Minnesota Gov. Jesse Ventura visited, he rode the carousel's Celestial Chariot and commented, "This is art, this real art."
Kreofsky began creating old-fashioned wooden toys in 1983, in response to the plastic goods that fill most toy stores, and he sold them with reproductions of classic tin and wind-up toys in his Boomer Heaven shop.
Before his death in 2010, he sold the complex. Boomer Heaven is gone, replaced by a shop selling gag gifts and novelty items. In the main shop, the new owners sell some wooden and classic toys, as well as quite a few plastic ones.
Back in Wabasha, we stopped by the National Eagle Center. Anyone who can't find eagles roosting in nearby trees can see them close-up at the riverfront center, where four bald eagles live.
Volunteers give programs every day and offer to pose the eagles with visitors. When I was there soon after its opening, a volunteer took  Columbia for one of the daily feeding programs. She wasn't hungry, though.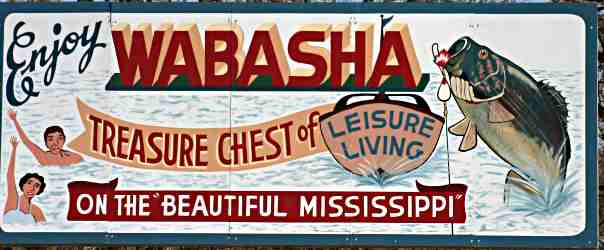 As he talked about eagle habits, Columbia flapped her wings and tried to break loose from his arm, and we instantly realized where the terms "spread eagle" and "feathers were flying" originated.
"Now, you see why I told you not to sit in the front row," the volunteer said to his audience of nine. "This is about eight people too many for Columbia."
Again, she tried to break loose, emitting the high-pitched squawk that seems so incongruous for such an intimidating bird.
"It's like holding onto a 10-pound yo-yo," remarked one onlooker.
"With rockets on it," said another.
Latsch a male bald eagle hatched in 2016, is the youngest eagle and has a malformed left eye. All of the eagles were injured and are unable to survive on their own.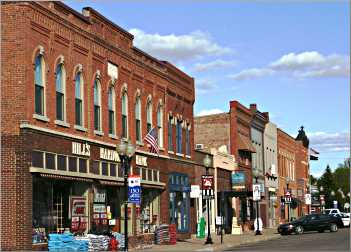 The center's exhibits also include a multimedia object theater devoted to the Wapasha line of Dakota chiefs and a floor depiction of the Mississippi River flyway. The side facing the river is floor-to-ceiling glass, allowing visitors to watch for eagles inside on subzero days.
Tonier businesses have sprung up downtown; there's a kimono gallery and an espresso shop that sells gourmet chocolate.
On the riverfront, Eagles Landing condos have replaced the Big Jo flour mill. A sidewalk runs in front of them, so visitors can stroll along the river to the plaza in front of the Eagle Center.
Eagles and tourists have come to Wabasha, but it's still the sedate old town it's always been.
"They didn't mall it up," resident Phyllis Kennebeck told us. "It's sort of a pokier community, but that's the beauty of it."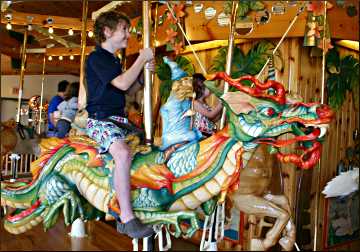 Trip Tips: Wabasha, Minnesota
Getting there: It's an hour north of La Crosse and two hours south of the Twin Cities.
Eagle-watching: From November through March, volunteers man spotting scopes on the EagleWatch observation deck outside the National Eagle Center 1-3 p.m. Saturdays and Sundays.
The most reliable place to see eagles is between Camp Lacupolis and Wabasha; the DNR lists good sites.
For general eagle-watching tips, see Looking for bald eagles.
The lock and dam in Alma, Wis., across the river from Wabasha, and nearby sloughs also are good places to look in winter. For more, see Open sesame on the sloughs.
National Eagle Center: Admission is $12, $10 for children 4-16. Check for special programs and feeding schedule. Angel, Columbia, Was'aka and Latsch are the bald eagles.
2022 events: Feb. 25-26, Grumpy Old Men Festival. March weekends, Soar With Eagles programs. July 29-30, Riverboat Days.
Friday-evening concerts under the bridge start in early June and run through late August.
Accommodations: Turning Waters Bed, Breakfast and Brewery, on Bridge Avenue just off Main Street, has five rooms, two with double whirlpools and one with gas fireplace. From its garage, it operates the Turning Waters Back Alley brewpub, open to the public.
River Nest B&B in Reads Landing has river views. Two two-room suites have gas fireplaces and whirlpools.
Dining: On Main Street, Fresh Wok serves generous amounts of Chinese food.
On Bridge Avenue behind Turning Waters B&B, Hoppy Girl Brewing offers craft beer and Pep's Drafthaus Pizza.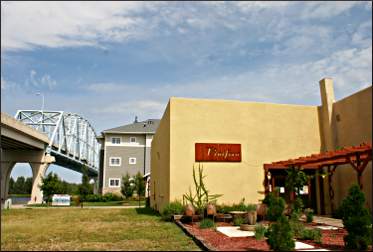 Slippery's is right on the water at the far end of Main Street and has good burgers.
In Reads Landing, the Reads Landing Brewing Company serves a full menu as well as craft beers.
Shopping: On Main Street, Wind Whisper West sells kimonos that people display as art.
In Kellogg, LARK Toys sells toys, gifts and rides on the carousel. It's six miles south of Wabasha on U.S. 61; watch for the sign that marks the turnoff.
Paddling and biking: Broken Paddle Guiding offers guided kayak, stand-up paddleboard and bicycle tours and also rentals.
R.J. Dorer Memorial Hardwood State Forest: In the bluffs, the Kruger Trail and Campground has rustic camping, a nature trail, a two-mile hiking trail and a five-mile loop for mountain biking, each with overlooks of the oxbow loops of the Zumbro River. It's a good place to see wildflowers in spring and leaf color in fall.
Head south of Wabasha to Minnesota 60, then drive four miles to County Road 81.
Information: Wabasha tourism, 800-565-4158.
Last updated on January 19, 2022