Looking for bald eagles
In winter, the cold forces the birds to go where they're easier to see.
If you want to find eagles, the most important thing to know is they work only as hard as they have to.
When lakes up north start to freeze, eagles will head for the nearest open patch of water. In December, that's often on the northern stretches of the Mississippi River flyway, between Red Wing and Wabasha, Minn.
"They're still trying to decide where to spend the winter," says Pat Manthey of the Wisconsin Department of Natural Resources.
"We call them indeterminate migrators. They're not like the swallows of Capistrano that come back every year. Eagles only go as far as they need to go to find what they need."
If there's a cold snap in December, they'll head south, sometimes as far as Illinois. But some will stop below a dam or at the mouth of a river, and if the fishing is good, they'll stay.
Some discover commercial fishing operations, such as the one in Ferryville, Wis., where they can wait for cast-off fish.
Others find a field where hog or poultry farmers have discarded dead animals or ground them up and spread them with manure.
"(One year), I was sending people to a road between Independence and Arcadia in Wisconsin because 200 to 300 eagles were sitting in a farm field eating chicken guts," said naturalist MaryBeth Garrigan.
In the bluff country of northeast Iowa, the famous Decorah eagles spend the winter where they know they'll have a plentiful supply of food — right above a fish hatchery.
The pair is tracked as they travel, then shown via livestream after they return to Decorah in late fall to prepare the nest for eggs. Another pair, the Decorah North eagles, also are shown as they mate, incubate eggs and raise their eaglets.
For more web cams, see Wildlife reality show.
Other eagles spend the whole winter around Prairie du Sac, Wis., picking off fish stunned by a hydroelectric dam on the Wisconsin River. The local eagle council offers weekly bus tours.
But eventually, snow drives most eagles out of the fields and toward the Mississippi River.
"Usually, the birds get going in January, and then we'll see them for the next few weekends," said Terry Ingram of the Eagle Nature Foundation in Galena, Ill., which has offered field trips by bus.
"Every week is different. Once a group of eagles was moving through when we were in Green Island, just south of Bellevue, Iowa, and we had 100 of them surrounding the bus."
For a list of eagle-watching tours and festivals, see Where eagles land.
Eagle watchers on the Upper Mississippi actually welcome snow and severe cold, because it forces the eagles to congregate where there's open water.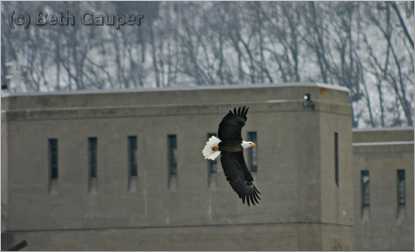 "Eagles have no sense of smell, so they have to depend on their eyesight," Garrigan says. "Once it snows, they have to move to the river and depend on fishing."
Besides open water, they need a protected place to sleep, such as a valley with big, mature oak trees.
From there, they'll fly to the river in the mornings, just after daybreak, then return to their roosts until mid-afternoon, when they'll make another fishing trip to stock up for the night.
When it's very cold, the eagles hunker down in cottonwoods along the river, conserving energy. For the best chance of seeing them fly, go out early on a warm day after a cold snap, when they'll be hunting for food.
In February, eagles that had flown south start to move north, typically reaching Minnesota by March. And as the weather warms, eagles start to show courting behavior.
For the best luck finding eagles, go early in the day or later in the afternoon. Dress warmly and bring binoculars. Along rivers, look for dark blobs in cottonwood trees.
If you get close, don't startle the eagles by slamming car doors or making sudden movements, or they may return to their evening roosts with empty stomachs, wasting the energy they need to survive in the severe cold.
In Minnesota, the most reliable place to see eagles is Reads Landing, a tiny settlement across from the mouth of the Chippewa River just north of Wabasha.
Often, eagles fly overhead. There's also a nearby pullout on Minnesota 61 at Camp Lacupolis.
The National Eagle Center in Wabasha is a guaranteed place to see eagles, since four bald eagles and a golden eagle live there. Try to go during a feeding. The riverside center also has scopes for visitors to use.
It also lists a weekly count of wintering eagles in the area, including Reads Landing and, across the river, Alma and Buffalo City.
For more, see All eyes on Wabasha.
Farther down Minnesota 61, past its junction with I-90, the rest stop/picnic area at Dresbach is a good place to spot eagles.
It's right across the river from Nelson Park at the northern tip of French Island in La Crosse, Wis., where there's a waterfowl viewing platform.
To get to Nelson Park, take Wisconsin 35-53 to the Oktoberfest grounds and turn west on Clinton Street. Go to Bainbridge Street and turn right. Take a left on Goodard Street, which turns into Lakeshore Drive. Follow it to the park.
In south-central Wisconsin, the dam on the Wisconsin River at Prairie du Sac is a good place to see eagles. Hydroelectric turbines stun the fish going through, making them easy pickings for eagles, and valleys amid the bluffs provide sheltered roosts.
Dams on the Mississippi River always are good places to look because they keep patches of water open all winter. There are 12 locks and dams between Minneapolis and Guttenberg, Iowa.
In Alma, Wis., across from Wabasha, the dam is right downtown, and eagles are easily seen from a platform. At the dam in Genoa, Wis., eagles gather to feed on shad cast off by ice fishermen.
In winter, sloughs that are buggy and wet in summer are easily navigated by snowshoe.
For information on a winter eagle-watching excursion between Wabasha, Minn., and Genoa, Wis., see Open sesame on the sloughs.
Farther south, look for eagles below Lock and Dam 13 in Fulton, Ill.
When there's a cold snap farther north on the Mississippi, eagles migrate south. The Rock Island, Ill., district of the U.S. Army Corps of Engineers keeps count of the eagles seen from Lock & Dam 11 in Dubuque, Iowa, to the Missouri border.
On the Illinois River near Ottawa, you can spot eagles from the Illinois Waterway Visitor Center across from Starved Rock State Park, where you can make a detour to see some of the park's spectacular frozen waterfalls and canyons.
Last updated on January 25, 2022