Snow birds
Thanks in part to Monticello, trumpeter swans have made an astounding comeback in Minnesota.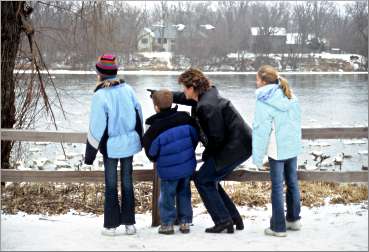 Thanks to the Mississippi River town of Monticello, trumpeter swans are fat, sassy and abundant in Minnesota.
All it took was 35 years of providing a virtual Club Med to the swans, the largest water bird in North America.
There were only a few living in Minnesota in 1986, when Sheila Lawrence started feeding waterfowl in the back yard of her riverside Monticello home.
The swans appreciated the daily all-you-can-eat spread of dried corn, and also the balmy waters from the nuclear power-generating plant upstream.
More came, and eventually, as many as 3,000 trumpeter swans were bellying up to her buffet each morning, consuming 1,600 to 2,000 pounds of corn, with a little help from ducks and geese.
The feedings became a show that drew spectators from near and far. In the morning, the big birds would begin to arrive at the Lawrence house, feet skimming the water as they glided to a landing on outspread wings of 7 to 8 feet.
Sticking close to kin, they turned the shoreline into a raucous playground, blustering, showing off and squabbling over insults, real or imagined.
The noise could be heard from the street as a buzz, like a nest of angry hornets. From the river's edge, it was cacophony, a high-pitched tumult of honks, squawks and screeches.
When Sheila Lawrence died in 2011, her husband Jim took over, feeding the swans from mid-November through February.
But by 2020, trumpeter swans were well established in Minnesota, and the feedings could stop. Now, the swans are on their own.
An astounding success story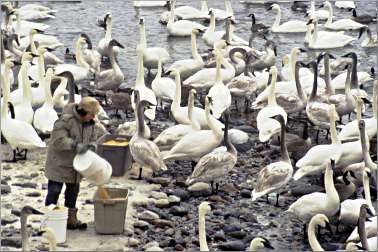 Today, wildlife experts estimate that 30,000 trumpeter swans live in Minnesota.
Considering that the swans weren't even seen in Minnesota between 1884 and 1966, when Hennepin Parks started to breed them in captivity, the rebound of the swan population is astounding.
By 1930, trumpeter swans were thought to have vanished from the entire United States. Then a few nests were found near hot springs in a remote part of Yellowstone.
More nests were found in Alaska in the 1950s, and Minnesota was the first state allowed to collect eggs from them, using funds contributed by taxpayers via the "chickadee check off."
In 1933, the entire country had only 50 breeding swans.
In addition to the Monticello swans, some winter along the Otter Tail River in western Minnesota. Others find quiet pockets along the central and upper Mississippi and St. Croix.
A few go to Oklahoma and Arkansas for the winter, but most stay in Minnesota year-round.
Ideally, Minnesota's swans would resume previous migration patterns and head south for the winter. But many of those who did were shot, and others have found habitat near locks, dams and power plants that didn't exist 200 years ago.
Swan-watching in Monticello
The swans still are around town, just not in the previously huge numbers. They like the warm water below the power plant, and places where the current is slow and there's no boat or people traffic — although trumpeter swans are aggressive with each other, they're very skittish around humans.
Sheila Lawrence loved watching the swan families and learning from their behavior.
In February, parents start to drive away the 1-year-old cygnets, and the 3- and 4-year-olds start to select mates, whom they will keep for life. That's when the amorous behaviors begin.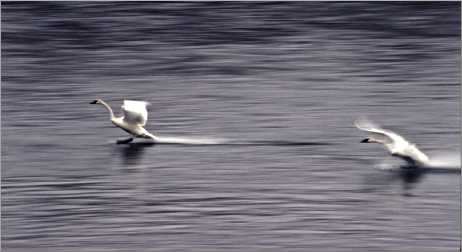 "You can tell in various ways — how they hold their necks, how they hold themselves," Lawrence explained. "They'll kick their feet, and raise themselves out of the water."
Before she retired, Sheila Lawrence had switched to nights at her job so she could spend more time with the swans.
"The trumpeters really captured my heart," she said. "If you watch, you realize what special birds they are. They're so majestic, so graceful and beautiful; they're just beautiful birds. They're just amazing."
Where to watch: There are still some swans around Swan Park.
Monticello is about 40 minutes west of Minneapolis. From I-94, take the first Monticello exit, which leads to County Road 75 (East Broadway). At the first stoplight, turn right onto 39, drive a quarter-mile and turn left onto Mississippi Drive.
Swans also can be seen downstream, just inside the city limits at Battle Rapids, where there's a clearing off County Road 39.
For details on planning a getaway, see Winter weekend in Monticello.
What to wear: Standing is a cold business, and the warmer you dress, the longer you can watch.
For tips, see Staying snug in winter.
Taking children: Make sure they read the 1970 classic "Trumpet of the Swan" by E.B. White, author of "Charlotte's Web" and "Stuart Little." It's about Louis, born without a voice, and Sam, a boy who loves wild things.
Information: Monticello tourism, 763-295-2700; Trumpeter Swan Society.
Last updated on January 18, 2022