Winter weekend in Monticello
Come for the swans; stay for the shopping and skiing.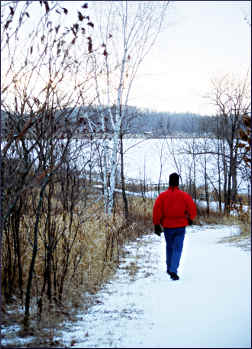 Not far west of the Twin Cities, the Mississippi River town of Monticello is known for two things.
Passersby on I-94 can't fail to notice the nuclear-power reactor that marks the town. In winter, it's the power plant that attracts trumpeter swans, which think the plant's warm discharge waters are a little spa just for them.
Of course, the flock of swans draws a flock of swan-watchers. One January, my husband and I were among them, standing along the shore of the river and marveling at the raucous crowd of birds, jostling for food and attention.
But it was cold, and you can only watch birds for so long.
Once, Monticello also was known for its antiques shops. They're mostly gone, but now it has two lively craft breweries, and it's also known for Lake Maria State Park and the Albertville Premium Outlets, five miles down I-94.
When we visited the outlet stores, we plowed our way through Eddie Bauer, Levi's, Adidas and Bass in the old section and drove over to the Promenade, a section with a vaguely Mediterranean look.
There, we browsed through Liz Claiborne, Aerosole, Kenneth Cole and Ecco, where we saw a lot of nice things, but nothing so tempting I couldn't live without it.
We spent the next morning watching the birds at Swan Park, having pulled on extra socks and fleeces.
When our feet went numb, we drove downtown for brunch. It was starting to snow as we headed for the Historic Rand House, a hilltop estate in town.
Built in 1884 by Minneapolis Gas Light Co. owner Rufus Rand as a gift to his bride, whose parents lived next door, it's now a B&B, the other nice place to stay in Monticello.
Duffy Busch bought the 30-room Queen Anne in 1986 and restored it with her husband, Merrill. She gave us a tour, leading us from one airy, light-filled room to another.
"This was their 'cabin,' their little shack in the woods," she said, and pointed to the plentiful windows. "This is very unusual for its type. Most Victorians are very closed up, but this was built as a country home."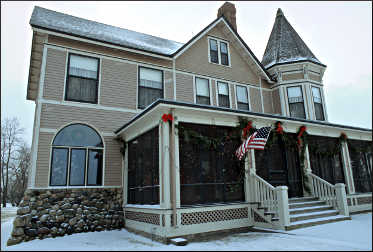 We still had some daylight left, so we drove to Lake Maria State Park to get some exercise. The park has one of the last remnants of the Big Woods that once covered southern Minnesota, and normally, its rolling trails are one of the best places to ski near the Twin Cities.
Lacking snow, we hiked instead, through oak forest and frosted meadows to Bjorkland Lake. But everything was ready for winter-the brush carefully cleared off trails, skating rink smoothly surfaced, fire laid in the visitor center/warming house.
In winter, there are many reasons to spend a weekend in Monticello. Swans, skiing, shopping-it's a trifecta that's always a good bet.
Trip Tips: Monticello, Minn., on the Mississippi River
Getting there : It's less than an hour west of the Twin Cities.
Watching swans : The feedings were discontinued in 2020 but there are still swans in the area. For details, see Snow birds.
Accommodations : The 1884 Historic Rand House is Victorian and has four rooms.
Lake Maria State Park has three year-round camper cabins that are popular. They're heated by a wood stove but have no electricity or running water. They can be reserved up to 120 days in advance.
For more, see A roof in the woods.
Dining : The Cornerstone Cafe downtown, at Walnut and West Broadway, serves pasta, hot sandwiches, soups, burgers and wraps.
Around the block on Third Street, Rustech Brewing has a taproom and patio, with occasional live music and food trucks.
At 530 Cedar St., Nordic Brewing has a taproom and big-screen TV for movies and sports, with occasional concerts and food trucks.
Albertville Premium Outlets : In winter, it's open Monday-Saturday from 10 a.m. to 8 p.m. and Sunday from 11 a.m. to 6 p.m. Starting April 1, it's open Monday-Saturday from 10 a.m. to 9 p.m. and Sunday from 10 a.m. to 7 p.m.
Lake Maria State Park : The park (pronounced ma-RYE-uh) has 22 kilometers of trails for classical skiing and five kilometers for skate skiing. There's a lighted skating rink next to the warming house, which has restrooms and a wood stove.
It's eight miles west of Monticello on county roads 39 and 111.
Winter events include Winter Fun Day, with a guided snowshoe hike, dog-sled demos and kids' activities and snowshoe hikes, and a candlelight snowshoe hike. 763-878-2325.
Information : Monticello tourism, 763-295-2700.
Last updated on January 18, 2022