Volunteer vacations
Sign up to work in a lighthouse, study wolves or join the fur trade.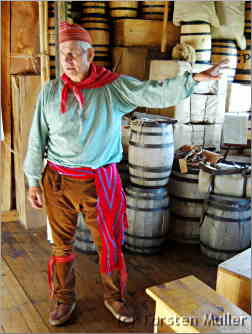 Around Lake Superior, you have to act fast to reserve a vacation mowing lawns or combing the ground for bones.
It may not sound glamorous, but the lawns are at lighthouses, and the moose bones are in the backcountry of Isle Royale National Park, where volunteers may be tutored by famous Wolf-Moose Project researchers Rolf Peterson and John Vucetich.
You may not get to take a lot of hot showers, but oh, the stories you'll tell.
Every year, national and state parks look for a few good volunteers in summer. Grand Portage National Monument needs people to put on the red sash of a voyageur, and Voyageurs National Park often needs someone to tell tourists about the Ellsworth Rock Gardens, a seven-acre sculpture environment on the north shore of Kabetogama Lake.
Lighthouse volunteers get to live in the lighthouses, and other parks supply cabins, dorms or RV sites. There are fees for one- or two-week stays, but not for volunteers who can stay longer.
"If they can get here, they don't have many expenses after that," says Susan Mackreth, a ranger at the Apostle Islands National Lakeshore, which has many slots for volunteers.
Training is provided. Look on-line for national-park volunteer positions, checking by state, not by park. Below are some of the most interesting.
Moose research on Isle Royale : Go on a weeklong backpacking trip in the backcountry of Isle Royale National Park in Lake Superior with researchers on the Wolf-Moose Project, now in its 53nd year. Volunteers will search for moose bones and collect data.
Volunteers pay a $450 tax-deductible contribution. All food is supplied, but volunteers pay their own way to the island (via boat from Grand Portage, Minn., for the first two trips, from Copper Harbor, Mich., for the third, and from Houghton, Mich., for the fourth).
For more on the island, see Isle Royale reverie.
Live in a lighthouse : Like real keepers of the past, assistant keepers work hard, typically six days a week and eight to 10 hours a day, interpreting history for visitors, helping in the gift shop and performing light maintenance, such as lawn-mowing.
At Grand Traverse Light, on the tip of Michigan's Leelanau Peninsula in Leelanau State Park near Traverse City, four volunteer keepers pay $150 per week each, plus a $25 application fee and $20 Grand Traverse Lighthouse Museum membership.
Volunteers stay in the former assistant's quarters, which has a modern kitchen, a living room, two bedrooms with two beds each and a bath and a half. It's a long season, from April to early December, so there are lots of slots. Call 231-386-7195.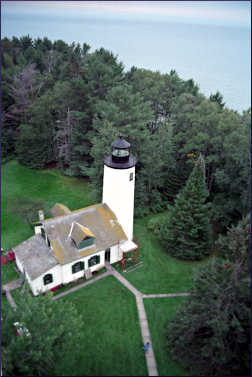 The Apostle Islands National Lakeshore on Wisconsin's Bayfield Peninsula has volunteer lighthouse-keeper positions on Sand, Devils and Michigan islands. Most fill in January, but positions may become available through spring. Couples are preferred, ideally for three- or four-week stretches.
Positions also are available on Oak and Manitou islands. People who are interested should call 715-779-3397 to discuss opportunities.
For more, see Lighthouses of the Apostles.
For more volunteer opportunities in lighthouses, see Living in a lighthouse.
Re-create the fur trade at Grand Portage National Monument : This re-created fur post on Lake Superior, just south of Minnesota's border with Canada, needs people to work as historical, cultural and natural interpreters.
Volunteers dress in period clothes and learn how to build birchbark canoes and baskets, demonstrate loading and firing a flintlock musket and cook historic recipes in a large reconstructed kitchen of the era.
Late-spring training includes an Ojibwe culture day; volunteers learn "the patience to answer the same question to the 16th consecutive visitor with a smile on your face."
The work is 24 hours a week, ideally for 10 weeks. Volunteers get an RV site with hookups, and other housing may be available.
For more, see Life on the Grand Portage.
Be assistant purser on Ranger III voyages to Isle Royale National Park from Houghton, Mich. : Travel with the park service's Range III on the six-hour voyages to and from Isle Royale, issuing backcountry camping permits and giving visitors information about the park.
The position is based in Houghton, and the volunteer spends two nights a week on the island, sleeping in a stateroom on the boat. There's a small stipend for food expenses. Ideally, the volunteer will work from June through mid-September.
Isle Royale has many positions available, including wilderness back-country rangers and trail crew.
There are even some volunteer opportunities in urban areas. In downtown St. Paul, the Mississippi National River and Recreation Area has asked for volunteers to play Freddie the Flathead Catfish at the Mississippi River Visitor Center in St. Paul's Science Museum of Minnesota and at festivals along the river. You don't have to talk, just wear the costume while being led by a ranger.
On the St. Croix National Scenic Riverway , just half an hour from the Twin Cities, rangers look for volunteers to help with wildlife surveys, historical research and island maintenance.
And along the Canadian border in Minnesota, Voyageurs National Park needs helpers in its visitors centers or working in its native-plants greenhouse. It fills summer positions as early as October.
Last updated on July 23, 2013