10 great bog walks
In early summer, find out what's blooming under the boardwalk.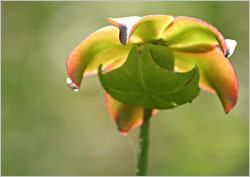 In nature, bogs are the coral reefs of the north woods.
They're wet, spongy and seething with life that's often too small to see unless you look closely. Lean over the boardwalk, and you'll get a better view of sparkly goldthread or the lacy needles of baby tamarack.
But looks can be deceiving in a bog. Flowers that seem delicate are relentless predators, attracting flies to patterned red leaves that resemble engorged arteries, then drowning and digesting them.
The daintiest of the orchids have oddly menacing names: dragon's mouth, adder's mouth.
If you'd like to enter the world of the bog, many flowers are at peak in early summer.
Buckbean, bog rosemary, coral root, goldthread and dragon's-mouth orchid appear first, followed by Labrador tea, twinflower, calla lily and more orchids - stemless lady's slipper, grass pink and yellow moccasin.
It was early July when I last visited the bog at Lake Bemidji State Park, and clumps of plump moccasins were drooping and brown. But flowers of purple pitcher plants had popped their pretty heads above carnivorous leaves, actually buckets that collect rain and insects.
Bogs are acidic and nutrient-poor, so pitcher plants and sundew have learned to supplement their diets. Insects also thrive in this primordial stew . . . and will sup on you if you let them.
So I ventured onto the boardwalk covered in spray, looking carefully around. A white-throated sparrow whistled from a branch, then swerved close so I could see the yellow patches above its eyes.
As I bent to look at a starry clump of moss, a neon-blue dragonfly wove past my ear.
A bog's floating mat of vegetation is a showroom for moss, lichen and ferns, which unfurl in every shape and every shade of green. For flowers, I saw only an old stand of blue flag and a budding head of Joe Pye weed on my way to the deck on Big Bog Lake.
But looking at a bog is a lot like hovering over a coral reef — it takes a while before the eye can focus. I couldn't believe how much more I saw on the way back — grass pink orchid, mad-dog skullcap, horsetail rushes and a pitcher plant with two dozen throats, the Mafia boss of carnivorous plants.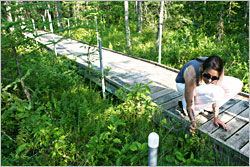 In early summer, naturalists at many bogs lead hikes or are available to help identify plants. Here are some of the best bogs to visit.
What to know about bogs
The peak for bog flowers generally is late May through early July, but you'll find interesting plants throughout the summer.
Bog flowers that bloom later include round-leaved sundew, swamp milkweed, marsh skullcap, purple-fringed orchid and turtlehead.
Stay on the boardwalk so you don't crush delicate plants.
Bring plenty of bug spray, and wear a hat to keep flies out of your hair.
For more photos of pitcher plants, see our Facebook album.
Northern Minnesota
Lake Bemidji State Park in Bemidji : On Bog Watcher Sundays, 11:30 a.m. to 1:30 p.m. from late May to mid-July , a naturalist will be on the boardwalk to help visitors identify plants. The park has four camper cabins.
Twenty minutes to the east in Buena Vista State Forest, Pennington Bog has many lovely orchids. A permit is required to visit.
Half an hour south, on the northern edge of Itasca State Park, Iron Springs Bog is a conifer swamp with rare species.
In Itasca State Park, the Dr. Roberts Nature Trail includes a boardwalk and is a good place to see showy lady's-slippers. Pick up a trail guide at the trailhead.
For more about Itasca, see The people's park.
Hayes Lake State Park near Roseau . This park includes a boardwalk into northern cedar bog and is known for orchids. Watch for a guided Walk on the Boardwalk.
Big Bog State Recreation Area near Waskish . This 500-square-mile peat bog, the largest in the lower 48 states, includes a milelong boardwalk.
Watch for the Bog Flowers on the Boardwalk program.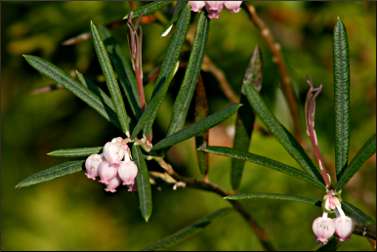 The park includes five year-round camper cabins.
More bogs : Minnesota's scientific and natural areas program includes many bogs  through the state. For more about SNAs, see Spring in full glory.
Northern Wisconsin
Wisconsin's extensive state natural areas program includes many bogs, fens and peatlands, swamps and sedge meadows through the state. These SNAs don't have boardwalks, and many don't even have trails, so wear waterproof shoes or boots.
Ridges Sanctuary in Baileys Harbor . Boardwalks cross swampy swales in this magnificent preserve on Lake Michigan, famous for its many rare flowers.
Its Festival of Nature on Memorial Day weekend includes wildflower hikes (and many other programs). For more, see Spring in Door County.
In summer, naturalists lead guided 1½-hour hikes from Tuesday through Saturday.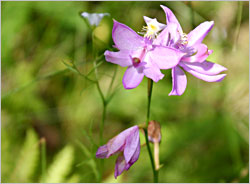 Forest Lodge Nature Trail near Cable . Seven miles east of town, near Garmisch Resort, this trail passes a bog/sedge meadow. Pick up a trail guide in a box provided by the Cable Natural History Museum.
Two miles farther east, visit the Namekagon Fen, which has lots of purple pitcher plant and grass pink.
Crex Meadows near Grantsburg . Just east of the St. Croix River, this swath of wetlands, lakes and sedge marsh is best known for birding but also is a good place to see flora. Watch for a Bog Wildflower Walk .
Western Michigan
Grass River Natural Area near Bellaire . Half an hour east of Traverse City, this preserve includes boardwalks on the Sedge Meadow, Tamarack and Fern trails.
Guided hikes also are held at 1 p.m. Sundays from Memorial Day through August.
Galien River County Park in New Buffalo . Just west of the intersection of I-94 and U.S. 12, an hour from Chicago, this park is part of the New Buffalo Marsh and includes a boardwalk that leads to the river and a canopy walkway that leads to a marsh overlook tower.
Upper Peninsula of Michigan
Presque Isle Park in Marquette . This beloved city park on a peninsula in Lake Superior includes the Bog Walk Trail.
Naturalists often lead walks from the adjacent MooseWood Nature Center, which offers an online Virtual Bog Walk, with many photos of flowers.
Last updated on May 4, 2021