Downhill in Thunder Bay
For a ski weekend, this friendly city belongs on the Eh list.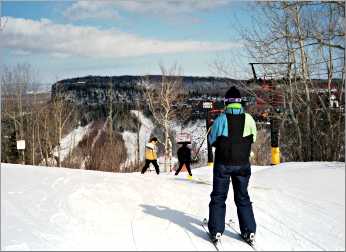 Thunder Bay is the Miss Congeniality of Canada — blessed but not beautiful, endearing yet not alluring.
Craggy bluffs flank this working-class town of 120,000 on one side, and Lake Superior on the other. But the candy-striped smokestack of a paper mill is the first thing seen by those who arrive by air or U.S. highway.
Beyond is an unremarkable sprawl of commerce and industry. But Thunder Bay's homeliness is only skin-deep to those who know where to go: To the marina, where lovely sunsets frame the Sibley Peninsula with glowing bands of peach and slate-blue.
To Italian cafes, for real gelati. And to Loch Lomond and Mount Baldy, where slopes are steep but prices gentle.
Thunder Bay never will make the cover of Conde Nast Traveler, but it's got many charms. One year, a friend and I flew there in early March.
The Saturday-morning flight along Minnesota's North Shore was worth the price just for the bird's-eye view — of a Tinker Toy-size Aerial Lift Bridge in Duluth, the twisting ribbons of the rivers that feed Lake Superior, the stark canvas of black treetops broken by snow-filled ravines.
In just an hour and a half, we had traded the dirty slush of the Twin Cities for the sparkling snow of Thunder Bay.
These days, it costs five times as much to get there by air, so most people will drive.
Is it still worth going? Absolutely. Thunder Bay is the largest town on Lake Superior, but it has a small-town atmosphere.
Prices are about what you'd pay in the States, though downhill skiing still costs a little less. And the dining, much of it in restaurants that are more ethnically authentic than anything across the border, is fantastic.
After arriving, we drove straight to Loch Lomond ski hill, in the Nor'westers on the southern edge of town. It has 14 runs, the longest of which is 1½ miles, and a 750-foot drop.
Despite the beautiful day, and perfect conditions, we never had to wait for the lifts.
After skiing, we checked into the Prince Arthur, a renovated 1911 hotel that overlooks the marina and Sleeping Giant Provincial Park on Sibley Peninsula, whose Ojibwe-named terrain gives Thunder Bay the world's largest natural freshwater port.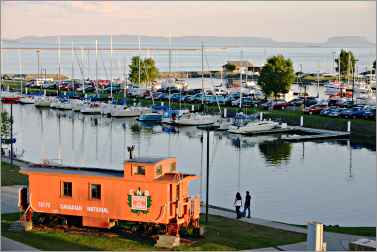 Hundreds of people were in town for the annual Sleeping Giant Loppet, a cross-country tour and race on the long peninsula.
We watched the harbor lighthouse gleam in the waning rays of daylight, then drove to a brew pub on Red River Road.
While sampling the house lager, we struck up a conversation with the locals that covered all the topics dear to their hearts — the  value of Canada's "loonie," shopping in the States, French separatists, recent warm winters and the exodus of young people to Calgary.
Then we drove to Bistro One, whose plain façade  gave little clue to the atmosphere inside.
It was festive, befitting the extremely high quality of the food. We had an appetizer of wine-steamed mussels with basil and leek cream, cognac-flamed duck breasts with a black-currant sauce, rosemary-roasted rack of lamb with Gorgonzola butter, and warm chocolate gateau with raspberry coulis and cappuccino ice cream.
The next day, we went skiing again. Mount Baldy, just north of town and inland, is Thunder Bay's second ski hill, with 10 runs.
On Monday, we went to the Finnish-Italian neighborhood around Bay Street, buying jars of pesto at the Maltese Grocery on Pearl Street and pastries at La Dolce Vita, a charming Italian bakery on Algoma Street.
Thunder Bay may not be known for its luxuries, but perhaps it should be. If you're looking for a little spree at affordable prices, this friendly city is the place to go.
Trip Tips: Thunder Bay in winter
Getting there: It's 40 miles from the border, or about an hour and a half from Grand Marais, Minn. Eastern Standard Time starts at the border, so you'll lose an hour.
Be sure to have a passport or passport card. If you're bringing a child not your own, you must have notarized permission from parents. For complete information, check travel.state.gov.
For more about the city, see Exploring Thunder Bay.
Accommodations: The Best Western Nor'Wester Resort Hotel is on the south side of town, near Loch Lomond and Kamview Nordic Ski Centre. It has a restaurant, indoor pool, hot tub and steam room and sauna. Pets are allowed in some rooms.
The 1911 Prince Arthur Hotel on Cumberland, overlooking the marina and Sibley Peninsula, has good views; ask for an upper-floor lake-view room. Standard rooms have fridges and microwaves.
I've stayed at the Prince Arthur three times and always had a pleasant experience, but many online reviewers savage the place.
Dining: Bistro One is now Seler Restaurant & Wine 807-622-2478.
Downhill skiing: Loch Lomond, on the south edge of town, has 14 runs, the longest 1½ miles, for all skill levels.
Mount Baldy, north of town, has 10 runs for all skill levels.
Cross-country skiing: There are 60 kilometers of groomed trails at Sleeping Giant Provincial Park, 30 at Kamview Nordic Ski Centre and 13 at Kakabeka Provincial Park. For snow conditions, call 807-625-5075.
Skiing and snowshoeing is very popular at Sleeping Giant Provincial Park, an hour east of Thunder Bay. Between September and mid-June, the park rents five fully equipped three-bedroom cabins. 807-977-2526.
The Sleeping Giant Loppet is on the first Saturday in March. There's an 8-kilometer family event, a 35-kilometer tour and a 50-kilometer race.
For more about the park, see In the shadow of the Giant.
Information: Thunder Bay tourism, 800-667-8386.
Last updated on April 13, 2017