Exploring Thunder Bay
Beauty is all around Lake Superior's biggest town.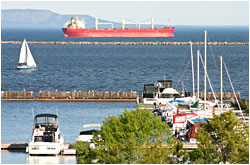 To know Thunder Bay is to love Thunder Bay.
Lake Superior's largest town is hard to get to know, though, in part because it was two towns until 1970. No downtown pops out of the landscape; people driving through see only the flat sprawl of Fort William, then the hillier sprawl of Port Arthur.
But Thunder Bay's surroundings are spectacular: Mount McKay on the south, Kakabeka Falls to the west and Ouimet and Eagle canyons to the north.
To the east, the Sleeping Giant stretches across the horizon. This 32-mile-long peninsula has been voted No. 1 of Seven Wonders of Canada in a Canadian Broadcasting Corp. poll.
It received twice as many votes as Niagara Falls, the runner-up: "I could sit and look at it for hours," said Sabine Leidums, one of those who nominated it.
At sunset, the view of Sleeping Giant from Port Arthur's Marina Park is mesmerizing. The breakwall light station gleams in the waning rays, and fleecy banks of pink and blue clouds float over the peninsula.
Ojibwe legend identifies it as the spirit Naniboujou, who turned to stone when white men found the secret mine at Silver Islet, now part of Sleeping Giant Provincial Park.
Thunder Bay's best lies along water. On the south edge of town, old-fashioned Chippewa Park has amusement rides, a wildlife park, tourist cabins and a beach on Lake Superior.
On the northern edge of town, Trowbridge Falls, Centennial Park and Boulevard Lake lie along the Current River, a favorite destination of paddlers.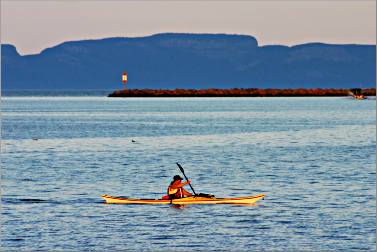 My favorite part of Thunder Bay is Fort William Historical Park, on the Kaministiquia River west of town. It's the continent's largest reconstructed fur post, with a legion of living-history players amid 42 buildings on 20 acres.
The original post, moved from Grand Portage in 1803 to the mouth of the Kaministiquia, was a nerve center of the international fur trade. This post, nine miles upstream, is owned and run by the Ontario government, and it's a world-class tourist attraction.
When we were there, we joined families from France and the Czech Republic on the wooded trail to the post.
At the wharf, we met Toronto couple Pat Viscount and Brooke Harrison, who were winding up a tourist itinerary that included hiking in Sleeping Giant Provincial Park, walking the suspension bridges at Eagle Canyon and visiting 120-foot High Falls on the U.S. border.
"We haven't stopped the whole week," Harrison said. "Now we have to go home to rest."
The action never stopped at Fort William, either. A Montreal canoe was approaching, bearing a Métis women coming to accept a promise of marriage to a company clerk.
A dance followed, accompanied by a bagpiper, and then a contract worker named Mr. Bassett confronted haughty William McGillivray, the company partner for whom the post was named.
A duel ensued, and Mr. Bassett ended up with a musket ball in his arm.
Everyone stayed in character, unless we asked questions that couldn't be answered by someone living in 1815. We stayed until the place closed, then drove farther up the Kaministiquia to 128-foot Kakabeka Falls.
It was no delicate northwoods cascade. It earns its nickname "Niagara of the North" by roaring over a wide shelf into a large gorge lined with rock cliffs, which gave the falls its aboriginal name.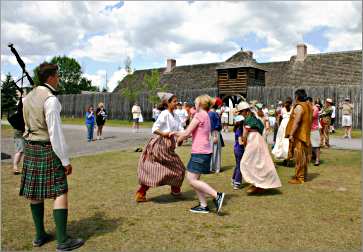 We still had plenty of time to go down to the old Canadian Northern depot in Marina Park, where a punk band was playing and families strolled along the lakefront eating ice-cream cones and kettle corn.
Thunder Bay's strength is in neighborhoods that still have one foot in the Old World. In the morning, we joined the pilgrimage to the Hoito in the basement of the Finnish Labour Temple.
Founded in 1918 to supply young bushworkers with low-cost meals — Hoito means "care" in Finnish — it became famous for its crepe-like pancakes.
Next to us at the counter, Gordon Johnston of Peterborough, Ontario, said even his lawyer asked about the Hoito when he heard Johnston was heading west.
In Canada, Thunder Bay also is known for Terry Fox, the young athlete who lost a leg to cancer and began a run across Canada in 1980, completing 26 miles each day in a Marathon of Hope.
Just northeast of Thunder Bay, advancing cancer forced him to stop. A memorial and visitors center mark the site and is a popular destination.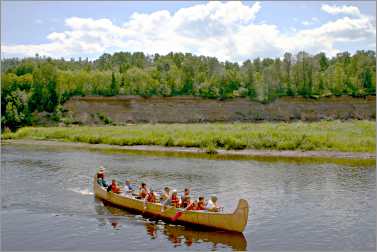 Johnston saw Fox running near Wawa, on the other side of Lake Superior.
"It was a thrilling moment in my life," he said. "He went by and lifted his hand as we applauded."
Next to the Hoito, we stopped at Authentique, a gift shop that carries versions of an inuksuk, the rock cairn that was the symbol of the 2010 Olympic Games in Vancouver.
"They're sentinels to travelers in Canada's north country," said clerk Georgia Muncaster. "Every piece represents perfect balance; each part of the whole is crucial to its existence."
Somehow, we started talking about bakeries, and Muncaster recommended three bakeries that serve the local favorite, a jam-filled doughnut called a Persian.
We made a mental note, then walked to the adjoining Italian neighborhood and joined the queue at the meat counter of the Maltese Grocery.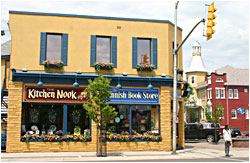 Eight people were busy making sandwiches and doling out salami and sausage. When it was our turn, a friendly young woman told us that first we needed to pick out freshly baked buns.
"First-timers, eh?" she asked with a smile.
When I go to Thunder Bay, I eat. This trip, I also collected the local candy bars — Mr. Big, Eat More, Wunderbar. To an American, Thunder Bay is just exotic enough.
Trip Tips: Thunder Bay, Ontario
Getting there: It's four hours north of Duluth. Eastern Standard Time starts at the Minnesota border, so you'll lose an hour. Be sure to have a passport or passport card.
If you're bringing a child not your own, you must have notarized permission from parents. For complete information, check the Canadian government travel page.
At the tourism center, just over the border, pick up a map of the city and other information.
2023 events: July 1, Canada Day at Fort William and in Marina Park. July 8-16, 50th anniversary Great Rendezvous Celebration at Fort William, with Historic Reenactment July 14-16. July, Festival of India in Marina Park.
Free Wednesday-evening Summer in the Parks concerts are held from mid-June through mid-August in Marina Park.
Fort William Historical Park: It's on the west edge of town; from Canada 61, take Broadway Avenue west.
Hotels often offer discounts on park admission. Its cafe has reasonably priced sandwiches, soups and pie. 807-473-2333.
Kakabeka Falls Provincial Park: It's not far north of Fort William and west of the airport off Arthur Street/Canada 11/17.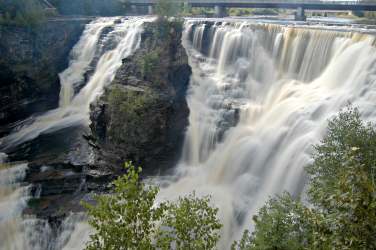 Thunder Bay Country Market: This indoor food market is in a nondescript building just south of the Intercity Shopping Centre, but it hums with excitement.
It's open 8 a.m. to 1 p.m. Saturdays year-round and 4-7 p.m. Wednesdays in summer. Bring a cooler to store your pierogis, cheese and pies.
Ouimet Canyon Provincial Park: Ouimet is a gorge with viewing platforms about 40 miles northeast of Thunder Bay.
Nearby, tourists can walk across privately owned Eagle Canyon on 600- and 300-foot-long suspension bridges, 807-857-1475.
Sleeping Giant Provincial Park: The park is an hour east of Thunder Bay and is a popular place to camp, hike, mountain bike and play on the inland Lake Marie Louise.
For more, see In the shadow of the Giant.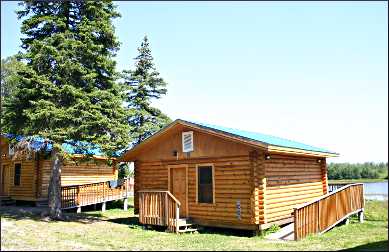 Canoe and kayak rentals: Wilderness Supply Co., 244 Pearl St. in Port Arthur, rents and sells outdoors equipment, 807-684-9555.
Accommodations: The Delta Hotel by Marriott on the waterfront in Port Arthur overlooks Marina Park, and some rooms have balconies.
Four blocks from Marina Park, the Courthouse Hotel is in the renovated 1924 courthouse and has views of the lake. Breakfast is included.
The newer Holiday Inn Express & Suites is in the Intercity area between Confederation College and Lakehead University. It has an indoor pool.
The Best Western Plus Nor'Wester Hotel is on the south side of town, not far from Fort William. It has a restaurant, indoor pool, hot tub and steam room and sauna. Pets are allowed in some rooms.
The 1911 Prince Arthur Hotel on Cumberland, overlooking Marina Park and the Sleeping Giant, is old but well-located, with good views; ask for an upper-floor lake-view room. Rooms have fridges and microwaves.
Near the lake and Marina Park, the Haven Hostel offers private rooms with attached bath as well as dormitory rooms with shared bath. There's a kitchen and secure storage. Dogs can stay in private rooms for $15.
On the southern edge of town, Chippewa Park has cabins, 888-711-5094, 807-623-5111.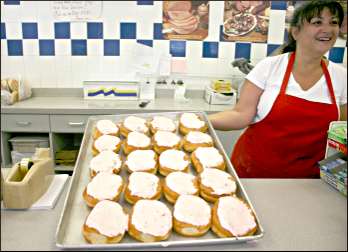 In summer, Lakehead University offers cheerful, tidy rooms on its pleasant campus in the center of the city. Baths are shared, and rooms have mini-fridges.
There are also four-bedroom apartments and townhouses. To reserve, call 807-343-8485 or email guestservices@lakeheadu.ca.
Camping: On the Current River, on the north side of town, Trowbridge Falls is a wooded municipal campground that's close to Centennial Park and Boulevard Lake, 807-683-6661 in summer, 807-625-2313 in the off-season.
On the southern edge of town, Chippewa Park has camping, 888-711-5094, 807-623-5111.
There's also a campground of Fort William Historical Park, on the shores of the Kaministiquia River.
It's the continent's largest reconstructed fur post, with a legion of costumed living-history players enacting non-stop tableaux amid 42 buildings on 20 acres.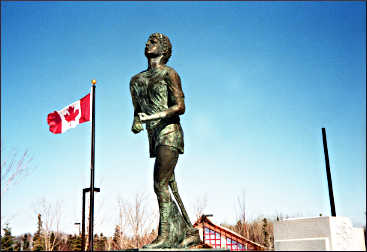 Dining: On the marina in the Water Garden Pavilion, Bight Restaurant & Bar has lovely views from its patio. Prime Gelato serves its own Italian-style ice cream a block away, at Red River Road and Cumberland. There are many other good restaurants in this area.
For a splurge, go to Seler Restaurant & Wine, 555 Dunlop St., just southwest of the junction of the Harbour Expressway and Memorial Avenue in Fort William. Reserve at 807-622-2478.
West of the Intercity Shopping Centre in Fort William, Caribou Restaurant and Wine Bar serves "North American modern" cuisine, with global accents. South of the mall, Giorg Ristorante serves Italian cuisine at 114 N. Syndicate Ave., 807-623-8052.
The Hoito and Finnish Labour Temple, at 314 Bay St. in Port Arthur, burned down in December 2021, but developers may rebuild.
Be sure to eat as much gelato and as many pierogis and Persians as possible. For more about Persians, see Capitals of treats.
Winter sports: See Downhill in Thunder Bay.
Information: Thunder Bay tourism, 800-667-8386. On the north edge of town, stop at the Terry Fox Information Centre, 800-667-8386.
Last updated on January 20, 2022