Peak experiences
For people who collect high points, nothing but a hike to the top will do.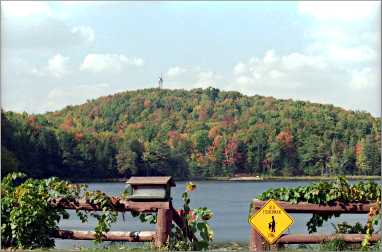 The expedition began on a beautiful fall morning. I got in the car, drove a few miles over the Wisconsin border and followed country roads to a gate, where a gravel lane led to a farmhouse.
I parked, walked up an oak-lined path and, just like that, was atop the highest point in Illinois.
Charles Mound, at 1,235 feet above sea level, was a nice place to be. Near the U.S. Geological Survey benchmark, its thoughtful owners had placed two lawn chairs, facing a golden, hazy countryside dotted with silos.
There were much better views nearby, in the Mississippi River Valley. Still, this particular spot had recently drawn visitors from Texas, California, Washington, Colorado and many other states, 36 of whom had signed the register that sat in an old milk box.
"My oxygen tanks ran out halfway up, but we made it," wrote a visitor for whom Charles Mound was the 49th of the 50 state summits.
For some, it was a first — "It's official, I have highpointed!" wrote a Minneapolis woman — and for others, just one stop on a whirlwind tour. "Eighth high point in 2 weeks," noted a man from Cleveland.
For these Highpointers, members of a national club, nothing but the exact summit will do.
When the late surveyor Paul Zumwalt, author of the 1988 book "Fifty State Summits," found that the high point of Missouri actually was 400 feet away from the old one, it caused consternation among hard-core Highpointers, who then had to redo their hikes.
Zumwalt, whose book inspired many hikers to become Highpointers, oversaw several such switches in the Midwest, such as the official designation of Timm's Hill over Rib Mountain in Wisconsin and a 300-foot shift in the Charles Mound site.
Luckily for the owners, the old site, which had the better view, wasn't the real high point, and they later built a house there.
High points provide bragging rights, but not always a view. In the Midwest, high points often lead hikers to other, better sights.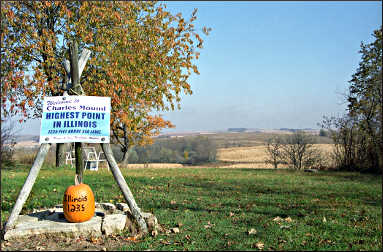 At Charles Mound, the real treat came after I left the high point and drove 12 miles to the tourist town of Galena along the Stagecoach Trail.
Following a ridgeline, the road provided lovely fall views of ravines filled with bronze and russet oaks, contrasting with faded yellow cornfields in the distance.
At Timm's Hill in Wisconsin, there was a bona-fide 30-mile view from an observation tower.
But the real discovery came at the foot of the hill, where the scenic, 10-mile Timm's Hill National Trail connects with 20 kilometers of trails around Rib Lake and the 1,000-mile Ice Age Trail National Scenic Trail.
The region's best view is from the top of Eagle Mountain on Minnesota's North Shore, where the panorama includes the North Fork of the Cascade River and Eagle, Whale and Zoo lakes — though not Lake Superior.
The 3½-mile hike is scenic but a little difficult because the trail is choked with tree roots. Lined with cedars and spruce, it soon enters the Boundary Waters Canoe Area Wilderness; hikers fill out a day permit at the trailhead.
Passing through bogs, partly on boardwalks, it skirts mirrorlike Whale Lake, then picks its way through gantlets of rock up to the top.
In the register at the summit, a Georgia man had written, "I moved to Atlanta six years ago, and hiking up here and seeing places like this make me want to move back to this great state!"
High points in the Midwest are a walk in the park. But some are dangerous to climb, especially Mount McKinley in Alaska and Mount Rainier in Washington.
For years, however, the most dangerous was 812-foot Jerimoth Hill in Rhode Island, where the owner used to run off Highpointers with a shotgun.
Collecting high points, it seems, can get interesting. I've seen five, however, and feel no great urge to see more. I even passed within a few miles of Iowa's high point near Lake Okoboji and didn't have the heart to bother the poor farmer whose cattle trough marked it.
When I can see the finest panorama in the region from Lansing, Iowa, on the Mississippi River, why make a trek to a farmyard at the opposite end of the state?
But many people just have to do it.
Trip Tips: High points in the Upper Midwest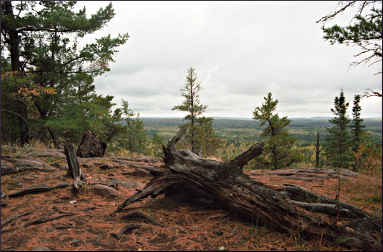 Highpointers Club: Members hold an annual convention, send out a quarterly newsletter and post to Facebook, Instagram and their blog.
Minnesota: The trailhead of 2,301-foot Eagle Mountain can be reached from Grand Marais by taking County Road 7 to Forest Road 48, then 158 to its junction with 153.
It's a little simpler to take the Caribou Trail, or County Road 4, from Lutsen to Forest Road 153; from there, it's about four miles east to the trailhead. Fill out a BWCAW self-registration form and put it in the box before hiking.
Allow three to four hours for the hike itself and, in summer, bring plenty of insect repellent.
For more, see Hiking Minnesota's North Shore.
Wisconsin: The 1,951-foot Timm's Hill is in north-central Wisconsin, six miles east of Ogema (past Ladysmith, north of Wausau) off Wisconsin 86.
It's in Timm's Hill County Park, on Rustic Road 62 off County Road C. The road crosses the northern end of Timm's Hill National Trail, and nine miles south, the five-mile Rustic Road 1 crosses the southern end.
For more, see Trek to Timm's Hill.
Illinois: The 1,235-foot Charles Mound is on private property and now open only by permission on the first Saturdays and Sundays of June, July, August and September.
To reach it, take Stagecoach Trail (County Road 3) east of Galena to Elizabeth-Scales Mound Road (County Road 4) and go north through the village of Scales Mound and east and north on Charles Mound Road for 1.3 miles.
Park on the road and leave pets in the car. It's a mile and a half walk.
Iowa: The 1,670-foot Hawkeye Point, now owned by Osceola County, is only three miles from the Minnesota border, between Worthington, Minn., and Sibley, Iowa. It's 20 feet above the surrounding farmland.
It's an easy detour from I-90 across southern Minnesota.
Michigan: On the Upper Peninsula, 1,979-foot Mount Arvon is near L'Anse at the foot of Keweenaw Bay on Lake Superior.
It's 15 miles east of L'Anse as the crow flies, but longer on the little forest roads that lead to a parking lot, half a mile from the summit. Blue signs point the way.
Last updated on September 8, 2016