Browsing in Boulder Junction
A fishing mecca in northwoods Wisconsin has become a fashionable place to shop.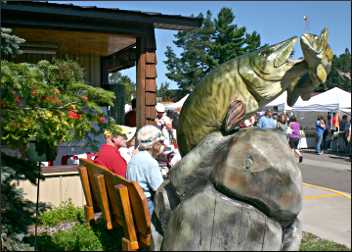 In a little village in northern Wisconsin, muskie probably is still king.
Back in 1971, city boosters got the U.S. Patent Office to make Boulder Junction the official Musky Capital of the World. After all, the surrounding two counties have the world's densest concentration of lakes, and they still yield 4-foot fish.
But times change. Now, this former logging town deep in the middle of state forest has gained fame as a playground for another kind of trophy hunter.
In 1990, a shop opened called, appropriately, The Fisherman's Wife. It was a big success, drawing more than wives, and it was followed by more shops in more quaint log buildings.
High-end shopping now goes hand in hook with fishing across the resort areas of both Wisconsin and Minnesota, but in Boulder Junction, the trend reaches a kind of apex.
Here, shopping is entertainment. When I visited one summer, a couple at a store called Peeplelures were giggling over ceramic Aladdin's lamps, kaleidoscopes and a $900 coffee table with mirrors that created a bottomless effect and lights that could be programmed to blink like a strobe, marquee or waves.
Proprietor Jane Ervin moved from Madison with her family and was one of the many residents who had vacationed in Boulder Junction and aspired to live there permanently.
"It has a real pull," she said. "I always felt like it was my emotional home." As a shopkeeper, she found inspiration in The Fisherman's Wife: "It's the model after which we're all striving," she said.
Two doors away, customers were studying the wares in that shop, which has the air of an old-time country store. Fancy flannel shirts were stacked in old cabinets, stuffed animals filled a cradle and bath oils were artfully arranged in a wood-rimmed tin washtub.
An antique Coke machine dispensed bottled pop for a quarter, and popcorn popped in an old red vendor's cart.
"We'd been coming up to Boulder Junction for 30 years on vacation," said owner Pat Rydin, "and when the doctor told my husband to change his lifestyle, he told me, 'Well, we're moving to Boulder.' I said, 'Then I'll need something to do.' "
The roomy shop, furnished with antiques from their Chicago-area home, was the result. Then Rydin gave the town something else to look at when she commissioned a cedar sculpture of Porter "Barefoot" Dean, which once stood outside the store.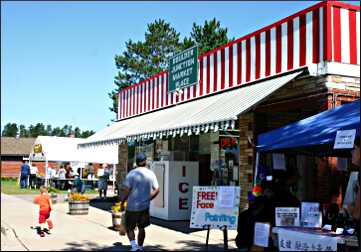 Dean was a legendary fishing guide in a town where guides were revered, a colorful and not always couth symbol of old Boulder.
He stopped wearing shoes after an uncomfortable World War II stint on the hot sands of North Africa, according to the late writer/historian Tom Hollatz, and he was famous for his story-telling, drinking and hobnobbing with celebrities.
But, Hollatz added, he was loved for a friendliness that set the tone for the whole village.
"He was nice to everybody, and if you asked him for a fishing tip, he'd tell you," said Hollatz, to whom Dean bequeathed his trusty knife shortly before his death in 1980. "And he knew more fishing secrets than anyone . . . he was our Sasquatch, our tourist attraction."
Once, bait shops set the tone for commerce along Boulder's main street. There are still bait shops, including Bill Sherer's We Tie It Fly Shop.
When I dropped by, Sherer was sitting in the front bay window, peacefully tying rainbow thread around a tuft of brown chicken-neck feathers, fluffing them into a collar out of which a half-dozen strands of glittery pink thread waved.
"This is what we call a no-brainer," said Sherer, who holds the world record for walleye caught on a fly rod and was named one of the nation's top 100 fly-tiers by his peers. "All the materials I use create movement, to make the fish believe that this bug knows as well as the fish does that it's lunch."
There are many more shops in Boulder Junction. Moondeer & Friends Gallery shows the work of regional and local artists, many of whom open their studios during the Northwoods Fall Art Tour in October.
A little supermarket in the 1911 hotel, the town's oldest building, puts out produce in baskets and crates on the sidewalk and provides a picnic table under the pines next door.
There's also an ice-cream and cappuccino shop, several cafes and two serious restaurants, the Guide's Inn, on whose walls hang a framed photo of the French chef Escoffier, and the Outdoorsman, whose menu contains such items as escargot, gnocchi and risotto.
Pat Rydin calls it "the cutest town in the north woods." Mostly, residents are happy that, thanks to the surrounding Northern Highlands State Forest, tiny Boulder Junction will never be another Minocqua, the sprawling resort town 15 miles to the south.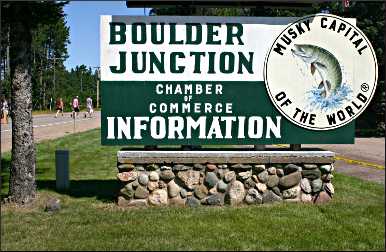 "We're surrounded by state land, so we can't grow," said Al Jensen, a town booster I met at the Guide's Inn. "And all the people who own land, if they sold to McDonald's, they'd be lynched. So we'll always stay nice and quaint."
Trip Tips: Boulder Junction, Wisconsin
Getting there : It's half an hour north of Minocqua.
2022 events : July 4, Star Spangled Jubilee with noon parade. July, Northwoods Art Tour. Aug. 12-14, Musky Jamboree. Sept. 10, Colorama Arts & Crafts Fair. October, Northwoods Fall Art Tour. Oct. 8, Harvest Fest.
Accommodations : There are several motels right in the small downtown. The Boulder Bear Motor Lodge and Boulder Junction Motor Lodge both have lobbies with fireplaces, whirlpool rooms and free breakfast.
Big Bear Hideaway, just outside downtown, includes several log and fieldstone cottages. Johnny Depp stayed there while filming "Public Enemies."
There are also many lake cabins, resorts and vacation rentals.
Dining : The Guide's Inn also is known for fine food, 715-385-2233. Aqualand Ale House has 20 craft beers on tap and serves sandwiches and flatbread pizza.
Bicycling : The 11-mile, paved Crystal Lake Trail runs south from Boulder Junction to Trout Lake, then east to Crystal Lake, where it connects to the Plum Lake Trail to Sayner. It's part of the Heart of Vilas County Bike Trail System.
There are also miles of mountain-biking on ski trails in Northern Highland-American Legion State Forest.
Fishing : There are 194 lakes within nine miles of town, with walleyes, smallmouth bass, and northern pike as well as musky. Well-known fishing lakes include Trout, Wildcat and High Lake, source of the state-record 18-pound walleye.
Local guides present free fishing seminars at 7 p.m. Sundays in summer at the Boulder Junction Community Center.
In addition to lures, Bill Sherer's We Tie It Fly Shop offers guide service and classes in fly-tying and fly fishing.
Scenic drives : The 12-mile Rustic Road 60, along County Road K south of Boulder Junction to Star Lake, is one of the system's most scenic.
Cross-country skiing : Escanaba Lake Ski Trail, five miles south of Boulder Junction, is one of many groomed trails in state forest. Four loops of two, four, 5½ and seven miles circle several lakes, 715-385-2727.
For skiing around Minocqua, see Minocqua's white magic.
Information : Boulder Junction tourism, 800-466-8759.
Last updated on January 31, 2022