Minocqua's white magic
In northeast Wisconsin, snowy forests delight skiers and snowmobilers.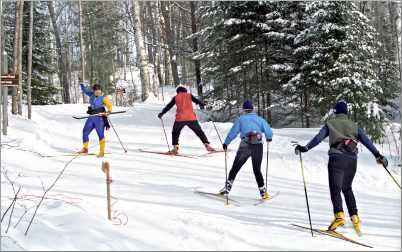 In northeast Wisconsin, winter can be almost shamelessly beautiful.
Not only is the snow plentiful, it's that photogenic, see-me-sparkle kind of snow that looks so good draped on pine boughs.
Skiing the Escanaba Lake Trail near Minocqua one February, exchanging hellos with passing skiers, all of them smiling, I had the feeling I must be in a magazine shoot.
"It doesn't get any better than this," said Joan Barnett of Golden Valley. "Except if there were a mountain peak."
It's true there are no snowcapped alps in the distance, but there are scenic views around nearly every corner, thanks to the nation's densest concentration of lakes.
In fact, this corner of Wisconsin boasts of little but scenery. After loggers clear-cut the forest at the turn of the century, the rocky, untillable land reverted to wilderness — the 220,00 acres of Northern Highland-American Legion State Forest and, to the east, the 657,000 square acres of Nicolet National Forest.
In summer, the population of the Minocqua area increases tenfold, swollen by vacationers from Chicago and points south. But in the winter, this town of only 4,860 returns to serenity, visited only by those who love it most.
When I was skiing Escanaba, that included Dan Walker of Madison, who was on his way to visit the isolated spot where he had spread the ashes of his wife, Nancy, eight months before.
He carried camera equipment in a rucksack; he was photographing the site in every season, he said, for a display in his home.
They would have celebrated their 27th anniversary that week.
"I don't know what it is about this area," Walker said. "It's very peaceful; it did something for both of us. I'm very honored because she chose to be here. We were very much in love here."
The thickly wooded Escanaba Lake system, north of Minocqua, is just a small part of the hundreds of miles of ski trails in the area. From there, I headed for the Madeline Lake trails, first stopping to watch a hot-air balloon launch on Minocqua Lake.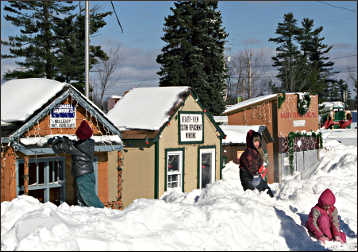 Minocqua calls itself the Island City because it is nearly surrounded by the lake, which pulls back only enough to let Highway 51, which uses a bridge at the southern edge of downtown, continue on to Woodruff.
The Madeline Lake trail is only two miles east of town, a popular destination for families, and one boy called to invite me to warm up by a bonfire.
But Madeline is easier than the rolling Escanaba, and I wasn't ready to stop on my loop through birch and aspen forest, connected to the parking lot through meadows and a red-pine plantation.
In the evening, I drove to the Raven Trail, just five miles east of town, where the DNR was holding a candlelight ski. It was bitterly cold, but Orion was winking right overhead, and 620 candles glimmered along the trail.
Some of them had melted their plastic holders into puddles, creating gaps of inky darkness, but I skied forward on faith until I reached the bonfire.
There, people were drinking cider, roasting salami and singing "Happy Birthday" to Pat Voellinger, whose birthday was that day.
Voellinger, a songwriter, had moved to Minocqua from northern Illinois seven years before with her husband, Joe, and two young sons. On the way back, she and I skied together for a while.
"Shortly after we moved, I got skis, and I've been skiing ever since," she said. "It's cool. Once, this old guy went whizzing by, and I thought, 'That's what it's like if you've skied your whole life.'
"And I said, 'Joe, that how our kids are going to be in 40 years."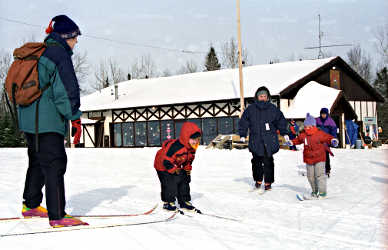 The next day, I drove to Minocqua Winter Park, a cross-country ski area that has a chalet, ski shop, instructors and 75 kilometers of well-groomed trails on 6,500 acres deep in the woods west of town.
The park is one of the region's premier training spots for racers and other serious skiers, but because its lanes are wide, to accommodate skaters, it lacks the intimacy and serenity of the state-forest trails.
It also tends to trap skiers in its thicket of short trails with various names, a fact I should have remembered, having had the same problem the last time I skied there.
After skiing with friends to the start of the 11-kilometer River Run, which reaches into a long elbow of the Squirrel River, I decided to cut over to the Yukon Trail, which I'd heard was especially scenic. This, however, was a mistake.
Best plan: Get there early, and just ski until you don't want to ski any more. Then use the map to return to the chalet.
Wherever you go in Minocqua, you'll be surrounded by snow and serenity.
"I really look forward to the winter," said former inn proprietor Anita White, one of many residents who first got hooked on the area through years of vacationing there. "Then we get our lake back. In the summers, it gets kind of crazy."
Trip Tips: Winter in Minocqua, Wisconsin
Getting there: Minocqua is a little over an hour north of Wausau on U.S. 51. It's about four hours from the Twin Cities and seven hours from Chicago.
Accommodations: Most of the hotels and many resorts cater to snowmobilers; if you would like to avoid noise at odd hours, stick to B&Bs or resorts that cater to skiers.
The Waters of Minocqua, a log hotel that includes a 10,000-square-foot water park, is on the southern edge of Minocqua. The 106 rooms have microwaves and mini-fridges; ask about specials. 877-992-8377.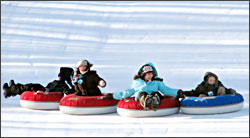 Dining: Minocqua Brewing Company, in a 1927 Masonic Lodge overlooking Minocqua Lake, is a very nice place to have dinner and an Island City brew, 715-356-2600.
Ski trails: The Escanaba and Madeline Lake trails are just a few of those in Northern Highland-American Legion State Forest. Stop at the chamber of commerce for a map.
The 10-kilometer Schlect Trail, off Leary Road 1½ miles south of Minocqua off U.S. 51, has three kilometers that sometimes are lighted.
Winter Park: It's 20 minutes southwest of Minocqua. This is one of the few places that rent skate skis as well as classic skis and snowshoes. There's a beginner's special that includes rental, trail pass and group lesson. Reserve lessons in advance, 715-356-1099.
It also has a tubing hill with handle tow.
Snowmobiling: The 18-mile Bearskin State Trail, which heads south from downtown Minocqua, is a snowmobile trail in winter. There are hundreds of miles of other trails; ask the chamber for maps.
Details: Minocqua tourism, 800-446-6784.
Nearby attractions: Eagle River, 25 miles east, has many very good ski trails but also is known as the Snowmobiling Capital of the World (the Snowmobile Racing Hall of Fame is 10 miles west in St. Germain and the machine was invented in nearby Sayner).
For more, see Adventure in Eagle River.
Summer in Minocqua: Tiny Minocqua is the hub of the summer lakes scene in the area.
For more, see Summer in Minocqua and Historic boathouses of Minocqua.
Last updated on January 13, 2022