Summer in Park Rapids
In the heart of Minnesota lakes country, town is a tourist hub.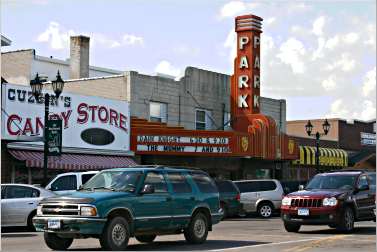 Ever since it was settled, Park Rapids has been a crossroads for tourists.
The trains that hauled out white pine at the turn of the century brought in summer guests, who were met at the depot by resort owners and taken to the lakes in wagons.
When highways were built, Park Rapids became the gateway to Itasca State Park, 20 miles to the north. After the rail line was abandoned, it became the western trailhead of the Heartland State Trail, one of the nation's first paved bicycle trails.
As birding became the nation's fastest-growing pastime, it became the eastern portal to Tamarac National Wildlife Refuge, where birds from the prairies mix with those from hardwood and pine forests.
But Park Rapids always has made its living from more than tourism, and it has an old-fashioned, small-town feel that's appealing.
Cars park in the center of the wide downtown streets, in front of the confectionery, the movie theater and the MinneSoda Fountain, a longtime teen hangout that seems frozen in time since the '50s.
On summer Saturdays, tourists pour in on their way to the cabins, resorts and campgrounds on the lakes that ring Park Rapids.
Two of the largest are potato-shaped Fish Hook Lake and fish hook-shaped Potato Lake; thanks to a mapmaker's error, their names were switched.
From Fish Hook Lake, the Fish Hook River flows through downtown Park Rapids, where a lacquer-red footbridge marks a path that leads into Heartland Park.
That's the beginning of the 48-mile Heartland State Trail, which connects with the Paul Bunyan and Migizi trails to create a 130-mile bicycling network.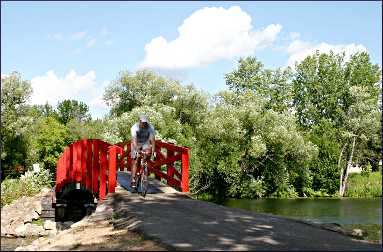 The Heartland is one of the state's most interesting trails because of the towns it traverses. Each lays a claim to a record: Dorset claims to have the world's largest number of restaurants per capita, and Nevis the world's largest tiger musky.
Akeley is the home of Minnesota's largest Paul Bunyan, and Walker holds the world's largest eelpout festival.
The county roads that wind around the lakes north of Park Rapids also are a popular place to ride, and the town's Headwaters 100 Bike Ride and Race in September, which winds up to Itasca and back through Lake George, Emmaville, Dorset and Nevis, has become one of the state's most popular bicycle tours.
But in the summer, Park Rapids has the face of a classic resort town. On sunny days, the tourists stay near the water, at the area's exceptionally good selection of family resorts. When the skies are overcast, they come into town.
Downtown, the traditional fudge shops and souvenir stores have been augmented in recent years by hipper shops and markets.
These days, vacationers can check their e-mail over a jolt of espresso — and be back on the lake by mid-morning. Park Rapids is a nice town — but with so many gorgeous lakes nearby, there's not an hour to lose.
Trip Tips: Visiting Park Rapids, Minnesota
Events: First Sunday of August, Taste of Dorset. August, Legends and Logging Days.
Accommodations: The area is particularly rich in family resorts that offer amenities beyond the basics. Among them:
On Long Lake, Timberlane Resort has an indoor pool, sauna, whirlpool, tennis and supervised playroom. It has its own nine-hole golf course, the Bears Den, and is open in winter, 800-662-0262.
Edgewood Resort has a 1996 cabin that sleeps 23 and a 2001 cabin that sleeps 40, and it rents personal watercraft, 800-593-4664.
On Potato Lake, Northern Pine Lodge has a beautiful old lodge, a sauna, tennis and supervised children's activities, 218-732-5103.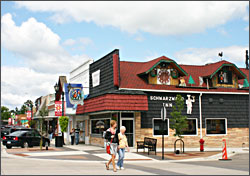 On Two Inlets Lake, closer to Itasca, Brookside Resort has a nine-hole golf course, tennis, pool, sauna, waterskiing and supervised children's activities. 800-247-1615.
On Big Mantrap Lake north of Dorset, Mantrap Lodge has a wide selection of cabins, a heated pool, sand beach and many children's activities.
Dining: The Good Life Cafe on Main Avenue uses fresh, local ingredients and is open daily for lunch and dinner. Bella Caffe on Third Street serves panini sandwiches and espresso drinks.
Necce's Ristorante serves Italian and Mediterranean dishes plus gelato. MinneSoda Fountain on Main Street is a cheerful place to have a burger or a shake.
In a former 1919 bank building on Main Avene, Revel Brewing serves its own craft beers.
Many people go to nearby Dorset for dinner. For more, see The dish on Dorset.
Bicycling: There are lots of towns to explore on the paved, 48-mile Heartland State Trail from Park Rapids to Cass Lake, through Walker. Dorset, an odd little oasis that has as many restaurants as houses, is a tourist destination. Nevis has shops, cafes and a city beach on Lake Belle Taine.
Akeley is the home of the state's biggest Paul Bunyan, on whose outstretched hand people pose for pictures.
For more, see Towns of the Heartland Trail.
Just east of Akeley, the Heartland connects to the Paul Bunyan State Trail.
For more, see Bicycling the Bunyan.
The nine-mile stretch from Akeley to Walker passes bogs and lakes. From Walker, the trail follows the western shore of Leech Lake and continues to Cass Lake, much of it near the highway but usually shielded by vegetation.
The Migizi Trail follows the shore of Cass Lake in Chippewa National Forest.
Golf: The 18-hole Blueberry Pines Golf Club is eight miles south of town, 218-564-4653.
For more, see Golfing beyond Brainerd.
Theater: Long Lake Theater, six miles south in Hubbard, stages popular plays in summer. 218-732-0099.
Giiwedinong Treaty Rights and Culture Museum: In the old Carnegie library at 101 Second St. W., this center shares the history, stories and culture of the Ojibwe/Anishinabe people in and around Minnesota.
Information: Park Rapids tourism, 218-732-4111.
Last updated on January 30, 2022