Chasing cherry blossoms
In spring, Michigan's Old Mission Peninsula is a sight for sore eyes.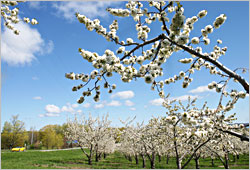 After a long winter, the sight of cherry blossoms is tonic for the soul.
In northern Michigan, cherries love the gravelly soil of the Old Mission Peninsula — and so do tourists.
This area has a friendly rivalry with Wisconsin's Door Peninsula, also warmed by the waters of Lake Michigan and known for cherries and vineyards.
The Old Mission Peninsula, though, is small enough to tour in a day, since it's only 19 miles long and three miles wide.
That makes it one of the region's best spring drives.
One Mother's Day weekend, Traverse City was awash in pear and magnolia blossoms.
But I wanted to see the famous cherry blossoms. So I headed up the Old Mission Peninsula and hit the jackpot two miles out of town, where clouds of fluffy white pompons covered a hillside over the blue waters of Grand Traverse Bay.
Wrapped by the thermal heat of the deep bays, fruit trees do remarkably well, and the Old Mission and neighboring Leelanau Peninsula now produce three-quarters of the world's tart cherries.
Grape varietals also thrive, especially on the raised spine of the peninsula, where roots sink into glacial rubble that gives the wine a mineral taste, with peppery notes.
A tour of the terroir would have led me there. Instead, I aimed for water, turning at Black Star Farms, the first winery on the Old Mission wine trail, and following the road hugging the east shoreline.
Tulips and grape hyacinth grew in yards across from narrow sand beaches. Cedar-shake gazebos overlooked water in three shades of blue, and a red roadside stand sat empty on the edge of an apple orchard.
I had to stop at the Old Mission General Store, where co-owner Marcy Richards plied me with samples of pear cider and 12-year-old aged white cheddar. There was a lot to look at around the store's potbellied stove: barrels filled with pickles, jars of giant jawbreakers, birch beer and bubblegum by the yard.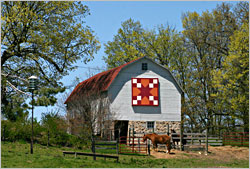 The quaintness wasn't just for show. When the phone rang, Jim Richards grabbed the neck of an antique telephone, raised the receiver to his ear and took a take-out order, booming, "A loaded mortadella, and take off the training wheels."
Richards, a former actor, says the circa-1850 store was a stop on the road between Mackinac Island and Detroit, and that Henry Ford would come by on camping trips with the Firestones and Goodriches.
During high season, few tourists can resist a stop at the store. "Don't be fooled, this place will be like Mackinac Island in summer," Richards warned.
Just up the road, there's a replica of the log house for which the peninsula was named.
Built in 1840, the Old Mission was used as a church and a school for the local Ottawa and Ojibwe. It's next to the 1842 log home of Presbyterian missionary Peter Dougherty, who planted the first cherry tree in 1852.
The road ends at sprawling Haserot Beach, curled around Old Mission Harbor. From there, I got back onto the main road and drove to the tip of the peninsula.
Perched on a small hill, the 1870 Old Mission Point Lighthouse overlooks waters that are so shallow that visitors often wade in them or jump from rock to rock.
Built after a ship grounded on the reef and sank, the lighthouse operated until 1933 and now is open for tours. Hiking trails wind through the wooded point.
The interior of the peninsula is scenic, too. On the way south, I passed an old red horse barn with a fieldstone foundation and a barn quilt. Many of the small farms are boutique acreages that grow hops for beer and rye for vodka and whiskey.
Atop a heap of glacial moraine, Peninsula Drive rose and fell, always giving me layered views of horizon, bay and trees.
I hit water again at Bowers Harbor, where Jolly Pumpkin operates a distillery as well as a craft brewery, producing Belgian-style ales and stouts.
There's also a cluster of restaurants, so I settled in at the Peninsula Grill, enjoying a view of daffodils, maroon barberry and cherry blossoms while eating hanger steak with parsnip frites and fingerling potatoes with blue-cheese butter.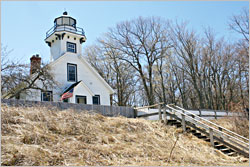 On the last stretch toward Traverse City, along the west arm of Grand Traverse Bay, I passed Power Island. It's also known as Marion Island, and it was called Ford Island when Henry Ford owned it, from 1917 to 1944.
Today, it's a county park and a popular paddling destination, with a swimming beach and five miles of hiking trails.
With so much fresh produce, wine and craft beer on hand, the Traverse City area has become a foodie destination, with year-round epicurean markets and locavore restaurants.
But the first thing I saw back in town was a good old-fashioned ice-cream stand, Bardon's Wonder Freeze, on the corner of Peninsula Drive and Front Street. So I had a twist cone-the perfect way to toast spring and celebrate the coming of summer.
Trip Tips: Old Mission Peninsula in Michigan
Getting there: Traverse City is a 5- to 5½-hour drive from Chicago and a 7-hour drive across the Upper Peninsula from Green Bay.
For more, see Spring in Traverse City.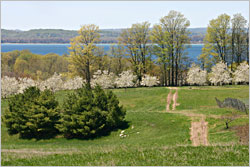 Old Mission Point Lighthouse: It's open daily from May through October and Fridays-Sundays in April, November and December. Admission is $5, $2 for children 12 and under.
Accommodations: There are five small inns: the 1869 Old Mission Inn, just down the road from the Old Mission; the vineyard estate Grey Hare Inn ; and the century-old Neahtawanta Inn and Retreat Center on Bowers Harbor.
The best views are at the posh Chateau Chantal Winery, which includes a B&B.
More lodgings, shops and nightlife are in Traverse City. For more, see The good life in Traverse City.
Camping: If you have a boat, you can get to five primitive campsites on one-acre Bassett Island, connected to 200-acre Power Island by an isthmus. It's a 3½-mile paddle from Bowers Harbor. They can be reserved.
Dining: The Jolly Pumpkin Restaurant & Brewery and the Boathouse overlook Bowers Harbor. The Old Mission Tavern is farther north and includes the Bella Galleria.
Wineries: There are 10 on the Wineries of Old Mission Peninsula trail.
More information: Traverse City tourism, 800-872-8377.
Last updated on March 23, 2021