Spring in Traverse City
Prowl through the locavore haunts of this Lake Michigan beach town.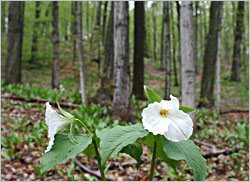 In Traverse City, spring is when you get to do all the things you planned in summer before you got seduced away by sand and surf.
I'd seen the enticing shops, theaters and tasting rooms on other visits and planned to check them out "some time."
Some time arrived Mother's Day weekend, when Traverse City was awash in color. So many pear trees were flowering downtown that the streets look frosted, and magnolia blooms were as big as popcorn balls.
But skies were gray, making it a perfect time to hit the craft-beer taprooms, wineries and epicurean markets that have made the town a foodie destination.
My first stop was Burritt's Market, which had put out samples of delicacies from local orchards, farms and fisheries. Its shelves were crowded with local wines, salsas, marinades, vinegars and jams  — literally, Traverse City's special sauce.
Driving along Front Street, I saw all kinds of places to get cool-weather comfort food: pasties, pie and pierogies, the humble Polish dumpling that goes gourmet here with fillings of chives, garlic and portobello mushrooms.
I kept heading west and soon was rolling up a wooded lawn to a cheerful white castle. Built in 1885 as a state mental asylum, Grand Traverse Commons now holds shops, galleries and, of course, good things to eat.
At the Pleasanton Brick Oven Bakery, once the hospital's fire house, I asked for the addictive cranberry-pecan grissini, a chewy breadstick. At the Underground Cheese Factory in the old soap-making building, I found chocolate-covered cheesecake wedges on a stick — obviously, the best way to eat cheesecake.
At Left Foot Charley Winery, in the old laundry, I sat at a long, window-lined bar and sampled a lusciously fruity sauvignon blanc. Proprietor Bryan Ulbrich explained that he blends wines from 15 local vineyards, "kind of like an all-star team."
"The fruit quality here is so good it's ridiculous," he said. "No one should get fruit as good as we do."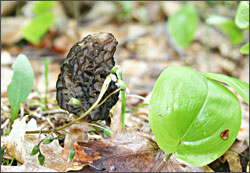 The area grows hops, too, and I had a hefty dose in my glass of Dead Kettle IPA at Right Brain brewery, where locals in flannel shirts and fishing jackets threw back pints with locavore tacos from the Roaming Harvest food truck parked outside.
Many of the ingredients that feed the town's growing reputation come from the two peninsulas that reach northward into Lake Michigan. On the Old Mission Peninsula, I had dinner at the Peninsula Grill, enjoying hanger steak with parsnip frites and a French-door view of daffodils, barberry and forsythia.
But really, you can't go to northern Michigan in May without hunting for morel mushrooms.
The morel-loving hordes were half an hour south of Traverse City at the Mesick Mushroom Festival, but I drove half an hour east to the Grass River Natural Area, which was offering a morel-mushroom walk — guided, but unfortunately not guaranteed.
Thirty of us turned out, and I attached myself to Jim McKimmy of nearby Elk Lake, who looked as if he knew what he was doing.
"Everybody's got a theory," he said. "I keep my eyes in the air for ash."
The woods were filled with the fattest trilliums I'd ever seen, but the morels were scarce. Only McKimmy found a nice-sized one, the high point of our trek until a little boy found a red-bellied salamander.
"That child's excitement is even better than a mushroom," McKimmy said.
In nearby Bellaire, Short's Brewing was founded in 2004, making it one of the old-timers of the Michigan craft-beer boom. In its pub, I had a glass of the flagship Huma Lupa Licious and a pretty amazing sandwich made of roast beef, portobello mushrooms and provolone cheese with roasted scallion feta spread and balsamic tomato jam. Oh my!
It would have been easy to spend the evening hanging out in a taproom or wine bar. Instead, I drove 15 miles south of town to the famed Interlochen Center for the Arts to see the musical "Miss Saigon."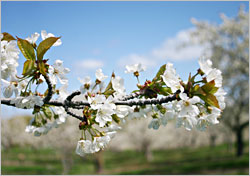 It was spectacular, a high-school production in name only. Students at the attached arts academy had come from eight countries and 27 states, and they put on a polished show like the Broadway stars some of them likely will be.
For Mother's Day, I celebrated with an expedition to Plamondon Shoes and lunch at the Omelette Shop, which has been making every kind of egg dish since 1975. My veggie skillet was good, but the fresh-squeezed orange juice with fresh pureed strawberry was such a treat I had two.
And finally, the sun came out. Volleyball players and plein-air painters materialized on the bayfront. Lines formed outside the Dairy Lodge and Bardon's Wonder Freeze.
I had to see the famous cherry blossoms, so I headed up the Old Mission Peninsula and hit the jackpot two miles out of town, with a view of blue bay over rolling rows of fluffy white pompons.
The spring scenery was catnip for a photographer: an old barn with a stone foundation and bright quilt. Cedar-shake gazebos alongside water in three shades of blue. The Old Mission Point lighthouse, built in 1870.
Enchanted, I drove up the spine of the peninsula, whose gravelly, water-warmed soil is perfect for growing fruit, and back along the bay, absorbing the scenery with the sun.
Back in town, I had a twist cone at Bardon's to celebrate. Spring can be a tease in Traverse City, but it always comes through.
Trip Tips: Traverse City, Michigan, in spring
Getting there: It's a 5- to 5½-hour drive from Chicago and a 7-hour drive across the Upper Peninsula from Green Bay.
In spring, many people come to sightsee on the Old Mission Peninsula. For more, see Chasing cherry blossoms.
Accommodations and dining: For more, see The good life in Traverse City.
Morel mushrooms: Grass River Natural Area near Bellaire holds an annual Morel Mushroom Foray on Mother's Day, and also wildflower and bird walks.
Hiking: There are lovely trails on 480 acres of wooded parkland behind Grand Traverse Commons.
Nightlife: Fifteen miles south of Traverse City, Interlochen Center for the Arts offers free recitals, inexpensive but top-notch musical theater productions by students of the Interlochen Academy of Arts and also concerts by big-name performers.
Bad weather: There's plenty to do at the indoor water park at Great Wolf Lodge and the casino and spa at Grand Traverse Resort.
Information: Traverse City tourism, 800-872-8377.
Last updated on March 13, 2021