City on Chequamegon Bay
In northern Wisconsin, murals draw tourists to Ashland's thriving downtown.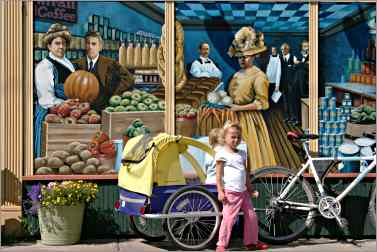 In Ashland, Wis., the ghosts of the past appear in living color.
Once, these lighthouse keepers, lumberjacks and lieutenants lived only in the history books. Now, they're painted onto Ashland's walls, where they serve as backdrop to shoppers, college students and tourists going about their business downtown.
The first mural, painted for Wisconsin's sesquicentennial in 1998 by local artists Kelly Meredith and Susan Prentice Martinsen, featured the snowshoe-clad figure of pioneer Asaph Whittlesey as well as editor Sam Fifield, Ojibwe Chief Buffalo and other characters from the town's early days.
"They were trying to get everyone into one picture," says Ashland Historical Society Museum curator Sharon Manthei. "They didn't know it was going to snowball."
Townspeople asked for more murals, so Meredith and Martinsen kept painting. The mural of armed-forces veterans is a favorite with locals, Manthei says, but tourists like the mural of early storefronts, with patrons played by current residents who dressed up and modeled for the painters.
"Every town has buildings like that," Manthei says. "It's a soft spot with everybody."
The murals give tourists a good reason to poke around downtown Ashland, where many of the old brick and brownstone buildings depicted still stand.
On West Main Street, the South Shore Brewery and DeepWater Grille found a home in an 1895 brick grocery after their old one in the 1887 Soo Line Depot burned.
On Chapple Avenue, tourists who appreciate top-notch pastries, espresso and vegetarian food make a beeline to the Ashland Baking Company and the Black Cat Coffeehouse.
On Main Street, Gabriele's sells exquisite handmade European-style cookies and chocolates at small-town prices.
The Bay Theatre still shows first-run movies, and department, hardware and drug stores have survived the town Wal-Mart.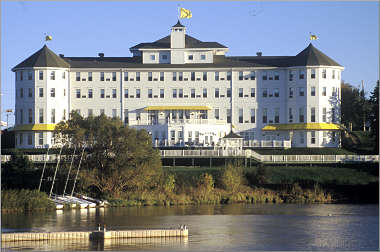 Unlike Bayfield, the resort town across Chequamegon Bay, Ashland always has been a trade town, ever since French fur traders Radisson and Chouart landed on its shores in 1659 and put up a shack that became the first European dwelling in Wisconsin.
Two hundred years later, treaties opened Ojibwe land to Europeans, and the bay filled with rafts of newly cut timber and boats ferrying locally quarried brownstone to cities in the east.
When the Upper Peninsula's Gogebic Range began producing iron ore, freighters carried it out of docks in Ashland.
None of the five giant docks remains. Eight stories high and the length of five football fields, the last one was a curiosity in an economy propelled by tourists: "They always asked, 'What's that big thing sticking out in the water?' " Manthei says.
After shipping ended in the mid-1960s, Ashland settled into a postindustrial slump.
But in 1971, Northland College led a shift from exploitation of resources to conservation, introducing environmental studies and, a year later, founding the Sigurd Olson Environmental Institute on its campus.
Today, the environmental liberal-arts college is a member of the collegiate Eco League and is known for minting park rangers, naturalists and biologists who hone their skills in the nearby Apostle Islands National Lakeshore and Chequamegon National Forest.
Sustainable living and recycling now are the watchwords in Ashland, especially at Timeless Timber, which searches lakes and riverways for virgin timber that sank during log drives.
Founded in 1992 as Superior Water-Logged Lumber Co., the Ashland company raises the logs, dries them and sells the finely grained wood for use in fine furniture, carvings and musical instruments.
These days, there's a lot going on in Ashland. Its Book Across the Bay race/tour in February has become one of the most popular events of the winter, with skiers and snowshoers flying across Chequamegon Bay to Washburn on a course lit by ice lanterns and bonfires.
In October, the WhistleStop Marathon and Half Marathon also draws thousands to town.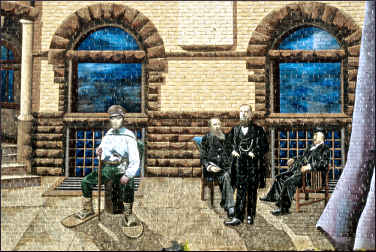 Ashland is a good base for waterfall fans; the four counties that border Lake Superior's south shore hold the state's nine largest falls.
The town's craft brewery, the first in northern Wisconsin, keeps the region supplied with fine ales, and the adjoining restaurant is always packed.
But perhaps the best reason to stop in Ashland, rather than whizzing through to Bayfield or the Upper Peninsula, is the Northern Great Lakes Visitor Center.
Opened in 1998, the handsome center on the corner of U.S. 2 and Wisconsin 13 proves, once again, that nothing about Lake Superior is boring.
The center is actually a beautifully designed exhibit hall, with displays showing the height of the last glacier in relation to the Sears Tower (the glacier was taller) and the bottom of Lake Superior in relation to Death Valley (the lake is lower).
The whole history of the region is there, from the Ojibwe migration to logging, mining, attempted farming and the dawn of the tourist age, when footloose people in Model Ts began to challenge the timber industry for access to the wilderness.
In the auditorium, documentaries on wolves, Ojibwe culture, Lake Superior and the Edmund Fitzgerald show every half-hour.
But the part of the center that invariably draws a crowd is the free-standing relief map of the Lake Superior region, with tiny lights that show lighthouses, shipwrecks, shipping lanes, population centers and indigenous communities.
No one can resist pushing the buttons and trying to identify which light represents which lighthouse or shipwreck.
On one weekend, an older man was doggedly arguing with park guide Penny Nelson-Newman about the location of the Caribou Island shoals, which the Fitzgerald might have scraped just before it sank in 1975.
But the map has a broader purpose, Nelson-Newman suggested.
"There was this one little guy who looked at the map and said, 'I feel puny,' " she said. "He got it, and that was really neat."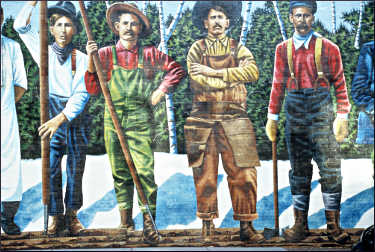 The center, staffed by the National Park Service, has become Ashland's gathering spot. Its motto is "We're All About the Stories."
In Ashland, there's a story around every corner.
Trip Tips: Ashland, Wisconsin
Getting there: It's at the foot of Chequamegon Bay, half an hour from Bayfield to the north and the Michigan border to the east.
Events: Presidents' Day weekend, Book Across the Bay ski/snowshoe candlelight tour. May, Chequamegon Bay Bird & Nature Fest. July 4, Parade and Fireworks. July, Bay Days Festival. September, Mural Fest and Classic Car Show. October, Whistlestop Marathon.
Accommodations: The handsome, three-story Hotel Chequamegon (pronounced Shuh-WAH-muh-gun) on the bay looks like a Victorian hotel but was built in 1986 to resemble an 1877 grand hotel that was damaged and later destroyed by fire.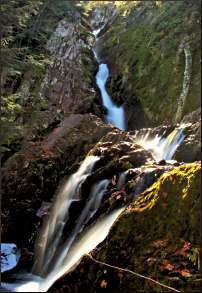 The AmericInn on U.S. 2 east of downtown has an indoor waterpark.
On an estate just outside town, Inn at Timber Cove rents three cottages. Second Wind Country Inn is in the countryside and includes six suites.
A Super 8 has a view of the bay, 715-682-9377.
Dining: At 808 W. Main St., the Deepwater Grille and South Shore Brewery are very popular. Be sure to make reservations on weekends. 715-682-4200.
The dining areas in the Hotel Chequamegon have lake views.
On Chapple Avenue, off Main Street, Black Cat Coffeehouse serves savory soups, sandwiches, pastries from the Ashland Baking Company and a fine selection of Wisconsin craft beers.
For excellent handmade chocolates and cookies, be sure to stop at Gabriele's German Sweets, 413 W. Main St.
Northern Great Lakes Visitor Center: The center, three miles west of Ashland on U.S. 2, is open 9 a.m. to 5 p.m. daily; admission is free. Check 715-685-9983,
Nightlife: The Black Cat Coffeehouse often hosts musicians; check for events. The Ashland Chamber Music Society gives concerts at the United Presbyterian-Congregational Church.
Waterfalls: Ashland is a great base to explore waterfalls.
Morgan Falls, a 70- to 100-foot flume that zigzags down from one red-granite ledge to another in a forest clearing, is 17 miles south of town in Chequamegon-Nicolet National Forest; from the west end of Main Street, take Sanborn Avenue/Wisconsin 112 to County Road E and continue south.
At the county line, take the gravel Ashland-Bayfield Road 4½ miles south to the trailhead parking lot.
Morgan Falls is a five-minute walk; to reach St. Peter's Dome, a granite outcropping with a spectacular view of the surrounding countryside, continue on the trail. It's at least half an hour's hike uphill on rocky terrain.
Scenic Copper Falls State Park is southeast of Ashland, off Wisconsin 13. It's the home of 40-foot Copper Falls and 30-foot Brownstone Falls. Potato River Falls is 12 miles northeast of Copper Falls, off Wisconsin 169. Superior Falls is on Lake Superior, a stone's throw from the Michigan border.
For more, see Waterfalls of northern Wisconsin.
The Northern Great Lakes Visitor Center sells Patrick Lisi's "Wisconsin Waterfalls: A Touring Guide," $19.95.
History: The Ashland Historical Society Museum is at 216 W. Main St., 715-682-4911.
Information: Ashland tourism, 800-284-9484.
For more about murals in Ashland and other towns, see Mural trails.
Last updated on January 23, 2022