Waterfalls of northern Wisconsin
Roaring cascades are remnants of the last Ice Age.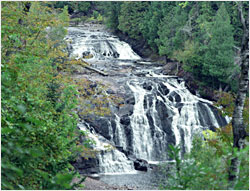 Deep in the forests of Wisconsin, and Potato River Falls was nowhere to be found.
A sign pointed to an observation deck, from which I glimpsed a bridal-veil falls in the distance. But the path down the Potato River led only to a cobblestone beach.
Finally, I left the path to climb down a steep hillside, slippery with clay and choked with the roots of spruce trees that flecked my hands with sap.
Aha!
Spread out around me were a whole series of falls: A silky white ribbon slipping down a basalt bowl. Water cascading down a field of potholes. The two tiers of the main waterfall, spreading out from a bottleneck like a bouquet of Queen Anne's lace.
The waterfalls of northern Wisconsin don't always deliver themselves on a silver platter. But they reward those who take the trouble to find them.
In spring, they look their best, crashing down in a froth streaked with gold from the tannins in rotting tamarack leaves. In early summer, the falls run clear, and by late summer, some are a creamy green, tinted by algae clinging to rock.
Colors and moods change in the northern Wisconsin forest, too. By mid-May, trilliums blanket the forest floor, as abundant as dandelions, and spotted fawns emerge from their mothers' care.
By June, pink and blue lupines will be everywhere, and watchful hikers may spot an osprey or bald eagle in the sky.
By late summer, waterfalls are thinner but easier to explore. When I went to see Potato River Falls one September, I was able to pick my way to the top of the tallest falls, over a riverbed of volcanic oddities.
In one stretch, the hard rock lay in red, pink and gray shingles, as if a giant grader had just tried to level it; in another, upended shafts of black slate formed the riverbed, with fingernail-size pieces crumbling off their ends.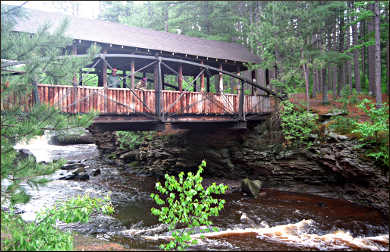 Two billion years ago, this rock was lava, welling from splits in the Earth's crust. The sheets of lava were so heavy they sagged in the middle, and their edges sloped upward.
This basin later was covered by a red ocean, and sand sank to its floor. During the last Ice Age, Glacial Lake Duluth filled the basin that would become Lake Superior.
When the glacier melted, the overflow created rivers that sliced through the soft sandstone on the basin's edge until they came to the hard lava.
The rivers kept flowing, but the lava refused to erode — and it's still holding up the waterfalls today.
Douglas, Ashland and Iron counties, which border Lake Superior's south shore, contain Wisconsin's nine largest waterfalls.
Big Manitou Falls, 15 miles south of Superior in Pattison State Park, is Wisconsin's highest falls at 165 feet, and the fourth-highest east of the Rockies.
Visitors can stand at its head and gaze north over the treetops, to the spot where the big glacier once hunkered on the horizon. But it's a little hard to get a good view of the falls, which drop into a narrow, heavily wooded gorge.
It's easier to enjoy Little Manitou Falls. You can drive there on Wisconsin 35 or hike from the main part of the park. A trail leads a mile past Interfalls Lake and along the Black River to the twin cascades, which drop 31 feet into a round pool.
This delightful little park is just off U.S. 2, 17 miles east of Pattison State Park.
There, the Amnicon River splits around an island and creates a series of waterfalls connected by cascades. A picturesque covered bridge divides Upper Falls and Lower Falls.
Take half a day to explore the island's various nooks and crannies, which kids in particular love, and to picnic on one of the many tables placed in clearings carpeted with pine needles.
Campsites also occupy attractive clearings along a quiet lane.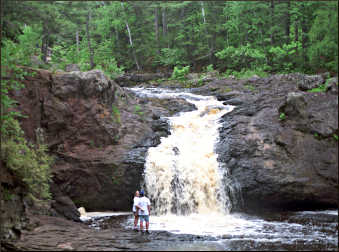 To the east, this park is the home of 40-foot Copper Falls, where the horehound-colored waters of the Bad River fall in twin torrents, and 30-foot Brownstone Falls, where Tyler's Forks Creek plunges over a black-granite bed into the Bad River's gorge.
The two streams then surge across the narrow waist of Devil's Gate, where a buttress of "peanut-brittle" rock juts over the river — a slab of rock studded with rounded boulders, upended by the Earth's heavings.
Both falls can be seen on the 1.7-mile Doughboys' Nature Trail, of which half a mile is accessible. The North Country National Scenic Trail also stretches for more than four miles through the park.
Waterfalls in the forest
The other waterfalls of northern Wisconsin are a little harder to find. Morgan Falls is 18 miles west of Copper Falls, along county and forest roads.
Once you get to the Chequamegon National Forest parking lot, it's only half a mile to the falls, a 80- to 100-foot flume that zigzags down from one red-granite ledge to another in a forest clearing.
Hikers who continue another uphill mile along the trail will come to St. Peter's Dome, a granite outcrop with a view across the top of Wisconsin.
Iron County, which stretches from just east of Copper Falls to Lake Superior and the Michigan border, includes a dozen notable waterfalls.
Potato River Falls , in a county park near Gurney, 12 miles northeast of Copper Falls off Wisconsin 169, is not so hard to find, unlike nearby Wren and Foster falls.
Eighteen-foot Upson Falls , just south of Whitecap Ski Area, is off Wisconsin 77 in Upson Town Park.
Two of the tallest falls are just west of Hurley. Superior Falls is a spectacular 90-footer on the Michigan borderat the mouth of the Montreal River, a deep-sea harbor and the portal for early French explorers and fur traders.
Saxon Falls is a 78-footer farther up the Montreal; however, access is from property owned by Xcel Energy, which operates dams on the river.
And there are many other falls in the area, such as Peterson and Kimball, even closer to Hurley.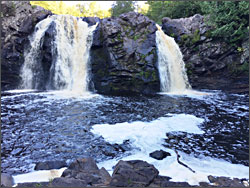 And there are dozens just across the Michigan border, including the wild cascades on the Black River north of Bessemer (for more, see Waterfalls of the Black River ) and in Porcupines Mountains Wilderness State Park in the Upper Peninsula (for more, see Afoot in the Porkies ).
More falls can be found to the south, tucked away in the wilderness of Wisconsin's Florence and Marinette counties (for more, see Waterfalls of northeast Wisconsin ).
In the spring they come alive, along with all the forest's flora and fauna, and they make a good excuse to get out into the woods. Just bring a good map and an adventuresome spirit.
Trip Tips: Northern Wisconsin waterfalls
Finding the falls : It's easiest with a copy of Patrick Lisi's "Wisconsin Waterfalls: A Touring Guide" ($19.95, available at the Northern Great Lakes Visitor Center at the junction of U.S. 2 and Wisconsin 13).
A DeLorme Wisconsin Atlas & Gazetteer shows the littlest forest roads and includes waterfall locations. It's available at larger bookstores and sporting-goods stores.
The website Great Lakes Waterfalls includes photos and descriptions of many waterfalls, including those around Lake Superior.
State parks : Amnicon, Pattison and Copper Falls all can be seen with a daily pass, $8 for Wisconsin residents, $11 for non-residents ($5 for a one-hour pass).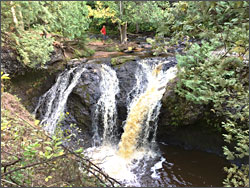 Morgan Falls : It's 17 miles south of Ashland in Chequamegon-Nicolet National Forest; from the west end of Main Street, take Sanborn Avenue/Wisconsin 112 to County Road E and continue south.
At the county line, take the gravel Ashland-Bayfield Road 4½ miles south to the trailhead parking lot.
Morgan Falls is a five-minute walk. St. Peter's Dome is half an hour's hike uphill on rocky terrain.
Accommodations : Ashland makes a good base for exploring waterfalls. For more, see City on Chequamegon Bay.
Camping : There's rustic camping at Amnicon Falls and campsites with showers at Pattison and Copper Falls, which also has a cabin for people with physical disabilities.
On Lake Superior, between Ashland and Hurley, Saxon Harbor County Park has camping as well as a sand beach for swimming, showers, a protected bay for kayaking and a bar that serves burgers and pizza.
Near Copper Falls, Highbridge Hills Sports Complex has campsites with showers and a bunkhouse.
Last updated on April 16, 2021