Road trip: Mural towns
In some places, colorful local characters are literally larger than life.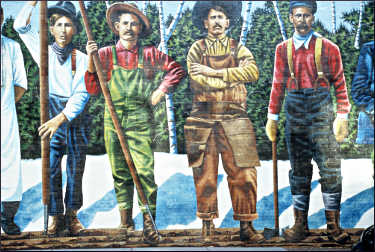 If you want to see colors, you don't have to wait for fall.
Artists are splashing every color of the spectrum across the sides of buildings, in murals that celebrate colorful local characters.
In the northern Wisconsin town of Ashland, murals pay tribute to lighthouse keepers, lumberjacks, pilots and jazz musicians. They've made Ashland such a destination that the Minnesota Iron Range town of Virginia has put their creators to work creating murals there, too.
In Illinois, vintage postcard-style murals in 35 towns mark the route of the Lincoln Highway.
In northern Iowa, dozens of towns sport the work of artist Carl Homstad, and in Michigan, Ludington has used eight artists to tell its story of life on a Great Lake.
These murals make a perfect destination for a scenic drive, any time of the year. No matter when you go, their colors always are vivid.
Here's where to find them.
Wisconsin
The first mural in Ashland features the kind of man they don't make anymore: Asaph Whittlesey, who founded this city on Lake Superior's Chequamegon Bay in 1854.
In 1860, Whittlesey was elected to the Wisconsin State Assembly. To get to the state Capitol in Madison, he had to travel 235 miles by snowshoe to Sparta, where he could catch a train.
The mural is based on a famous photograph of him taken during his journey. It wraps around the corner of the building and features six other prominent residents.
Ashland artists Kelly Meredith and Sue Prentice Martinsen created the mural, which became so popular that locals asked for more. Now, 12 murals pay tribute to lighthouse keepers, veterans, lumberjacks, pilots, waitresses, jazz musicians and shop clerks, all based on real people and photos.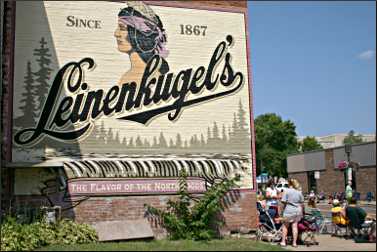 One of the murals shows Ashland's 1916 concrete ore dock, the world's largest and the source of the high-school team name, Oredockers. The eight-story dock has since been torn down by its owner, the Canadian National Railway.
Three other murals are indoors, and there are more murals in the small towns of Butternut, Glidden, Marengo and Mellen, south of Ashland.
Tourists like "collecting" the murals on a drive through the countryside, so the town tourist office calls their route the Mural Brick Road and sponsors a Mural Treasure Hunt in fall.
For more about Ashland, see City on the bay.
Elsewhere in Wisconsin, the towns of Plymouth, Chippewa Falls, Delavan and Beaver Dam boast many murals painted by a group of artists and sign-painters called the Walldogs, who also have worked in many Illinois towns.
In northeast Wisconsin, east of Wausau, the town of Wittenberg features two dozen murals by a variety of artists on the Walls of Wittenberg.
Minnesota
Since 2008, Kelly Meredith and Sue Martinsen have created eight murals in the Iron Range town of Virginia.
The latest mural depicts the Blue Devils athletic teams. Others celebrate a candy kitchen, veterans, marching bands, Ojibwe heritage and a beloved street sweeper named Marty.
Minneapolis has murals scattered around town. Perhaps the most famous is "The Times They Are A'Changin'," which depicts Bob Dylan in three stages of his career. It's at Fifth Street and Hennepin Avenue downtown.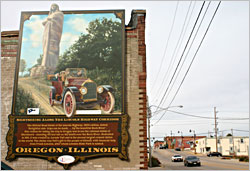 Illinois
The 179-mile section of the Lincoln Highway that crosses Illinois is a national scenic byway, its route punctuated by beautifully designed historical murals in 35 towns.
Linking New York's Times Square with Lincoln Park in San Francisco, it became known as "The Main Street Across America."
From Chicago Heights, the route heads east to Joliet, then along the Fox River to Aurora, Batavia and Geneva. Then it heads west to DeKalb, Rochelle and Dixon, hitting the Mississippi River at Fulton.
Chicago has many impressive murals, especially in the Pilsen neighborhood, a hub of Mexican culture. The Chicago Architecture Foundation offers bus tours of murals, focusing on a different neighborhood each year.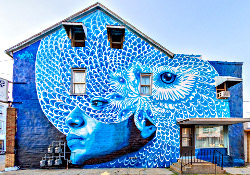 Iowa
Across northeast Iowa and occasionally beyond, Decorah artist Carl Homstad has painted more than 40 murals on the facades of buildings and many more inside them, such as in the Hotel Pattee in Perry and Decorah's Hotel Winneshiek.
Many of his murals depict small-town main streets in their heyday and vanished structures, such as Creston's Blue Grass Palace, a temporary exhibit hall made of hay.
Others show the Norwegian heritage of Decorah and the Czech heritage of neighboring Spillville.
Along the Mississippi, many buildings in downtown Dubuque are adorned with murals by a variety of artists, most notably Texas artist Werc Alvarez.
Michigan
Along Lake Michigan, the port of Ludington has commissioned 12 murals from eight artists, including Wisconsin's Kelly Meredith. They vary from a graffiti-style collaboration to Meredith's heroic look.
Subjects include beach scenes, past and present, plus a beloved Lutheran pastor, the town's annual Freedom Festival, an Italian market and the French explorer Father Marquette.
Last updated on June 22, 2020