A Minnesota snow sampler
For skiing and snowshoeing, four state parks along I-35 are as up north as you need to be.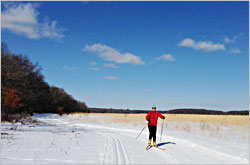 For some people, Interstate 35 may as well be a pneumatic tube linking the Twin Cities to Duluth and the North Shore.
But those willing to stop and get off the beaten track are rewarded.
In four state parks, skiers, snowshoers and snowmobilers glide along miles of trails on the St. Croix, Kettle and St. Louis rivers, once plied by lumberjacks and quarrymen.
One park is known for its trumpeter swans and one for its ruins and ice falls. Another has a suspension bridge and a Cubist landscape of tilted rock.
Three of the parks are along one 50-mile stretch and can be sampled on a day trip. But that would be a shame, because the parks also are home to some of the most coveted guesthouses and camper cabins in Minnesota.
One February, friends and I headed up to St. Croix State Park, which has two large and modern guesthouses. But first, we stopped at Wild River State Park, 10 miles east of North Branch.
This riverside park has a full-time naturalist and stays busy year-round, with many visitors staying in its six camper cabins or cozy guesthouse with wood-burning fireplace.
In winter, Wild River is popular with cross-country skiers, who can glide across prairie and meadows, into woods and along the St. Croix River to the site of the Nevers Dam, built after the infamous Taylors Falls log jam of 1886.
It's long gone, but there's an overlook with interpretive plaques about the logging era and a stairway leading to the water, where half a dozen trumpeter swans often can be seen fishing off a sandbar.
After skiing part of the 30-mile trail system, we got back onto I-35 and drove up to Hinckley, then east to the river and Minnesota's largest state park.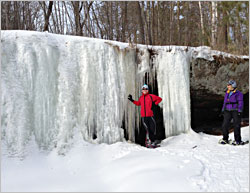 At St. Croix State Park, the St. Croix River enters Minnesota , and the Kettle River soon flows into it.  The park has two large, two-story guesthouses, and after we settled into one of them and fixed ourselves dinner, we drove over to the log lodge built in the 1930s by the Civilian Conservation Corps.
It was the night of the annual candlelight ski, and we made two loops of the luminary-lit course — as always, magical under the crisp black night sky. Then we went into the lodge, where fires were crackling in two hearths and park staff were handing out cookies and hot chocolate in ceramic mugs.
In the morning, we put on snowshoes and bushwhacked down to the river, a flat white highway through the woods. Returning along a ski trail, we were a stone's throw from the guesthouse when we heard a tree branch creak overhead and looked up.
A boreal owl was sitting there, looking at us quizzically. It was so close we could see its cream-and-caramel breast feathers rustling in the breeze, and we stood there for at least 10 minutes, watching it.
We didn't know how rare a boreal-owl sighting was, or that this owl would be the farthest south reported that year, part of an irruption out of Canada. When we found out, we felt even luckier.
From St. Croix Park, we headed north again, this time just 10 minutes along I-35 from Hinckley to Sandstone.
Banning is one of the easiest parks to reach, but also one of the most overlooked.
Whitewater paddlers revere it for the rip-roaring rapids of the Kettle River, and hikers for the unusual scenery, which include the ruins of a stone-quarrying business and craggy sandstone outcroppings that loom over trails.
Skiing these trails is fun, but we decided to snowshoe down to Wolf Creek Falls, where water tumbles over a long rock shelf and into a round pond. In winter, it forms an ice curtain, and we tromped behind it and above it, oohing and aahing.
It's another 50 miles to Jay Cooke State Park. Here, the St. Louis River leaves the Lake Superior basin, rising through house-sized builders and sharp ledges that make the river unnavigable for anybody except kayakers who are willing to flirt with death.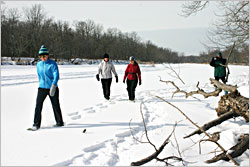 We stayed there on another trip, arriving when new snow had coated every branch and flocked every bough. We had the sole camper cabin, building a campfire with provided wood and listening to the lonely whistle of a train. Since then, the state has built another four cabins, which are booked nearly solid all year.
In the morning, we  crossed the river on the suspension bridge, then hiked along the Carlton Trail, under canopies of aspen and up hills where birch popped out against blue sky.
Jay Cooke offers naturalist programs year-round, and in winter, all of these parks have snowshoe hikes and candlelight skis. And when you go, check in at the office — park staff just may have an owl or porcupine sighting to tell you about.
Trip Tips: Four state parks along Minnesota's I-35
Getting there: From St. Paul, it's 45 miles along I-35 to North Branch, then 36 miles to Hinckley, then 10 miles to Sandstone.
If you want to keep going, it's another 48 miles to Jay Cooke State Park.
Wild River State Park near North Branch: This popular park along the St. Croix River, 10 miles east of North Branch, has 30 miles of cross-country ski trails and six miles dedicated to snowshoeing.
A modern warming house has concessions and ski and snowshoe rentals.
The Wild River guesthouse rents for $130 and sleeps six, but four would be a more comfortable number. The kitchen is fully equipped, and there's a wood-burning fireplace and television.
For more, see Snug on the St. Croix.
Wild River also has six heated camper cabins ; four of them sleep six, and two sleep five and are handicapped-accessible. Cost is $90.
St. Croix State Park near Hinckley: This park on the St. Croix River, 20 miles east of Hinckley, has 11 miles of cross-country skiing trails and 80 miles of snowmobiling trails. There's a log warming house with wood-burning fireplaces.
The park has two modern, fully equipped split-levels that it rents for $235. Guesthouse 1 has eight bedrooms and 2½ baths and sleeps 15; Guesthouse 2 has six bedrooms and two baths and sleeps 12.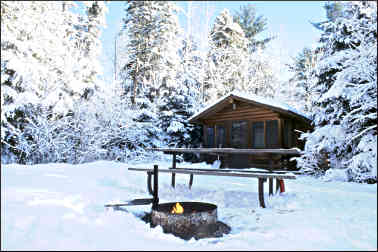 Banning State Park near Sandstone: This often-overlooked park, right off the interstate, has 11 miles of cross-country ski trails and rents one seasonal camper cabin, $80.
Banning doesn't have lodgings. However, the nearby Osprey Wilds Environmental Learning Center rents the historic Schwyzer Lodge, which sleeps up to 22 people in five bedrooms and has three bathrooms, a modern kitchen, a fireplace and a screened-in porch.
The center also rents a rustic cabin, a yurt and rooms in two modern dormitory-style lodges, one with a kitchen.
Jay Cooke State Park near Carlton: The park has 32 miles of cross-country trails and 10 miles marked for snowshoeing. The stone visitors center serves as a warming house.
It has five very popular camper cabins. Cost is $90.
For more about camper cabins, see A roof in the woods.
Last updated on November 27, 2020