A roof in the woods
In state and county parks and forests, visitors love their camper cabins.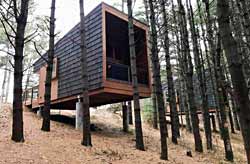 For people who love the outdoors, luxury is in the eye of the beholder.
Is it a Jacuzzi or a latrine? A four-course breakfast or a fire ring?
The answer is not so obvious. If the choice also includes starry skies, silence and snow-laden pines, many folks would take a camper cabin over a fancy inn, even if they have to use vault toilets and cook over a fire.
Minnesota's camper cabins are so popular many people reserve them as soon as reservations open, 120 days in advance.
The 12- by 16-foot log cabins have bunk beds, a table and chairs, and many have screened porches, electricity and heat. There's always water, and in summer, guests can use campground shower facilities.
In winter, campers have to stay a little grubbier, but miles of skiing and snowshoeing trails outside their doors make up for it.
One January, my husband and I stayed in one of Minnesota's most popular camper cabins. Most of the state's cabins are cute, but some parks are more scenic than others.
Of those, Jay Cooke, straddling the St. Louis River near Duluth, has to be near the top of the heap.
When we were there, new snow had coated every branch and flocked every bough in the park, creating a classic winter wonderland.
The park staff had left a bundle of wood on our porch, and we built a fire and stared into it for hours, watching sparks jump high into the sky to meet the stray flakes drifting down.
Carefully stacking our slabs, we were as entertained as children playing with Legos, until our toys ran out. Then, we climbed into our sleeping bags and read as trains whistled from the rail line that still follows the park's borders.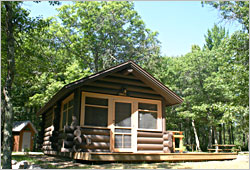 The cabins help fill in for the modest mom-and-pop resorts to which vacationing Minnesota families used to return year after year.
A cherished part of state history, they've disappeared by the thousands; often, an entire resort is replaced by just one vacation home, whose owners may use it for only a few weeks a year.
Nothing will replace the old resorts. But for Annika Fjelstad and her family,  the camper cabins come close. Since her sons were born, they've stayed at the Wild River State Park cabins up to three times a year, often renting an adjoining cabin for use as a guesthouse.
"It was part of our commitment to the kids, to let them know and love at least one place where they know they really belong," says Fjelstad, who once worked as a wilderness guide. "It gives them a sense of stability; it's kind of like going home to the woods.
"People who own a cabin have that experience, too, but this is more affordable and convenient," she says. "And we like sharing our cabin with the state of Minnesota when we're not using it."
Trip Tips: Camper cabins in state parks and forests
To rent a private cabin, cottage or guesthouse, see Cabins & Cottages stories.
For information about yurts in state parks, see A yen for yurts.
Minnesota
Minnesota state parks: Minnesota has 108 camper cabins at 29 state parks; handicapped-accessible cabins sleep five, and others sleep six.
Most of the cabins (and a few yurts) are in campgrounds, accessible by car, but some are along trails, and gear must be carried in. Each cabin has bunks with mattresses and a table with benches.
Each has a picnic table and fire ring, and a vault toilet and water source is nearby. In summer, guests can use campground showers.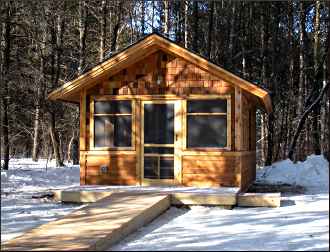 Guests must bring their own bedding. It's also a good idea to bring a container for water, biodegradable soap for washing and a reading lamp. Candles are not allowed.
Cabins with electricity have many outlets, but guests are not supposed to use coffeemakers or crockpots. Pets are not allowed inside cabins. Campers are expected to sweep the floor and wipe off the table and mattresses before they leave.
Cost is $80-$90. There's also a reservation fee, $7 online, $10 phone.
Most heated cabins are year-round, but some are seasonal.
At Upper Sioux Agency and Blue Mounds state parks, unheated tipis that sleep six rent for $35, and there are wall tents at Afton and Myre-Big Island, $35-$40. Afton, Glendalough and Cuyuna Country have yurts with wood-burning stoves that sleep five to seven people and cost $65-$70.
Some cabins are wheelchair-accessible.
Reservations can be made 120 days in advance online or at 866-857-2757, toll-free in the United States and Canada. Reservations can be made starting at 8 a.m. After the first day of availability, online reservations can be made 24 hours a day.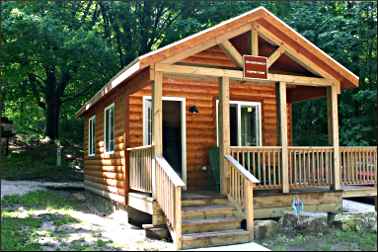 Overnight guests also pay a vehicle fee of $7 daily or $35 for an annual pass.
Many guesthouses, cabins and lodges also are available; for more, see Lodgings in Minnesota state parks.
Three Rivers Park District: This big parks district in the western suburbs of Minneapolis rents five seasonal camper cabins in the campground of Baker Park Reserve in Maple Plain, near the beach on Lake Independence.
The cabins have screened porches; three sleep six and one is accessible and sleeps five. They're $70.
Reservations open for the season on the second Monday in March, online or by calling 763-559-6700. There's a $7.50 reservation fee.
Dakota County: South of the metro area, between Farmington and Empire, the county offers three camper cabins in Whitetail Woods Regional Park. The cabins sleep six and are partially elevated in the pines, giving them a treehouse-like feel. Cost is $85 per night, plus an $8 reservation fee.
For more, see Camping in the Twin Cities.
Canoe country: The U.S. Forest Service rents three rustic cabins on East Bearskin Lake on the Gunflint Trail and two rustic cabins on Birch Lake, 14 miles south of Ely.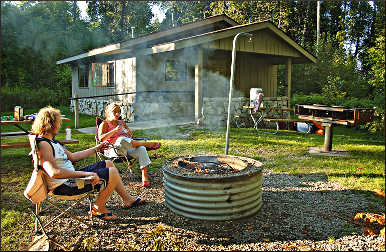 Michigan
Michigan has perhaps the best deals and best cabins, many in beach parks along Lake Michigan.
For more, see Michigan's great lake cabins. For more about the beaches, see America's freshwater Riviera.
Michigan rents rustic cabins, mini-cabins, yurts, camper cabins, lodges and even tepees and pop-up campers. Many cabins and lodges are accessible.
There are more than 60 mini-cabins in 37 state parks that sleep four and have refrigerators and microwaves but not bathrooms, $39-$65.
Fifteen state parks rent camper cabins that have covered front porches and sleep six on bunk beds and a futon sofa, $65-$126.
They include refrigerators, microwaves and coffeemakers.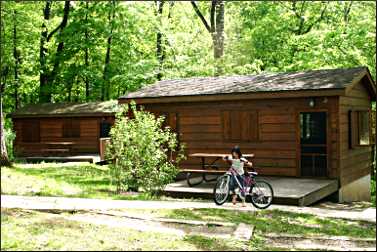 Eighteen state parks include a wide variety of heated rustic cabins that accommodate groups from two to 24, $65-$90. They don't have electricity, but some have such amenities as a propane stove.
Among the most popular rustic cabins are the 19 wood-heated rustic cabins in Porcupine Mountains Wilderness State Park on the Upper Peninsula; cabins on Mirror Lake, Lily Pond and Lake of the Clouds include boats.
The park also has four year-round yurts , $65-$68. For more, see Afoot in the Porkies.
Ten Michigan state parks also rent modern cottages and lodges, including the 1940s Kaug Wudjoo Lodge in Porcupines Mountains Wilderness, which sleeps up to 12.
Reserve a year in advance at Michigan DNR Reservations, 800-447-2757.
Baraga, Bewabic and Cheboygan state parks rent tepees, $35-$37. Reserve up to six months in advance at Michigan DNR Reservations, 800-447-2757.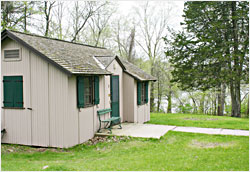 Iowa
Iowa state parks : Iowa state parks rent camper cabins, yurts, a multi-family cabin and four grades of family cabins.
Camper cabins go for $25-$50, yurts for $35 and the multi-family cabin in Springbrook State Park for $200.
Basic family cabins rent for $35, modern cabins for $50-$85, studio cabins for $50-$65 and deluxe cabins for $100.
They can be reserved up to a year in advance, online or at 877-427-2757.
The yurts and basic family and camper cabins require a minimum stay of two nights. Between Memorial Day and Labor Day, the studio, family and deluxe cabins with bathrooms and cooking facilities are rented only by the week.
For more, see A cabin in Iowa.
Iowa county parks: More than 234 cabins are available in 52 counties. Some have kitchens, bathrooms, TV and Internet access.
Illinois
Illinois state parks: In Illinois, 18 state parks have 40 two-bedroom heated camper cabins, each with two bunk beds and a full bed that sleep six. Rates vary from $50 in winter to $65 on holiday weekends.
In northern Illinois, they include three at Chain O' Lakes State Park, two at Shabbona Lake and Kankakee River and one at Rock Cut, Lowden and Johnson-Sauk Trail. Reservations are made through ExploreMoreIL.
Starved Rock State Park has a large lodge and conference center.
For more, see Marvels of Starved Rock.
Wisconsin
Wisconsin state parks: Wisconsin parks are prohibited by statute from having camper cabins, thanks to the resort and hotel industry.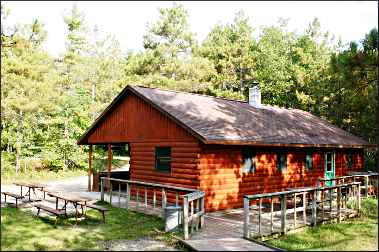 However, it does rent "indoor group camps." Two are in Point Beach State Forest, north of Two Rivers on Lake Michigan; one sleeps 14, and the other 16, $5 per person with a $60 minimum, 920-794-7480.
Each has a boardwalk to a white-sand beach on Lake Michigan and has a fire pit, pump and latrine but no electricity. There's also a covered pavilion for eating.
Black River State Forest near Black River Falls rents a two-bedroom cabin that sleeps 12, $3 per person with a $40 minimum, 715-284-4103.
They can be reserved 11 months in advance, 888-947-2757.
In Big Bay State Park on Madeline Island, closer to Big Bay Town Park, there's a large rustic cabin known as an indoor group camp, with a stone fireplace, loft, full-size fridge and stove.
It's available only to nonprofit groups, $3 person with a $40 minimum, but they no longer can sleep indoors; they have to pitch tents on the grounds because of a Department of Health ruling. 715-747-6425.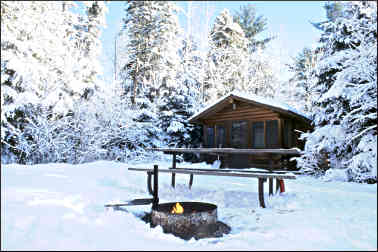 The cabins are open from May to the second weekend in October. Reservation fee is $4, and guests also must pay for a vehicle admission sticker, $8 daily/$28 annually for residents, $11/$38 for nonresidents. Reserve up to a year in advance.
Wisconsin's state parks do have 10 cabins for people with disabilities, $30 per night plus a $7.75 reservation fee. They're very popular. Reservations for each calendar year are taken starting Jan. 10 through individual parks.
Modern cabins are in Buckhorn, Harrington, High Cliff, Mirror Lake, Kohler-Andrae and Potawatomi state parks and at Ottawa Lake in the Southern Unit of Kettle Moraine State Forest and in Richard Bong Recreation Area. Rustic cabins are at Copper Falls and Blue Mounds state parks.
Nugget Lake County Park near Plum City: This park in western Wisconsin, just up the bluffs from Lake Pepin, has three air-conditioned cabins, $60, plus $5 reservation fee and $5 entrance fee. There are canoe and kayak rentals, fishing, naturalist programs and nature movies in an amphitheater.
Timberland Hills Ski Area north of Cumberland: Burnett County rents a rustic cabin on the trails, with a wood stove but no electricity or water. It sleeps up to six, and pets are allowed. It rents for $60, plus fees and tax.
Washington County Parks northwest of Milwaukee: Through VRBO, the county rents former three- and four-bedroom ranger houses in Sandy Knoll, Yahr and Glacier Hills county parks.
Chequamegon-Nicolet National Forest: In the waterfall country of northeast Wisconsin, an hour east of Eagle River and 20 minutes west of Florence, the forest service rents eight Lost Lake Cabins at Lost Lake Campground.
The cabins sleep six in three bunk beds, and bathrooms and showers are in two central buildings. They rent for $40 weekdays, $45 weekends, and they're open from mid-May to mid-October. Reserve at Recreation.Gov.
Ontario
Ontario provincial parks: Eleven parks, including Pancake Bay on the east side of Lake Superior, rent 72 heated yurts that have bunks for six, tables and chairs. They're $97.18 Canadian.
Five parks rent rustic cabins, including Sleeping Giant near Thunder Bay, $62.15-$169.50; call 888-668-7275. Daily vehicle permits are $11.25-$20.
For more about Sleeping Giant Provincial Park, see In the shadow of the Giant.
Last updated on March 23, 2021