Snug on the St. Croix
In Minnesota's Wild River State Park, a guesthouse lets guests dwell in comfort amid 7,000 acres of beauty.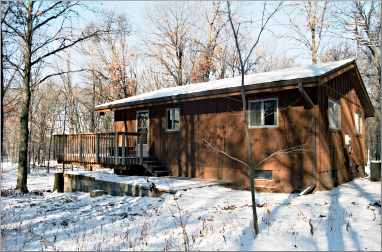 In the middle of Minnesota's Wild River State Park, a ski's length from 35 miles of groomed trails and a 10-minute trek from the St. Croix River, sits a cozy little house surrounded by forest.
For one winter night, the two-bedroom, carpeted house, a private residence built not long before the park was established in 1978, belonged to me and my children.
We arrived at dusk, and my children swarmed over it as only children can do, giving a running commentary: "Boy, this is a nice cabin," said my son Peter. "Wow, a nice shower. Isn't this great? And oh, look" — he peered out the window at a big thermometer — "you can tell the temperature."
It was 0 degrees. But we settled in happily, building a fire in the wood-burning stone hearth, making spaghetti in the modern kitchen, then sliding a movie into the VCR and watching it while eating popcorn popped in the microwave.
It was a little odd, being the only humans that night in one of Minnesota's largest state parks, but we were definitely comfortable.
Who needs rustic, anyway? Very few, we concluded later, reading entries in the three cabin journals.
"This place is utopia, nirvana and heaven all rolled into one," wrote Eric and Kris from Minneapolis. A Wisconsin man wrote, "I would like to rent this for the rest of my life." One woman asked those reading the journals to refrain from renting the house on Valentine's Day, so she could have it.
Fat chance! The competition for Minnesota's state-park guest houses is fierce. When I called on Oct. 8, I was pleasantly surprised that the nights of Dec. 29-30, a Tuesday and Wednesday during school holidays, were available, and I told the reservationist I'd take them.
But I rejoiced too soon.
"Funny, now I show that as unavailable," she said a second later. "No kidding — someone must've reserved it as we were talking. I guess that's a very popular place."
The only other night available during a winter weekend, holiday or school-break day was Tuesday, Dec. 22. I knew there might not be snow then, a shame considering Wild River's great ski trails, but I took it.
And we had a wonderful time, even though there wasn't enough snow to ski. We awoke to brilliant sunshine and the same 0-degree temperature, but we bundled up and headed into the woods.
I wanted to take the trail from our door down to the river and the old Nevers Dam site, but my daughter Madeleine complained.
"Why do we have to stick to a trail when we can go through the trees?" she asked. The park had turned them into Lewis and Clark. They scampered up the trunk of a fallen tree and, when we got to the river, set out investigating its banks.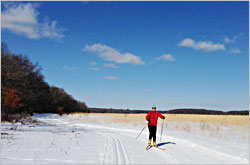 After the infamous Taylors Falls log jam of 1886, a dam was built there to regulate the flow of logs. Now it's long gone, but there's an overlook with interpretive plaques about the logging era and a stairway leading to the water.
The children ran down it to explore, stomping on the ice closest to the banks, drawing in the snow with sticks and gingerly walking across a crackling slough that was sheathed in feathery ice crystals.
I walked down river to get a closer look at six enormous white birds that were arching long necks with hypnotic synchronicity. They were the park's resident trumpeter swans, fishing off a sandbar in open water.
Then we walked along the River Trail and climbed 164 steps back up the hill. Along the bluff, we stopped by the park's camper cabins, which have great views of the St. Croix Valley. They're popular, too, though not so luxurious.
Back at the cabin, we washed the dishes, vacuumed and headed home, stopping to buy Swedish potato sausage at Rod's Country Corner in Almelund, which is a good place to buy last-minute groceries or rent a video on the way to Wild River.
We took the scenic route home, past Wild Mountain Ski Area and through Taylors Falls to Interstate State Park, where Madeleine and Peter had a swell time clambering through the boulders and sliding on the bottom of the 35-foot Bake Oven pothole, which had turned into an otherworldly ice rink.
West of town, we stopped at the Franconia Sculpture Park and explored the field of installations, from an oversized yellow atom to a gazebo with swinging glass walls.
It was a short but sweet expedition, and the children loved it. Wild River is especially popular because it's close to the Twin Cities, but each state-park guest house has something special to offer.
And in the winter, there's the added draw of absolute quiet.
"In winter, a lot of folks like having the park all to themselves," said Marty Torgerson of Bear Head Lake State Park near Ely, which has a large guest house. "You can stand on the deck listening to the wolves howling and the trees popping, and experience what a true cold Minnesota night is all about."
Trip Tips: Lodgings in Wild River State Park
Getting there : It's an hour northeast of the Twin Cities.
Wild River guesthouse : It rents for $120 and sleeps six, but four would be a more comfortable number. Guests must bring bedding and towels. The kitchen is fully equipped. Soap and firewood are provided. Guests are expected to clean the house before leaving.
Wild River camper cabins : The park also has six heated camper cabins, with bunks and a table but no running water. Four of the cabins sleep six; two sleep five and are handicapped-accessible. In summer, there are showers and flush toilets; in winter, a latrine.
For more about camper cabins, see A roof in the woods.
Reservations : Reserve up to 120 days in advance online or at 866-857-2757. On the first day of availability, reservations can be made starting at 8 a.m. Central Standard Time; after the first day, they can be made online 24 hours a day.
Wild River State Park : Wild River is one of the lucky state parks with a full-time naturalist, so there are programs year-round.
In winter, there's a candlelight ski in January, and cross-country skis and snowshoes can be rented at the modern Trail Center, which has a fireplace and snack bar.
Other Minnesota state-park guesthouses : For more, see Lodgings in Minnesota state parks.
Guesthouses elsewhere : For more, see Staying in a state park.
Last updated on July 2, 2020