Sweet spots
On road trips, make a detour to some of these great chocolate shops.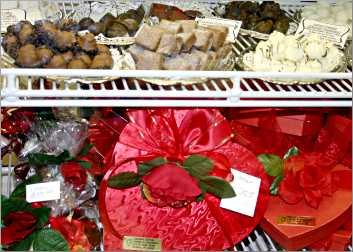 Some of us drool over gorgeous images of destinations in travel brochures or on Instagram.
And some of us drool over the sweet spots we can stop at on our way to those destinations.
Heading for the Porkies in Michigan's Upper Peninsula? Good, because that means a stop at Gabriele's in Ashland. Going to Sibley State Park or Spicer in central Minnesota? That merits a detour to Mr. B's in Willmar.
A box of hand-made treats from these small shops always sweetens a road trip. Here are some of the places where you'll want to brake for great chocolate.
Before you go, check store times; most are closed on Sundays.
Good chocolatiers use fresh, high-quality ingredients and no preservatives. The best will tell you that their filled pieces should be eaten within 10 days to two weeks-which is what you want to hear when you're buying fine chocolate.
Minnesota
Mr. B's Chocolates in Willmar . For many years, Willmar photographer Dwight Barnes was the only producer of true Belgian-style pralines in Minnesota.
His a-ha moment came on a trip through Belgium. He went on to study with a master chocolatier in Antwerp and returned with molds to make his own exquisite pralines.
On pralines (European-style, hand-molded filled chocolates), the couvertures (coverings) are made from imported Callebaut chocolate. Fillings are made with local cream and imported fruits and nuts; they bear no resemblance whatsoever to Russell Stover.
"It's fun to see people's faces when we say it comes from Willmar," Barnes says.
Barnes' daughters now run the shop. It's northeast of downtown on Technology Drive.
Legacy Chocolates in St. Paul . This chocolatier, founded in Menomonie, Wis., now is in downtown St. Paul, not far from Lowertown and the riverfront.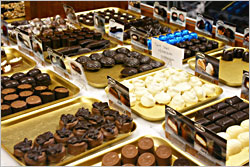 The cocoa couvertures of the small truffles come in four degrees of intensity, from a sweetish 41 percent to a super-dark 99 percent. Cocoa beans are from small, sustainable farms in South America, and butter and cream come from local farms.
Regular flavors include raspberry, almond and espresso; specials include merlot and Pama, made with pomegranate liqueur.
The original shop in Menomonie now is known as Marion's Legacy and still serves Legacy chocolates as well as coffee and baked goods. It's at the corner of Broadway and Main, not far from the start of the Red Cedar State Trail.
For other good chocolate shops in the Twin Cities , see this Minneapolis Star Tribune round-up.
St. Croix Chocolate Co. in Marine on St. Croix . In this village on the St. Croix River, less than an hour from the Twin Cities, chocolatier Robyn Dochterman uses fresh, local ingredients to create artisan pieces.
Wisconsin
Gabriele's German Cookies & Chocolates, Ashland . In this town on Chequamegon Bay, Gabriele Heldrich-Block makes her tiny chocolates with the homemade liqueurs, fresh cream and ingredients her mother brings back on yearly visits from Nuremburg, Germany, her hometown.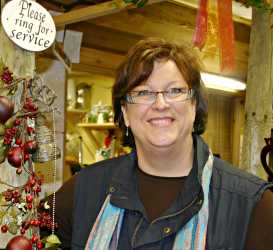 Try the white-chocolate cassis, made with currants she grows herself, and her popular drunken cherries, soaked in vodka, covered in dark chocolate and rolled in sugar.
Heldrich-Block was a home-ec teacher when she met David Block, a native of nearby Mellen, Wis., but she attributes her success partly to her sister, who taught her how to make a good ganache, or chocolate filling, and her parents, who love Christmas and always filled the house with dozens of different kinds of cookies on holidays.
Actually, her cookies are even better than her chocolates. They're tiny, delicate masterpieces you can't find anywhere else. My favorites are the florentines and hazelnut stars, a cutout filled with her homemade currant jelly and dipped in homemade vanilla sugar.
Her shop is in downtown Ashland at 413 W. Main St.
Candinas in Verona . This shop on the south edge of the Madison area makes what might be the best European-style chocolates in the region, and they're almost certainly the freshest.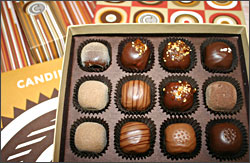 Markus Candinas studied chocolate-making in his parents' hometown of Thun, at the foot of the Swiss Alps. Flavors include raspberry, caramel, espresso, hazelnut praline, Irish cream, champagne, elderflower, anise, ginger, chai, anise and croquante.
The factory and retail store is at 2435 Old PB Road in Verona, just south of the first Vernona exit off U.S. 18/151.
The Madison area has many other good chocolatiers, including Gail Ambrosius and DB Infusion Chocolates. For more, see A chocolate tour of Madison.
Knoke's Chocolates & Nuts, Hudson . Knoke's is perhaps the most-loved shop in this town on the St. Croix River. It's candy for the eyes as well as taste buds, lined with glass jars full of gummies, licorice, pastel malted-milk balls and old-fashioned penny candy.
Owner David Knoke also makes European-style molded truffles by hand, filling them with ganaches flavored by Grand Marnier, espresso and amaretto. They come in couvertures of 36, 58 or 72 percent cocoa.
Beerntsen's Confectionary, Manitowoc. The shop in this town on Lake Michigan has been operating since 1932, and a constant stream of people files in and out for their chocolate fixes even when the rest of downtown is shut tight-Beerntsen's is open for business from 10 a.m. to 10 p.m. daily.
It looks like a jewelry store, with its polished wood booths and glowing sconces, and the candy is as lovingly displayed as diamond bracelets.
The New York Times has mapped out a tour of chocolate shops in what it calls Wisconsin's Candy Delta between Appleton , Oshkosh , Green Bay/De Pere and Manitowoc.
In addition to Beerntsen's in Manitowoc, it includes Wilmar Chocolates and Vande Walle's Candies in Appleton , Oaks Chocolates and Hughes Homaid Chocolate Shop in Oshkosh , Kaap's Old World Chocolates in Green Bay and Seroogy's in De Pere .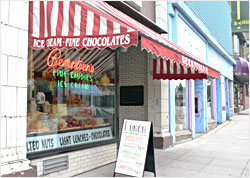 Chicago area
Leonidas Pralines in Chicago : In Belgium, where filled chocolates are called pralines, Leonidas is known as the "every day" chocolates because they're mass-produced rather than made in the back of a small artisan shop.
Leonidas pralines may be ordinary in Brussels, but they're near the top of the heap in this country. The delightful pieces-tiny by U.S. standards, but much more satisfying-are laced with fine liqueurs and flavorings and imported from Belgium, where praline-making is high art.
The downtown Chicago store is two blocks west of Michigan Avenue, at 59 East Chicago Avenue at Rush Street. There are also Leonidas Chocolate Cafes in Evanston and Northbrook .
There are also locations of Vosges Haut-Chocolat at O'Hare's Terminal 1 and, on Michigan Avenue, the very expensive Swiss chocolatier Teuscher and Ghirardelli.
For more, see The chocolate cure.
Last updated on January 20, 2022