Feasting on Fat Tuesday
When it's time to eat paczki, everyone wants to be a Pole.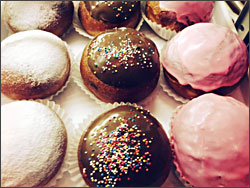 Whatever your heritage, you might want to be Polish the week before Lent.
With six weeks of sacrifice looming, Poles go on a paczki binge, eating as many of the fried, fruit-filled bismarcks as they can in the days up to Fat Tuesday, also known as Paczki Day.
A round Polish version of a jelly doughnut, paczki (pronounced POANCH-kee) have fillings of raspberry, strawberry, lemon, custard, blueberry, apple, poppyseed and, most traditionally, prune, apricot and rose petal.
In 2023, Fat Tuesday is Feb. 21. In the Chicago suburb of Evanston, Bennison's Bakery holds a paczki-eating contest the Saturday before.
Around Chicago, you'll be able to find paczkis at bakeries in Polish enclaves, including six Oak Mill Bakery shops. Choose Chicago lists another 13 bakeries known for their paczki, some with such fancy flavors as limoncello, praline chocolate mousse, cannoli cream and salted caramel, and Chicago Magazine offers "A Paczki for Every Type of Chicagoan."
There's more paczki at three National Bakery shops in and around Milwaukee, at Kramarczuk's in northeast Minneapolis, at Smurawa's Country Bakery in Pulaski near Green Bay, and at New Palace Bakery in the Detroit enclave of Hamtramck, which is best-known for the treat and celebrates Paczki Week.
To be sure of getting some, order in advance or get to the bakery early. Some bakeries provide live polka music for people standing in line.
On Fat Tuesday, you also can find paczki at Pick 'n Save, Copps, Mariano's and Metro Market supermarkets in Wisconsin and the Chicago area and at many bakeries in Milwaukee.
If you can't get paczki on Fat Tuesday, you also can find them year-round at some bakeries and at Polish heritage festivals.
The largest in the nation is Milwaukee's Polish Fest in June; for more, see Polish for a day.
For more about favorite baked goods, such as the kringle of Racine and the Persians of Thunder Bay, see Capitals of treats.
Last updated on January 14, 2022