Capitals of treats
When you're on a road trip to temptation, here's what to eat.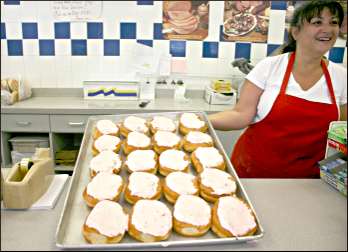 It's a good thing that, when you're on vacation, calories don't count.
Who goes to Milwaukee without eating frozen custard? Or Mackinac Island without having fudge?
You've just gotta do it.
I don't think I've ever been through Amish country without buying a bag of cashew crunch. This simple brittle-just butter, sugar and nuts -- is devilishly addictive, the Amish version of crack.
Since you can't get it at home, you get to really pig out when you do get your hands on the stuff.
Here's a guide to seven goodies and the places that made them famous.
In this Lake Superior port town, people are passionate about their Persians.
"When kids go back to school and all holidays, 20 or 30 go out the door with one person," says Dora LeGarde of The Persian Man bakery. "You share with your community."
Persians are a raised bun with veins of cinnamon and a pink icing whose ingredients supposedly are a secret, though LeGarde told us it's raspberry and apple.
The icing is the important part, and it's sold separately in tubs, because Persians often travel.
"If you're born here, you've gotta bring back some," she said. "People are addicted to 'em."
As if on cue, Arlene Gervis came in to buy a dozen Persians to take to her kids in Dickinson, N.D., with separate icing, of course.
"We're not the only ones who do that for our kids," she says. "We'll get there Saturday morning, and they'll be devoured by Saturday night."
If they do last more than a day or so, LeGarde said, they're cut in half, buttered on each side and grilled.
"As long as the icing is there, they're good to go," she says. "My dad eats it on toast."
The buns were invented by Art Bennett. The story is that he was working in a bakery after World War II when legendary Gen. John J. Pershing stopped by.
Inspired, he fooled around with a recipe, says Danny Nucci, whose family bought Bennett's bakery after he died, and the Persian was born.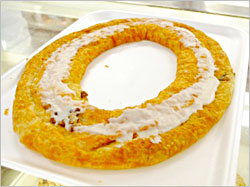 The Persian Man/Bennett's Bakery also sells bags of pierogis , the Eastern European dumpling filled with mashed potato and cheese and eaten with onions sautéed in butter.
They might be the best mass-manufactured pierogis in the region (the ones made by church ladies are the best), so be sure to stock up on those, too.
The Persian Man is in two locations in Thunder Bay, at the corner of Central Avenue and Tungsten Street in the Port Arthur area of the city and Balmoral and Cameron streets in the Fort William area.
Kringle, Racine
In the southeast corner of Wisconsin, the people of Racine are almost as wild about kringle, a flat, flaky pastry that's filled, formed into an "O" and iced. It's a familiar pastry in Scandinavia and was brought to Racine by Danish immigrants.
They can be found throughout southern Wisconsin and northern Illinois, but only in Racine will you find a dozen or more flavors of kringle, each sold in waxed-paper sleeves and displayed in drawers.
The basic flavor is almond, but you also can get them in pecan, raspberry, cherry, apple, blueberry and other pie-like flavors.
Four bakeries in town make kringle, including O&H Bakery, now run by the grandchildren of Danish immigrant Christian Olesen. Read what the locals have to say about kringle on a Chowhound forum.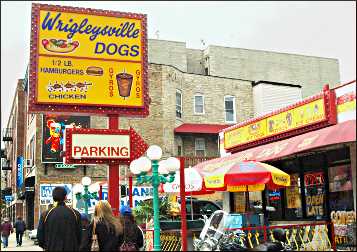 You may think that a hot dog is a hot dog, but not in Chicago.
Chicago is the holy city of the hot dog, and every neighborhood has its favorite.
The true Chicago hot dog is as colorful as the locals, served "dragged through the garden"-with fluorescent-green relish, mustard, chopped onion, mildly hot "sport" peppers and perhaps tomato or even cucumbers.
But heaven forbid that you order your dog with ketchup, or "the K word." If you have to have ketchup, locals say, smuggle it in and apply it in private, so they won't have to witness your travesty.
Where to find the best Chicago hot dog? When the query was posted on a Chowhound forum, it drew more than 120 answers, so decide for yourself. Many people cited Portillo's, Gene and Jude's, Wiener's Circle and Hot Doug's.
Hot Doug's sells all kinds of gourmet sausages, including one made of duck and served with truffle aioli and foie gras mousse.
Franks 'n' Dawgs and Westminster Hot Dog also sell gourmet dogs, and they make their own sausages.
Chicago's hot-dog mania can be partly explained by local manufacturer Vienna Beef, started by two Austro-Hungarian immigrants who made the first Chicago-style hot dogs at the 1893 World's Fair.
The company has a cafe at its factory store in the Logan Square neighborhood. It also offers tours, but they book up fast.
Of course, Chicago also is known for deep-dish pizza, and the locals get pretty excited about that, too. If you'd like to try some for yourself, at least three pizza tours will cart you around to the best-known pizza palaces for tastings.
For more, see Into the belly of Chicago.
It's no surprise that the Dairy State is the place to find the high-octane treat known as frozen custard.
Made with egg yolk and cream but much less air than ice cream, it's smoother, creamier and fresher than ice cream. It's found everywhere in Wisconsin, home of the now-omnipresent Culver's chain, but especially in Milwaukee.
A Milwaukee Journal Sentinel forum that asked where to find the best drew more than 200 comments from readers, many of whom cited Leon's and the three Kopp's locations. But it's hard to find a bad frozen custard.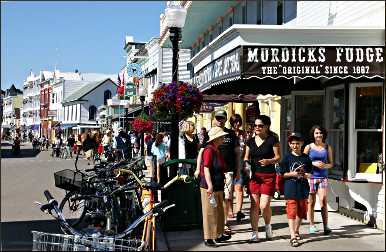 Most stands serve chocolate, vanilla and the flavor of the day, and if there's one you especially love-perhaps cherry amaretto cheesecake or peanut-butter crunch-you can look for it on the Custard List, which lists the flavor of the day at many Milwaukee-area custard stands.
Mackinac Island didn't invent fudge, but it claims to have perfected it, and its Main Street has to have the heaviest concentration of fudge purveyors on the planet.
It's the first thing tourists smell when they get off the boat, thanks to blowers that send the aromas straight from kitchen to nostrils. Seven companies make fudge, and Ryba's, Murdick's and May's each have several downtown locations.
Locals refer to the three modern eras of Mackinac Island-fur, fishing and fudge-and they're being only a little facetious. The island in the straits between Lake Huron and Lake Michigan was a center of the fur trade until fashions changed, and then made its living from fishing.
In 1875, Mackinac Island became the second national park, after Yellowstone, but Congress didn't allocate funds to operate it, so the park superintendent had to raise money from tourists.
When the fort was abandoned in 1894, and the federal government unloaded the island onto the state, the island was on its own.
In other words, Mackinac needs tourists, and the tourists love fudge. In August, the island celebrates Fudge Festival, when Golden Tickets, good for a free vacation, are hidden in boxes of fudge.
Once you've had Amish cashew crunch, you'll want more. In fact, it's often called "Amish crack."
Most Amish families operate cottage industries, and this candy, made solely of butter, sugar and cashews, is one of them. You can buy it at their farm shops, from their buggies and, sometimes, from gift shops and cheese co-ops near their farms.
Cashew crunch is a moving target-you'll find it whenever the Amish ladies decide to make and sell it. It's easier to find in cooler weather, when a fired-up stove doesn't make the kitchen so hot.
The best I've ever had were the square slabs made by the Yoder family and sold at the Kalona General Store in Kalona, Iowa, which gives samples. It's just south of Iowa City, where there's a large population of the Amish and also Mennonites.
The second-best I've had was made by Hidden Ridge Farm and sold at the Westby Cooperative Creamery in Westby, Wis. Many Amish live in the coulees south and east of La Crosse, around Cashton, Chaseburg and Ontario.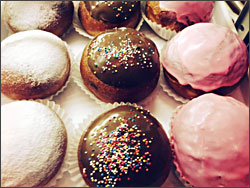 In Minnesota, you can buy it around Harmony and Canton, in the southeast corner of the state, and at the Saturday-morning farmers market in Lanesboro. Many ladies park their buggies in parks or at trailheads and sell cashew crunch along with jams and pastries.
But not all cashew crunch is really good. Look for lots of nuts and a uniformly golden color. The surface of the brittle should be shiny, not dull. Still, you won't know a good one until you taste it, so do that before you leave the store.
If it's good, buy a bunch-they make good gifts, although anyone who's on a diet is not likely to thank you.
For more about the Amish in Minnesota, see Amish country.
For more about the Amish area of Wisconsin, see Valleys of Vernon County.
Paczki, Polish neighborhoods
This Polish version of a jelly doughnut can be found year-round in the Polish neighborhoods of Milwaukee, Chicago and Detroit, but bakeries make them by the tens of thousands the week before Fat Tuesday, also known as Paczki Day.
On Fat Tuesday, so many people stand in line to buy them that some bakeries send accordion players out to entertain them.
For more, see Putting the fat in Fat Tuesday.
Last updated on February 8, 2022