Dining up north: Pequot to Crosslake
Deep in Paul Bunyan country, we find the best lakeside supper clubs, roadhouses and bistros.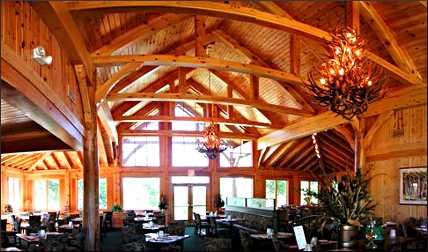 North of moneyed Gull Lake, the Brainerd Lakes area starts to look more like traditional Minnesota resort country.
There's still plenty of money and big boats, especially on the Whitefish Chain. But this also is a place where vacationing families gather to race ducks (Fridays at 1 p.m., Pine River) and eat beans (Bean Hole Days in Pequot Lakes, July 8-9 in 2014).
Bicyclists whiz past on the Paul Bunyan State Trail. To explore it, head out on the 54-mile Paul Bunyan Scenic Byway.
Its two loops take motorists-or bicyclists-past nature trails, wildlife areas, sleepy little resort villages and a popular U.S. Army Corps of Engineers campground that includes one of the area's few public beaches.
The little county roads that weave past Pelican, Cross and Whitefish lakes are lined with all kinds of places to eat, from the swank eateries of Breezy Point to friendly neighborhood saloons and a Chicago-style Italian bistro.
You'll find plenty of ribs and chops, but also wild-rice omelets, whale-sized walleye, all-you-can-eat pasta and the infamous Garbage Pizza.
Here's our insiders' guide to dining in and around the Whitefish Chain, the lower-profile but still-busy northern edge of the Brainerd Lakes.
For our two other restaurant guides, see Dining up north: Brainerd to Nisswa and Dining up north: Longville to Walker.
For more about bicycling, golfing and sightseeing in the area, see our other Brainerd Lakes stories.
Pequot Lakes
Pequot Lakes is a good example of the ebbing and flowing of the local dining scene. Having lost a couple good food options in recent years, the Pequot scene is missing a bit of its vibrancy.
One standby is Timberjack Smokehouse and Saloon (218-568-6070) under the guidance of veteran operator Bill Nemitz. You can see the smokehouse in front of the restaurant on the west side of 371 just south of Pequot Lakes, and that should be your focus.
The menu offers the usual fare, but the smoked meat items, including ribs, chicken, Cornish game hen, pork loin, salmon and shrimp are the stars, along with the new addition of smoked prime rib on Saturdays.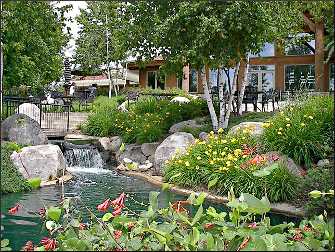 A reworked entry features an out-front entertainment nook that can be loud for diners on weekends, so come early if you want to talk during dinner. The service is amateurish, but the bar can be fun, especially when Salome is working.
In Pequot Lakes proper, there are a couple of options. Lucky's Tavern is just off to the east of 371 in the former Sibley Station/Mayson's space.
Lucky's has a bit of an Irish pub theme going, but the product offerings don't really support that concept. You will be greeted by a pool table when you walk in the front door, to set the mood.
The staff and new management came from Pestello's, and it is the same sort of experience, but a little brighter and fresher.
On the other side of Minnesota 371, Pestello's (218-568-9950) is a lot more bar than grill. It is still a friendly place to grab a burger and beverage if you happen to be in town. The experienced Cole Nelson mans the kitchen.
At the stoplight, Lakes Latte (218-568-5995) offers an array of coffees with wraps and sandwiches at lunch.
Breezy Point
Heading east on County Road 11 from Pequot Lakes to Breezy Point, you'll find several dining options, including Antlers at Breezy Point Resort (218-562-7162).
We break a couple of our own rating rules by including this resort-owned golf-course restaurant. A soft market has forced Antlers into seasonal operation, but they remain a favorite among locals in the summer months.
The menu is nice, not great, but the food is consistently prepared well, the service is competent, and wine choices are substantial. There are popular early-bird options and a nice patio for summer outdoor dining.
Also popular are the dining options at the Marina II* restaurant at the resort proper, and the summer Saturday-night Elvis concerts at the Dockside grift.
In the adjoining town of Breezy Point, Billy's, The Commander and Prime Time each is a local gathering place for food and fun.
Billy's (218-562-4667), is the newest addition, with a renovation of the old Birchwood property adjacent to the ice arena on County Road 11.
Billy Pestello (of the same family but no business affiliation with Pestello's in Pequot Lakes) has put together a nice, inexpensive dining option. His strong suit is promoting local community events with close ties to the hockey community. (Did we mention the arena next door?)
The big circular bar is a must to attract a year-round crowd. Currently, the kitchen seems to be run by committee. The result is a loss of consistency in food quality, but it is still pretty good more often than not, with excellent burgers. The service is competent and friendly.
The signature menu item at The Commander (218-562-4198) is the Garbage Pizza, and that pretty much tells you everything you need to know about your food options.
And yet, the place has an endearing quality with families running about during early evening hours and a rock band vibe after dark. Besides, who wouldn't like something called a Garbage Pizza?
Prime Time Food and Spirits (218-562-4455), around a corner and up the road from Breezy Point Resort, is a conglomeration of snow tubing, rock bands, Texas Hold-em, bar bingo, meat raffles, and a pretty extensive menu of ribs, chicken, steaks, pastas and sandwiches.
The dining room is separated from the bar, so your food experience may not get confused with everything else, but if you are in search of a quiet romantic evening, this might not be your first choice.
Across from the Breezy Point Resort gates, Munchies has been replaced by Pine Peaks, which is a second location for the Crosslake breakfast institution.
On County Road 39 north of Breezy Point, you will find Norway Ridge Supper Club (218-543-6136). The Adkins sisters, Jackie and Alicia, are starting their third decade of presiding over this Ideal Corners legend, while Chef Mikey Cossert has become a fixture in the kitchen.
They have served the same items for so many years that it seems they have invented wild-rice soup, whale-sized walleye and home-smoked ribs and chicken. Actually, their predecessors may have invented their sourdough-battered and deep-fried veggies.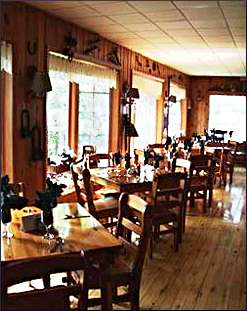 Although the building doesn't have a lot of drive-up appeal, the dining room has a classic up-north feel with views through the trees of Kimble Lake below, and the bar feels warm and clubby.
In spite of closing during the coldest months, Norway Ridge manages to keep enough returning staff (some family members) to provide competent, steady service and well-prepared dishes. It's good every day but worthy of a special occasion.
A bit farther north on 39, near the junction with County Road 16, is the Old Milwaukee Saloon and Eatery (218-543-4117), known locally as "Ideal" due to its Ideal Township central location.
Jeff Feltman runs a comfortable old-time saloon with casual meals and cold beer. It's a handy stop for the after-golf crowd from nearby Whitefish Golf Club. Ideal has added a private dining option for 2012, with local star-chef Tom Johnson catering small-group gatherings on site.
Heading back west on County Road 16, at the junction of 371, is the A Pine restaurant (218-568-8353), which is a breakfast, lunch, dinner and pie place that also serves beer and wine. It has a nice local clientele and makes for an easy stop on a trip along Minnesota 371.
Going north on 371, in the whistle-stop town of Jenkins, you'll find the tidy little Underdogs Bar and Grill (218-568-7714), which serves a surprisingly good burger in a NASCAR/Glenn Beck atmosphere.
Pine River
Pine River, like Jenkins, seems a bit more farm country than lake country.
So it's lucky to have Bites Grill and Bar (218-587-2564), which blends Minnesota comfort food with the traditions of Spanish tapas bistros.
New owners Roger and Wendy Hoplin bring their industry backgrounds and culinary skills to this building just off Minnesota 371, a cozy north-woods haven with log beams and a corner fireplace.
Chef Jeff Harbert, formerly of Russell's and Grandview Lodge, brings his own brand of creativity to the kitchen. Sample the "bites"-a tiny reuben or pulled-pork tostada, for example-or larger "sharables," such as the walleye and wild rice cakes.
The menu also includes well-priced soups, salads, sandwiches and entrees, from Yankee pot roast to a delectable penne dish with grilled mahi-mahi and shiitake mushrooms in a ginger cream sauce.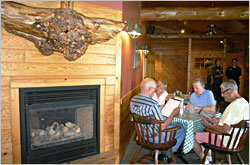 With the Paul Bunyan State Trail nudged against Bites' parking lot, the restaurant makes a handy stop for bicyclists and snowmobilers.
In downtown Pine River, say hello to Kim at the Cottage Café , a laid-back breakfast and lunch place.
Across the street is JR's #19 Barbecue , where Ryan serves up a limited but tasty selection of slow-smoked specialties. On the 19th of the month, you can get a BBQ-chicken dinner for a buck if the bill has a "19" in the serial number.
Merrifield
If you go north from the east side of Brainerd, you can waltz your way through Merrifield and Crosslake on the east side of Pelican Lake and the Whitefish Chain before coming to the end of the road in Fifty Lakes.
From there, it's either west to Pine River or east to Emily and Minnesota 6.
The venerable Northwoods Inne in Merrifield reopened in June 2013 with great expectations. The new owners, local restaurant pros Bob Komischke (Manhattan Beach Lodge, Breezy Point) and Mikey Cosert (Manhattan Beach Lodge, Norway Ridge), bring a wealth of kitchen and dining room expertise.
The menu reaches back to the prime rib-and-walleye roots that the locals fondly remember while stepping up with some nice seafood and pasta entrees.
The prices should come with a lake view (they don't), but portions are generous, and nightly and early bird special can be good values.
Merrifield used to have more dining options. The Woods is replacing The Chap, a reincarnation of the former Chaparral.
Farther north on County Road 3, McCabe's Pub & Grill (218-765-3344), formerly Cheek's, is a fun gathering spot for locals and tourists alike.
Crosslake
On the south end of Crosslake the steady Kathy and colorful Teddy hold forth at the Cedar Chest (218-692-2657). This homey spot features ribs, burgers, broaster chicken and views of Big Pine Lake, all served with interesting conversation that may or may not be based on facts.
Maucieri's Italian Bistro and Deli (218-692-4800), rising out of a farm field on the south side of Crosslake, is another of our favorites. Tony Maucieri has been in the restaurant business all his life, first in Chicago and now in Crosslake, with his daughter Dawn at his side.
Their previous endeavors have been compromises to the demands of the supper-club gods, but the new Maucieri's is full-blooded Chi-talian.
With a big circular bar, a menu heavy on tomato "gravy" and hand-made sausage, and studious, talented chef Dewey Albrecht in the kitchen, this place is just what you would hope it would be.
The lack of a lake view means that you will find bargains galore, especially with their pasta specials and the all-you-can-eat pasta bar. With occasional entertainment on weekends the bar can be loud, so eat early or get a tucked-away table in the rear dining room.
Say hello to Tony when you go in-you'll know him when you see him.
Riverside Inn (218-692-3848), across from the dam in Crosslake, has been operated by Bob and Bonnie Mudek for as long as most of us can remember, even though their children now are taking an active role.
This is a comfortable spot to watch the Pine River amble past from a dining room window or the little outside deck. The food can be pretty good and even ambitious on occasion, while the service can be a little confused (unless you get one of the owners' kids).
They can be busy for "chicken night" (all-you-can-eat fried chicken) and have a popular Sunday and holiday brunch buffet.
Andy's (218-692-3722), in the center of town, is handy to the U.S. Army Corps of Engineers campground across the street. With new ownership in 2013, the building and menu both have been updated.
The interior is lean and clean, without frills, but it's a noticeable upgrade from the past, and a very nice patio has been added behind the building. The pricing hits a home run with the value-conscious locals. Try the walleye fish and chips.
Next door, Aunt Bea's Pantry (218-692-3994) serves up an assortment of coffees, pastries and good sandwiches in a cutesy setting.
Nearby Pine Peaks Restaurant (218-692-4100) is where you will find the contractors, real-estate agents and bankers for breakfast, and maybe again at lunch.
Owners Joe and Sonya Slack have parlayed wild-rice omelets and pancakes into a thriving operation, with a substantial gift shop, mini-mall and Pine Peaks Lodge and Suites in back. The service, provided by a professional year-round staff, is prompt and friendly, and the food is consistently good.
The recently established Town Square, around the corner and down a couple blocks, is home to another really good Rafferty's Pizza (218-692-5505), but there's little else in the way of food.
Going north on County Road 66 the other pizza/Mexican option is Zorbaz (218-692-4567).
Rafferty's is the good family pizza choice, and Zorbaz is the full-bar option.
Farther north on 66, Moonlite Bay Family Restaurant (218-692-3575) sits high on a bluff looking back down a lovely finger of Cross Lake (the town is one word, the lake is two).
Moonlite is a laid-back casual food spot whether reached by boat or car, although the hike up the steps from the lake requires some effort.
The mandatory circular bar dominates the interior, which has plenty of dining tables along the windows toward the lake. Outside dining is picnic-table style and works with swimsuits, flip-flops and towels.
The "Family Restaurant" part of their name fits well during daylight hours, but when the sun goes down, the kids are replaced by partying 22-year-olds, and the younger and older should be safely home in bed.
About a mile down County Road 16 from Moonlite is The Wharf (218-692-3454). Sitting on a cozy piece of land on the Cross Lake-Rush Lake channel, the Wharf is the Porky's Drive-In for lake-goers.
The outside decks or lawn seating are the spots for lounging on sunny afternoons and evenings watching the parade of boats idle through the no-wake channel, while the people on the boats watch you back.
There has been some shuffling of staff over the last years, but the menu is kept simple enough (burgers, steaks, chicken, ribs) that there should be no confusion. Prices are pretty steep, but there is no additional charge for watching the boats go past.
Back north on County Road 66 is the Bourbon Room in the historic Ox Lake Tavern location. New owners have brought a lot of cash and a big-city bar vibe into a quaint local 3.2 joint. The renovations are tasteful, and the menu offers quality bar food.
There seems to be either too much staff or too little, so service is inconsistent as management tries to figure out how this lake-country hospitality scene works. Between the food, drinks and entertainment, though, there is always something special happening, in a high-energy atmosphere.
Continuing on County Road 66, you'll find Manhattan Beach Lodge and Manhattans Restaurant (218-692-3381). The lodge has been on an 80-year up-and-down ride, with the latest edition being a bit of both.
A decade ago, the lodge was one of the most popular of the lakes-area restaurants, but after a couple of changes of ownership, it had lost its way.
With a change in the management structure in 2009, the owners seem to finally be getting their legs beneath them. There is still a frazzled quality to dining during busy times, but both food and service improve dramatically off peak.
Oddly, Manhattans is one of the only fine-dining options open on winter Mondays, which makes it a nice option in this small niche.
There is still a bit of multiple-personality disorder, as Manhattans occasionally drifts into rock-bar mode and at other times may be closed for an event. The staff does a good job of noting closures on the web site, so check before going.
The lodge always is worth a visit for the best sunsets in Minnesota, over Big Trout Lake, and probably a good meal.
Last updated on May 5, 2018