Dining up north: Longville to Walker
A bicycle trail connects towns and lakes en route to Minnesota's newest fine-dining destination.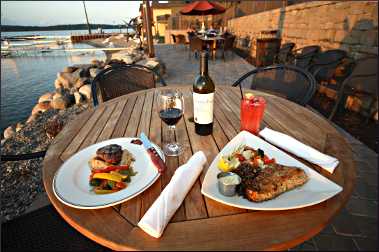 In the middle of Minnesota's vacation land, the lakes go from big to bigger.
There's Girl Lake and Woman Lake, with the biggest woman of all, Paul Bunyan's 17-foot "wife" Lucette Kensack, standing on the shores of Birch Lake in Hackensack.
Looming to the north is giant Leech Lake, the third-largest in Minnesota, and the town of Walker. Fishermen know it for giant muskies; bicyclists know it as the hub of the Paul Bunyan-Heartland-Migizi trail system, now the state's longest.
Fortune is smiling on Walker; it's also become the hub of fine-dining in north-central Minnesota.
For every-day dining, there's a string of friendly pubs and supper clubs.
Here's our insiders' guide to dining in the footsteps of Paul Bunyan, from Longville to Walker.
For more, see Dining up north: Brainerd to Nisswa and Dining up north: Pequot to Crosslake.
Hackensack and Longville
Possibly the best ethnic restaurant in the lakes area is Udom's Thai Restaurant (218-675-5513). After a successful first season, chef Udom and hubby Paul moved from a little hole in the wall near the lake in Hackensack to a more spacious home on Minnesota 371.
The new building is bright and shiny, maybe too bright and shiny, with school cafeteria character, but the food conquers all in this case. The menu suggests heat levels of 1 to 3, but they can go much higher if you prefer. On a recent visit, our tom yum and pad Thai had a nice zing at level 3.
Serving a limited menu of Thai specialties, Udom's combines authentic Thai soups, noodles and spring rolls with somewhat harried service, but it can only get more efficient. Beer and wine are available.
Udom's will stay open later in the year in the new location but will be closed through the heart of winter and spring, while the owners make their annual visit to Thailand.
Also in Hacksack, Birchwood Char House (218-675-6200) has reopened in the space of the 1960s throwback Riverhouse. New owners Linda and Rick McNamara have returned like prodigal restaurateurs to the operation once run by Linda's parents.
Shaped like an "L," with the lounge down the side street and the dining room along Minnesota 371, the Birchwood has kept the local trade and has upgraded the food options to include a selection of steaks and chops at reasonable prices. Traditional 2-for-1 happy hours get each evening off to a perky start.
While tripping down memory lane, visit Patrick's Fine Dining (218-363-2995) in Longville. Longville, unbothered by traffic going elsewhere, is the way up-north used to look. Pat and Maralyn Tabaka own this expansive bar/restaurant on Girl Lake, part of the Woman Lake Chain.
They also own the golf course, Tabaka's supermarket and various other town businesses that carry the Tabaka name. Patrick's is a traditional supper club with bargain drinks, a lengthy soup and salad bar, an assortment of steaks, chops and chicken, and from their exotic side, tempura-battered walleye and shrimp.
The service can be slow on busy nights in the huge dining room, but the sunset views make the wait tolerable. If you want to chat with Patrick, you usually will find him holding court at the end of the bar.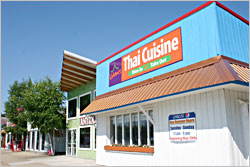 In Longville, the Common Grounds Coffee Shop (218-363-2292) does the coffee, pastry and sandwich thing along with folksy entertainment on some summer afternoons.
Maguire's Woman Lake Inn (218-683-3330) on Country Road 5, between Longville and Hackensack, is a friendly pub for a sandwich and drink with entertainment some weekends.
East of Longville on County Road 7, The Anchorage (218-363-2236) sits proudly on the shore of Lake Inguadona. With a recent renovation, the addition of a brick oven for pizza and a good salad bar, these folks have nicely upgraded their middle-of-nowhere operation.
Walker
Ah, Walker. The eelpout capital of Minnesota. The sleepy Cass County seat on the shores of massive Leech Lake. The new food mecca of central Minnesota.
What? Almost overnight, Walker and the surrounding area have sprouted some of the most interesting restaurants in central Minnesota, giving you a really good new option every night of a weeklong getaway.
It may only look good in comparison to its previously dowdy condition, but when you're this far from anywhere else, you appreciate the difference.
At Northern Lights Casino, Fire Lake restaurant, on the second level of the hotel, is handy if you don't want to leave. However, Charlie's Up North (218-547-0222), across the road, might be the better option.
Charlie's looks like a spot for a piece of pie and cup of coffee, but looks can be deceiving. Would you like Chinese? No problem. Italian? Right here. Steaks, chops, walleye? Of course. Burgers, breakfast, duck? You betcha.
How about dancing around the outdoor boat bar? Bring your dancing shoes. It's hard to be great at everything, but Charlie and Deb Thompson are daring enough to give it a whirl as they finish up their first decade at this location. On a recent visit, our boat bar waiter was Mr. Surly, but everybody can have a bad day.
Just south of Walker on 371 is the Lucky Moose (218-547-0801). A recent addition to the Walker scene, the Moose has a casual bar to the left and a casual dining room to the right, both offering an eclectic selection of interesting foods.
Mom Judy and daughter Dawn figured out what they like to eat and created a blend of such things as rice and beans, meatloaf, lavosh, étouffée, Gorgonzola potato salad and mashed sweet potatoes to complement the usual suspects.
In the town center is the Village Square Café (218-547-1456). Consistently serving interesting soups, sandwiches, pastas and pizzas, this has been a local favorite for three decades.
It's a wonderful place for lunch followed by a visit to its ice cream parlor for dessert in a cone. Sipping a wine on its street-side patio on a summer afternoon or evening conjures up a French sidewalk café.
There are a couple of our favorites in Walker, and one of them is the The 502 on the lower level of the beautifully renovated Chase on the Lake hotel (218-547-7777).
On the lake, but right in town, The 502 offers easy access to all that Leech Lake and Walker have to offer. When you walk into the 502 dining room with wall-to-wall water views, you feel like the family on "Extreme Makeover Home Edition," emitting a string of oohs and aahs.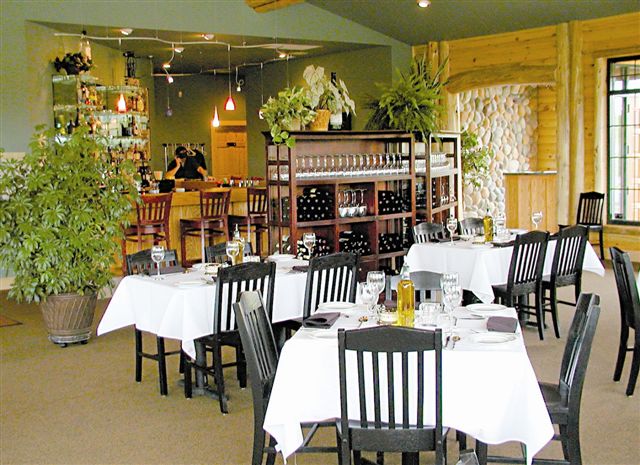 From the outdoor patio, you are virtually on top of the lake, with miles of Walker Bay in front of you. The hospitality team has built a cleverly concise menu, tempting you with every item, and the service staff seems well-trained and knowledgeable.
The bar is roomy and has a unique underlit front bar, daily happy hours and entertainment every weekend. As part of a larger hospitality group, the Chase and 502 are professionally managed, with staff keeping a close eye on food and service levels.
Traveling north out of Walker, you'll see The Boulders (218-547-1006). Operated by chef/owner Jeff Hanson and hostess/owner Nancy Hanson, has a tasteful dining room, with a small bar on one side and distant lake views on the other.
Jeff and Nancy built Arthur's Restaurant, south of Walker, into a huge success before splitting with their partners to do their own thing with The Boulders.
Jeff's addictive crab-crusted grouper and penne jambalaya (copied and now served by most restaurants within 50 miles) may make you reluctant to try other menu items, but you must.
Menu pricing is reasonable, but, as at many restaurants, entrees no longer include a salad choice. The side-salad options are a bit pricey.
The senior menu caters to smaller appetites, and with a generous nod to the locals, it is served all night every night during the off season. A restaurant has a whole different feel with visibly active owners, and when owners are as talented as these, the restaurant rises to the top of our list.
A bit farther north and worth the trip is The Ranch House Supper Club (218-547-1540). This is the kind of whimsical place-it has covered-wagon booths and a bathtub salad bar-that puts a smile on your face.
They have all-you-can-eat dinner specials every night, hot popovers and pricing that makes eating out cost little more than eating at home.
The menu is old school, the service is perky and there is a cozy garden deck in a garden setting in back. Stop for a drink to see if you're in the mood for the fun.
Last updated on May 5, 2018