Dining up north: Brainerd to Nisswa
We give you an insiders' guide to restaurants in Minnesota lake country, from nachos to filet mignon.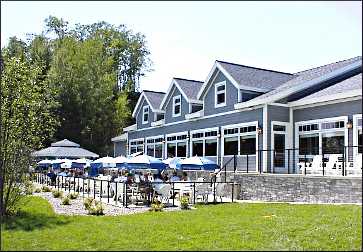 In summer, the crowds pour into the Brainerd Lakes, the Minnesota vacation land that's been stomping grounds for millionaires and middle managers alike since the loggers finished up and headed west.
What's it known for? Lakes, of course. And golf.
It's not so known for its restaurants, but that may be because only locals know the best places.
When you're a vacationer, it's hard to find good places to eat. After a busy day on the lake, you'd settle for a burger and a beer-but why not grilled lamb chops Provencal or duck breast with red currant demi-glace?
Luckily for you, the locals now are letting you in on their secrets. It turns out that this popular lakes area has top chefs who could work anywhere but choose to live where others can only vacation-go figure.
Sample sushi in a Prairie-style dining room or lounge in a glittering martini bar; these aren't your grandparents' restaurants. But if you'd rather have walleye or a steak at a 1920s log roadhouse, you can do that, too.
And patios? We know all the good ones.
Here's our irreverent guide to dining in the heart of the Brainerd Lakes, from the city to Nisswa.
For restaurants north of Nisswa, see Dining up north: Pequot to Crosslake and Dining up north: Longville to Walker.
For more about bicycling, golfing and sightseeing in the area, see our other Brainerd Lakes stories.
Brainerd-Baxter
In spite of being the center of population, the Brainerd-Baxter area is not the center of fine dining.
The Washington Street and Minnesota 371 strips are peppered with the usual assortment of fast food, franchised and chain restaurants. The ethnic offerings include El Tequila (218-454-0618) and Pancho and Lefty's Mexican (218-829-0489), as well as the very nice China Garden Buffet .
For multi-napkin favorites, there is Buffalo Wild Wings and Famous Dave's in a strip mall. There is also the sporty Grizzly's Grill featuring fire-grilled options along with a pretty typical casual menu (218-822-3877).
Prairie Bay (218-824-6444) is tucked awkwardly behind the Comfort Inn on the Minnesota 371 strip in Baxter, Brainerd's low-profile twin.
The building has admirers and detractors. The former think it is a beautiful example of a Frank Lloyd Wright-style Prairie design, and the latter think it's a Perkins with attitude.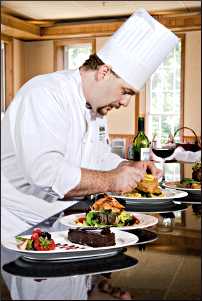 That aside, the star is chef Matt Annand, who once was the local wunderkind and now is an established pro who consistently turns out well-crafted, cutting-edge offerings.
Pick your trend: sushi, tapas, braised pork belly or beef short ribs, duck confit, pizzas and pastas, stuffed sandwiches and burgers, even fish and chips and a quirky tuna-noodle casserole. It's all there.
The bar and beverage service seems to be a bit of an afterthought, and the parking-lot views take away some of the cachet of the dining experience, but consistent food quality, pretty good service and edgy lunch offerings put Prairie Bay near the top of our list.
A couple of reports have mentioned inconsistency, which may be a result of chef Annand spreading himself across multiple venues (a food truck, bistro and catering). Check the website for frequent special events.
Black Bear Lodge and Saloon (218-828-8400), also on 371 north, features an award-winning log building with a roomy bar on one side, dining room on the other and a prime rib/private dining loft above.
The menu holds no surprises, the service is pleasant, and the bar can be fun during events and on game days. It's worth a trip to check out the building.
A little farther north, Baxter's Bar & Grill at Arrowwood Lodge at Brainerd Lakes (218-822-5634) has a diverse menu for locals as well as hotel guests.
In that same neighborhood, occupying the former Famous Dave's BBQ location, is The Boulder Tap House , which is the definitive All-American Sports Bar. It's all about wings (20 different kinds), burgers (even more), tap beer (42 that we counted), and TVs (at least 30).
The staff seems upbeat and well-trained, and the locals began swarming in shortly after its summer 2013 opening.
On Washington Street near downtown Brainerd, Northwest Pizza Boardwalk Bread and Bagel (218-825-5000) is worth a mention. It's a great deli-style place to pop in for a good sandwich on home-baked bread, along with soup or pizza. In 2012, new owners have brought new energy to an already nice lunch option.
Gull Lake
The road around Gull Lake is shaped like the letter "d," with the straight side being Minnesota 371 and the circle being County Road 77, which loops around the west side of the lake before returning.
The south side of the loop is where you will find the massive Madden's and Cragun's resorts. If you like the golf-course scene (see Golfing the Brainerd Lakes ), both the Madden's Classic and Cragun's Legacy courses have pretty nifty restaurants for daylight dining.
All the way around on the west side of the lake is the place locals will recognize as Kelly's. Or maybe they won't. After a couple of shifts in ownership, Kelly's is now Jake's City Grille, an affiliate of the eponymous group of Twin Cities suburban restaurants.
The Jacob brothers, Rob and Tony, are part-time Gull residents who have brought big-city styling and professionalism to this woodsy setting.
The place is spotless and features a dynamite outdoor patio for balmy summer evenings. The menu is diverse-casual, with Asian, Southwestern, Greek, Italian and north-woods (phew!) influences, and the staff is very well-trained. We loved the rosemary roast chicken.
The former Quarterdeck resort on the northwest side of Gull lake has been renovated and now is the LakeShore Lodge . Its new Getaway Summer Bistro on Gull is managed by Prairie Bay veterans Shane Rhuby and Derek Hyatt.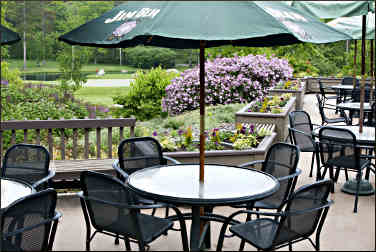 Swinging back to the east on the north side of Gull, you will find the venerable Sherwood Forest Tavern (218-963-6155).
It reopened in May 2012 as a pub, with the owners of the Blarney Pub & Grill in Minneapolis moving their team to the north woods. It's a low-energy sort of place, with a nice woodsy patio and a familiar menu.
Another new version of an old favorite is Cowboy's Restaurant (218-963-6200), occupying the former Matty's location on the north side of the road. Krista Knudsen, a former Matty's manager, and her husband, Kevin, a current Zorbaz manager, are the new proprietors.
They have made some minor changes to the building, and they will have to work to reconstruct the magic that was Matty's.
A bit further east and back on the water is Bar Harbor Supper Club (218-963-2568). Perched on the shore of Gull Lake Narrows, this institution is half Gull Lake summer resident hangout, and half charcoal fine-dining option.
It started as a casino in 1938 and put in a kitchen when gaming was shut down in 1946. The latest version of Bar Harbor was built in 2004, with a nautical theme and summer patio to complement beautiful lakeside views.
New ownership and a costly renovation in 2012 has dramatically upgraded the whole package. If you liked Bar Harbor before, you will love it now.
With steady business year-round, the staff is made up of seasoned dining-room veterans, along with a new and well-trained staff of eager beavers.
Chef P. J. Severson (formerly of Sherwood Forest) is in charge of the spacious new kitchen and has built an interesting yet familiar menu. Our favorite on a recent visit was the bistro steak, which is a classic steak frites with some updates.
There's usually entertainment on summer weekends. If you're a wine aficionado, you'll enjoy the wine cellar, where you can stash your own bottles or choose from their nice selection.
Almost across the channel from Bar Harbor is Zorbaz pizza and Mexican restaurant  (218-963-4790). Zorbaz has a string of lakeside eateries throughout Minnesota, each with local partners who oversee operations.
The food is the traditional burrito-pizza-nacho fare served amid a visual explosion of design elements. There is a roomy patio for lakeside dining and two levels inside to separate the families from the later night crowd. Managing partner Lee Johnson is one of the nicest people in the industry, and that carries through to his staff.
Just up the road is Lost Lake Lodge (218-963-2681), which has been a foodie favorite for many years, establishing a vaunted reputation under previous owners Tim, Cindy and K.C. Moore.
Lost Lake may not be your every-night choice for dinner (unless you are staying there, with dinner included). With an ever-changing fixed-price menu and choices limited to three, four or five courses, it tends to lend itself to special occasions.
The choices are varied, with offerings from bison to boar and gravlax to walleye, and a nice wine selection to accompany your meal choices.
The bread is baked from flour ground in the in-house grist mill and herbs grown in a kitchen garden, so there are plenty of unique touches. Save room for the made-from-scratch desserts.
Like many chef-driven restaurants, the service doesn't quite reach those same heights, but with a good meal in a lovely room, it really doesn't have to.
Before reaching 371 on the northeastern leg of 77, you will pass Grand View Lodge on the south and the Pines golf course on the north. Freddy's Grill at The Pines is a nice lunch-on-the patio place.
On the south, in an unlikely location below the Grand View Conference Center, is Cru (218-963-8756), the latest in a stable of dining options at the resort.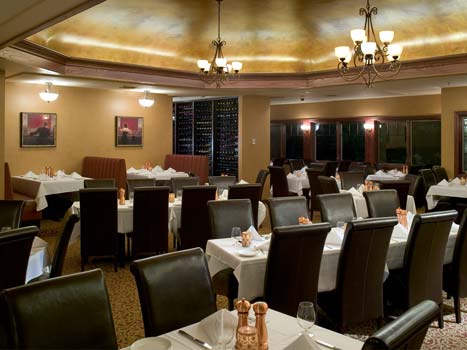 Cru has a clubby feel, with deep wood accents and a length-of-the-room wine cave. The wines are visible through a glass wall, and your server will be happy to take you on a tour of the temperature-controlled room.
The bad news is that Cru's menu is very limited, with half a dozen offerings in three categories. The good news is that each menu item is a gem, and whether you opt for a grilled romaine salad and small plate of firecracker shrimp, or a large plate, such as the chile-rubbed ribeye, you will be pleased.
The pricing seems very attractive in this setting, but the portions are not large, so you should think about a multi-course experience.
Service can be decent, unless you see your server heading to the wine cave with a large table of guests. The management team seem to watch for the inevitable lapses and is quick to fill in.
Cru reminds us of the 502 at the Chase in Walker, but with better food, and a better room (if you don't count the lake outside the window of the Chase).
Back on the straight leg of the letter "d" (Minnesota 371), on the southeast side of Gull Lake, is Ernie's on Gull (218-829-8913). If you find yourself looking for a decent lunch in a perfect lakeside setting, this is your spot.
Near a dead end off Gull Dam Road, Ernie's has patio seating that is almost on top of the lake, with 10-mile views across the water.
Despite recent changes in the kitchen, there's no reason to expect significant changes in a reasonably sophisticated menu.
Continuing north on 371 is another of our Gull Lake favorites, Iven's on the Bay (218-829-9872). Overlooking North Long Lake, the current edition of Iven's was built in 2006 after a February fire totaled the original structure.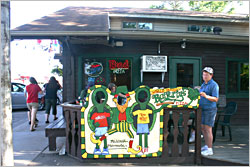 The rebuild boasts a flashy martini bar, comfortable dining room and downstairs private dining, all with lake views. Iven was a fish guy, and that was his menu emphasis, but with a change in ownership and a new chef, Tim Anderson, the menu has expanded, and the result is more cutting-edge.
Chef Anderson caught on with John Dayton's crew, including über-chef Stephen Pyles at top-rated Routh Street Café and Baby Routh in Dallas, and then followed Dayton when he repeated the theme at Goodfellows and Tejas in Minneapolis.
After other metro top jobs, Anderson made a lifestyle decision to ply his talents in the lake country, and the results are terrific.
Walleye remains the star on the menu, but chef specials and theme dinners add to the interest. Iven's is a consistent award-winner for its wine selections
There are a couple of stinker table locations perched precariously in server paths, so make sure you call for a reservation. And the dining-room management team can be a little crabby, so plan to bring your own fun and enjoy the food.
Nisswa
Nisswa may be the shopping hub of the Gull Lake area, but that doesn't extend to dining.
Ganley's is the local breakfast and lunch place, Rafferty's (218-963-3023) is a top-notch pizza option (along with locations in Crosslake and Brainerd), and the Pickle Factory (known locally as "The Pickle") is the municipal liquor outlet and local watering hole.
Trip Tips: Dining in Brainerd-Nisswa lakes country
Where to go : In addition to the restaurants listed here, there are dozens of bars with food, so find one with vehicles in the lot that match yours.
When to go : Most of these restaurants are dramatically seasonal, so the hours, days of operation and reservation policies fluctuate. Call before going, or pick up a local "shopper" or weekly newspaper in the area for the latest updates.
What to wear : Any restaurant in this area is going to be casual dress, although there are a few where jeans and T-shirts might be uncomfortable.
Last updated on May 5, 2018