A cabin in Iowa
Spectacular scenery lies at guests' feet in Backbone State Park.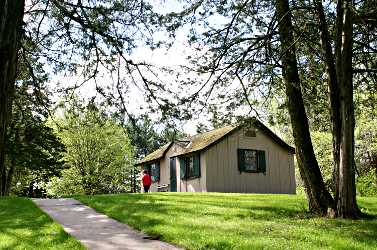 What a way to spend a weekend: hiking up and down ravines, clambering on rock, admiring views of water from ridgelines.
"It's like hiking on the North Shore," my husband said.
But it wasn't Lake Superior's North Shore. It was Iowa. And everyone knows Iowa is one big, flat cornfield.
In the state's northeast corner, however, the Earth's surface bucks like a rodeo pony. Glaciers missed the place where Iowa, Wisconsin and Minnesota meet, and pillars of ancient bedrock poke out of hillsides along sunken river valleys.
On the western edge of this Driftless Area, Backbone State Park lies in a bowl carved by the Maquoketa River. Named for a knobby ridge called the Devil's Backbone, it became Iowa's first state park in 1919.
In the 1930s, Civilian Conservation Corps crews created a serpentine lake, built trails and used blocks of golden limestone to fashion handsome beach and boat houses, an auditorium, rest rooms and pavilions.
They also built eight blufftop cabins that still are prized today; with eight newer log cabins, they make Backbone more like a lake resort than a state park.
We rented one of the CCC cabins for a weekend in May and saw we'd landed one of the region's best deals.
For $50, we got a plain but cozy refuge with a modern bathroom, a kitchen with full refrigerator and stove and a bedroom, though we chose to sleep on the futon sofa in the living area.
The best part of the cabin was its location on the bluff above Backbone Lake. We spotted a path in our back yard and followed it down a cleft between mossy rock walls.
We emerged onto the East Lake Trail, a ribbon of crushed limestone that was lined with spring wildflowers that obviously loved their cool, moist home at the foot of the bluffs.
Nodding red-and-yellow columbines clung to rock crevices, and wild ginger, Solomon's seal and jack in the pulpit grew in clumps. Wild geranium grew in shafts of sunlight, and wild blue phlox lined the trail whenever it left the shadow of the bluffs.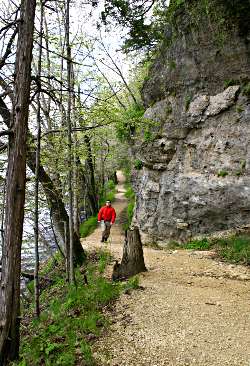 It was the Iowa fishing opener, but no one was on the lake. We saw the most activity around a wooded peninsula, where frogs were in full-throated chorus and a pair of fish vigorously thrashed in a tight circle.
As we watched the flashing fins, a blue heron glided by.
"This is like walking through our own little nature preserve," Torsten said.
The East Lake Trail ended on the park road, and to our left, we saw the Backbone Trail, which follows a ridge surrounded on three sides by the Maquoketa River and Backbone Lake.
This is where the park got its nickname — black, pockmarked knobs of rock erupt right out of the middle of the trail, looking just like vertebrae on a spine.
It's also where the park looks least like Iowa. Twisted cedars grow out of fissures, and we passed huge white pines and squeezed between house-sized piles of limestone.
Groves of trout lilies grew in their shadow, and Virginia bluebells carpeted the river flats. On the lake side, climbers descended limestone cliffs.
The next day, we hiked the West Lake Trail, where the terrain pitches and rolls like a dinghy in a storm.
There were rock outcroppings along the trail, which follows the lake when it's not winding around a gully, but mostly it was open oak and maple forest, with almost none of the brush and undergrowth found in the northwoods.
It looked perfect for morel-hunting, and we looked, but we didn't find anything. We had to be content spotting more spring ephemerals: spring beauties, rue anemone, a few toothwort and Jacob's ladders and lots of waving May apple, looking like fleets of tiny UFOs about to lift off.
All of the trails were well-tended, though we didn't see any park staff; admission to Iowa parks is free, so there's no office at the entrances.
On Mother's Day, we saw more people in the north part of the park, picnicking, playing games and fishing in the shallow river. The winding park drive is very scenic, and we stopped to explore a cave in the hillside.
The only other out-of-state license plates we saw all weekend were at the deluxe log cabins, where two cars from Illinois were parked.
Apparently, people already have forgotten the famous line from the movie "Field of Dreams," which was filmed just 40 miles east of Backbone.
It applies to this picturesque little pocket, too: Is this heaven? No, it's Iowa.
Trip Tips: Backbone State Park cabins
Backbone State Park: The park is in northeast Iowa, an hour west of Dubuque and south of the Minnesota border. It's three miles south of the town of Strawberry Point.
The park rents 16 cabins, all on the east bluff overlooking Backbone Lake. They're spread out, in clusters or four or two; the modern family cabins are closest to the beach.
All have bathrooms, kitchens with pots and pans, a picnic table and a fire ring. Guests must bring bedding, towels, soap and eating plates and utensils, and they must clean the cabin before they leave. A $50 deposit check will be torn up if they have cleaned adequately.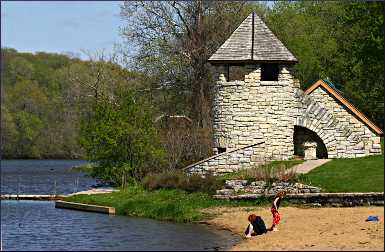 From Memorial Day to Labor Day, cabins rent only by the week, from Friday to Friday. The rest of the year, they can be rented for a minimum of two nights. Pets are allowed.
Eight one-bedroom family cabins, $50 or $300 per week, sleep four on a double bed and double futon sofa, and six are allowed.  They have bathrooms and kitchens with pots and pans, full refrigerators and stove/ovens.
They're heated but are open only from April through October.
Four two-bedroom, carpeted modern family cabins, $85 or $510 per week, are handicapped accessible and have microwaves, air conditioning and a long, covered back deck. They sleep six on two queen beds and a futon, and eight are allowed.
Four two-bedroom deluxe family cabins, $100 or $600 weekly, have all the features of the modern cabins but are two stories and sleep nine on two full beds, two futons and a single, and 11 are allowed.
Well-tended campgrounds with shower houses are on the west bluff.
There's a grocery store and cafe in Strawberry Point. Backbone Golf & Country Club adjoins the park's north entrance.
The cabins can be reserved up to a year in advance. They're operated by a concession, but reserve them on the Iowa DNR Reservations System, 877-427-2757.
For park information, call 563-924-2527. For cabin information, call 563-933-2273.
Cabins in other Iowa state parks
Iowa parks rent many other studio, family and deluxe cabins, all with bathrooms and cooking facilities.
In northwest Iowa, south of Storm Lake, Black Hawk has one stone four-bedroom family cabin, $100. In southwest Iowa, east of Clarinda, Lake of Three Fires has six studio cabins, $50.
In southeast Iowa, Lacey-Keosauqua has six studio cabins, $50. Lake Wapello, southwest of Ottumwa, has 14 family cabins, $60-$85, and the park has a restaurant, too.
Palisades-Kepler, east of Cedar Rapids, has four family cabins, $50. Pine Lake, west of Waterloo, has two studio cabins, $65, and two family cabins, $75; they're built of stone and timber by the Civilian Conservation Corps.
They can be reserved up to a year in advance on the Iowa DNR Reservations System, 877-427-2757. For information, call 515-281-5918.
Camper cabins in Iowa state parks
Eight Iowa parks offer camper cabins, including McIntosh Woods near Clear Lake, which has two yurts, $35. They sleep four on bunkbeds and a futon sofa and have dorm-size fridges and microwaves. For more, see A yen for yurts.
Pleasant Creek, northwest of Cedar Rapids, has four camper cabins, and Wilson Island, north of Council Bluffs, has one, $25.
The others are $35: Dolliver, south of Fort Dodge, two; Green Valley in southwest Iowa, two; Honey Creek in southeast Iowa, four; Lake Darling, southwest of Iowa City, five; and Stone near Sioux City, two.
For more about camper cabins, see A roof in the woods.
Last updated on January 4, 2019