Staying in a state park
Don't like to camp? Cabins and guesthouses are cushy, but still in the middle of nature.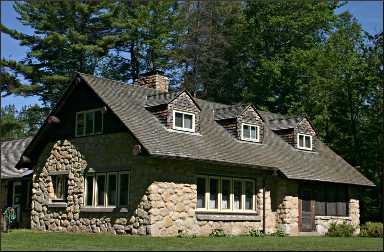 When you stay in a state park, you can't expect a lot of nightlife.
Unless you count all of the stars. And the candlelight skiing. And the hot-cocoa cocktails.
There's a lot to do in a state park, night and day. When friends and I rented a guesthouse in St. Croix State Park, we became part of an exclusive club — people who get to stay in relative luxury while being right in the middle of the action.
Our six-bedroom, two-bath guesthouse was one of two. Both have WiFi and look as if they belong in the suburbs, not in the middle of Minnesota's largest state park.
I rented the guesthouse for the park's annual candlelight ski and brought nine friends. We fixed dinner in our kitchen, then drove over to the trailhead, where we skied two loops past glowing paper lanterns.
In the 1930s stone lodge, park rangers had built a wood fire and were serving mugs of hot cocoa.
Back at the house, we had a glass of wine, settled onto sofas and chatted. Our living room had a big TV, but we didn't turn it on.
In the morning, we put on snowshoes and hiked down to the St. Croix River, walking on ice along the shoreline before making our way back. A stone's throw from the house, we looked up and saw a rare boreal owl on a low branch almost overhead.
For 10 minutes, we looked at it, and it looked at us, cocking its head quizzically. Finally, it flew away, with the occupants of the other guesthouse — they'd seen us looking up — in hot pursuit.
For one night, we paid $23 apiece; if we'd brought 12 people, the price would have dropped to $19. The other guesthouse sleeps 15, so costs there could be as low as $15 apiece.
If you make all of your meals in the kitchen — and the closest restaurants are at the Grand Casino Hinckley and in Danbury, Wis. — you've got a very inexpensive vacation.
And in many ways, the amenities of the park rival those of the most expensive resorts. You can rent snowshoes, a canoe or a kayak, and use of fishing kits, birding kits and a GPS for geocaching is free.
In summer, there's a swimming beach.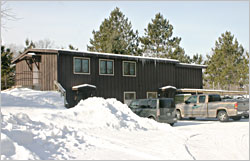 We went to ski on 11 miles of groomed trails, but St. Croix State Park also is especially popular with snowmobilers, who have 80 miles of groomed trails that connect with state forests.
A stay in the guesthouse doesn't include maid service, so we had to vacuum, sweep and take out the garbage before we left. And we had to bring our own towels, pillows and sheets or sleeping bags.
Still, we felt pretty lucky.
The state also rents modern cabins and guesthouses (and one golf chalet) in six other parks.
It's surprising how many state parks rent modern cabins and guesthouses. Here's how to find and reserve them.
Reservation windows vary, but you'll have to plan far ahead for weekend stays. Weekdays in summer fill up, too, but it's much easier to get a reservation.
Typically, you have to bring your own linens and towels. Kitchens are equipped with the basics, some more basic than others.
For tips on what else you might need, see What to bring to a rented cabin.
To find out about camper cabins, see A roof in the woods.
Minnesota
At St. Croix State Park, Guesthouse 1 has eight bedrooms with 15 beds, two full baths and a half bath. Guesthouse 2 has six bedrooms with 10 beds and two full baths.
They're on the west end of 11 miles of ski trails. Cost for each is $235 plus tax.
Minnesota also rents a luxurious cabin atop Illgen Falls in Tettegouche, a cozy cabin with fireplace in Wild River, a modern split-level in Bear Head Lake, a golf chalet in Fort Ridgely State Park, a cabin with fireplace in Savanna Portage and a variety of cabins in Itasca State Park.
For more, see Lodgings in Minnesota state parks.
Minnesota also rents group centers, or collections of cabins with central shower houses and dining halls, at eight state parks, including Whitewater, Lake Carlos, Itasca and Sibley. They're ideal for budget family reunions.
For more, see Cabins for a crowd.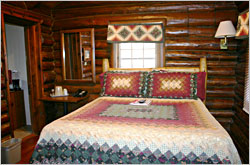 Iowa
Iowa parks rents a large variety of modern studio, family and deluxe cabins in 20 state parks, including Backbone, Black Hawk, Lake of Three Fires, Lacey-Keosauqua, Lake Wapello, Palisades-Kepler and Pine Lake state parks.
On Rathbun Lake, Honey Creek Resort State Park has a luxurious lodge and cottages, with amenities that include an indoor water park.
For more, see A cabin in Iowa.
Michigan
Michigan has a large variety of lodgings, including historic stone lodges at Porcupine Mountains Wilderness on Lake Superior and Wells State Park on Lake Michigan near the Wisconsin border.
There's also a 1970s house in Fayette Historic State Park on the Garden Peninsula and lodges in Charles Mears and Grand Haven on Lake Michigan.
For more, see Michigan's great lake cabins.
On Lake Superior, Isle Royale National Park has a concessionaire-run lodge and modern cabins (with plumbing, anyway). For more, see Exploring Isle Royale.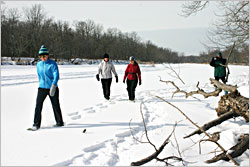 Illinois
Illinois has a concessionaire-run historic lodge and cabins in Starved Rock State Park on the Illinois River, log cabins in White Pines Forest State Park near Oregon on the Rock River and a modern resort and conference center at Illinois Beach State Park on Lake Michigan, north of Chicago.
Wisconsin
Wisconsin parks are prohibited by statute from having cabins that compete with privately owned resorts.
They do have eight modern cabins for people with disabilities.
They're in Buckhorn, Harrington Beach, High Cliff, Mirror Lake, Kohler-Andrae and Potawatomi state parks and at Ottawa Lake in the Southern Unit of Kettle Moraine State Forest and in Richard Bong Recreation Area.
More rustic cabins are at Copper Falls and Blue Mound state parks.
Last updated on January 24, 2022