A yen for yurts
Cozy camping huts have come to the Midwest from Mongolia, with love.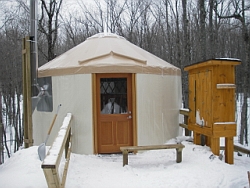 Yurts have popped up all over the Midwest, from Michigan to Iowa and now, to Minnesota state parks.
Seven new yurts have joined 88 camper cabins in Minnesota parks and recreation areas. Two are in Afton State Park on the St. Croix River, near St. Paul.
Two are at Glendalough State Park in west-central lakes country, near Battle Lake. And three are in Cuyuna Country State Recreation Area, the mountain-biking destination between Brainerd and Mille Lacs.
Why yurts? They rent for the same price as camper cabins. But the round, canvas-sided huts are much cozier, especially in winter, when they're heated by wood stoves.
I've stayed in yurts twice, once on a 30-below night in January and once on a 70-degree weekend in June. Both times, I slept like a log.
The round, cloth-sided hut called a yurt — or ger, in Mongolia — originated in Central Asia but now can be found in state parks across North America.
Oregon provided the first yurts for its campers in 1994 — "No tent? No RV? No problem. We've got you covered" — and now offers them in three dozen state parks, mostly along its famous coast.
Then Washington state built some yurts, and Idaho and Colorado, and now yurts can be found in two dozen state and provincial parks across the continent.
They're a step up from tents, literally. Built on wooden platforms, they often have a small deck.
Their doors lock, and windows have screens with roll-up covers. Inside, they're equipped with a table, chairs, bunk beds and, usually, a futon sofa sleeper for two. Most have electricity.
It's camping for people who are a little lazy or appreciate a little luxury — which is to say, most of us.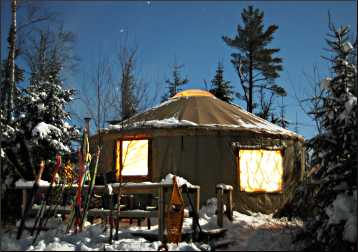 Trip Tips: Yurts in the Upper Midwest
Yurt guests need to bring bedding, pillows, towels and toiletries, plus cooking equipment and matches. No cooking is allowed inside the yurt; generally, each one has a picnic table and fire pit and/or grill.
Guests may want to bring camping chairs if the yurt has a deck. As at camper cabins, guests are expected to clean up after themselves. Often, there's a two-night minimum.
For information about camper cabins, see A roof in the woods.
Minnesota
Three state parks offer yurts, $80. Two are in Afton State Park near Afton, two in Glendalough State Park near Battle Lake and three in Cuyuna Country State Recreation Area near Brainerd.
Six of the yurts sleep seven; a smaller yurt in Glendalough sleeps three. The Glendalough yurts can be reached only by hiking, biking or paddling.
Like camper cabins, they can be reserved 120 days in advance. Pets are not allowed.
Iowa
McIntosh Woods State Park, on the shores of Clear Lake in north-central Iowa, rents two yurts that each sleep four on a double futon and bunk bed, $35-$60 per night or $210-$360 weekly. The bathhouse is disabled-accessible, as is one yurt. Guests can bring a boat or raft to use off the dock.
Yurts can be reserved up to a year in advance, 877-427-2757. Weekends go fast, but there are often weekday openings. The park is three miles from downtown Clear Lake, which can be reached via bike trail.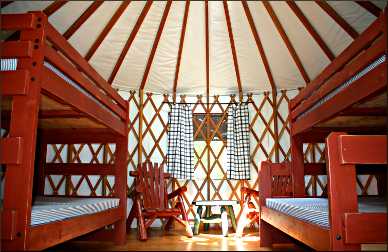 For more, see A yurt on an Iowa lake.
Near Winterset, famous for its covered bridges, Pammel Park rents two yurts that sleep eight, $70. They're available from April through October.
Michigan
Porcupine Mountains Wilderness State Park has four yurts that are open year-round and can be reached only by trail. Two of the yurts are on the lake, just west of the Union Bay campground.
One is near the Union River, a three-mile hike on the River Trail, and the Lost Creek yurt is a seven-mile hike or ski over hilly terrain.
The yurts do not have electricity or running water. Wood is provided. They sleep four, and the cost is $68.
Reserve up to six months in advance at Michigan DNR Reservations, 800-447-2757.
There's also a yurt in Muskegon State Park on Lake Michigan, in remote Craig Lake State Park on the Upper Peninsula and in Pinckney Recreation Area and Waterloo Recreation Area, both near Ann Arbor.
Tepees are available in Cheboygan State Park, $30. Reserve up to six months in advance, 800-447-2757.
On the Keweenaw Peninsula, Mount Bohemia ski resort has trailside yurts that sleep 10 and a big yurt that sleeps 13. a yurt village on its mountain. Guests have access to an activity building with a fireplace, TV and small cooking area. 906-289-4105.
Wisconsin
Wagon Trail Campground near Rowleys Bay on the Lake Michigan side of Door County rents six yurts that sleep four.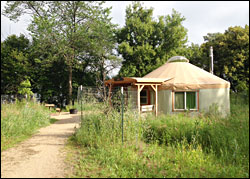 On the Namekagon River near Trego, Namekagon Waters Retreat rents a yurt with a sauna, 715-635-2027.
Bayfield County rents two yurts, one between Bayfield and Washburn and one south of Cable.
Ontario
Ten provincial parks, including Pancake Bay on Lake Superior's east shore, rent 76 yurts that sleep six and rent for $101 Canadian ($114.13 with tax).
Reservations can be made up to five months in advance. Call 888-668-7275.
Manitoba
Ten provincial parks in Manitoba rent yurts that sleep five. Pets are allowed in some yurts. Reservations open the first Monday in February. Call 888-482-2267.
Last updated on December 7, 2020