Amish country
In a corner of Minnesota, folks are different, yet not so different.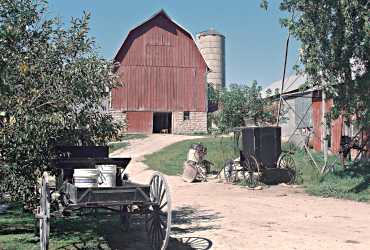 In southeast Minnesota, some of the locals stand out a bit.
They travel in horse-drawn buggies, they dress only in dark colors and they speak an archaic German dialect. In their homes and workshops, they refuse to use electricity, natural gas or plumbing, all of which would literally connect them to the outside world.
They're Old Order Amish, direct descendants of a Swiss religious group that believed Martin Luther and other Reformation leaders didn't go far enough in returning the church to strict Scripture.
Around 1720, they arrived in America, where they were free to pursue a humble lifestyle that adhered strictly to John 2:15: "Do not love the world or the things in the world; if anyone loves the world, love for the Father is not in him."
Families of Old Order Amish from Ohio began moving to the rolling countryside around Harmony in 1974, and today, they're mainstays in the local economy. They work hard, raise their children, go into town to buy treats and occasionally socialize with their "English" neighbors.
In many ways, the Amish are not that different from anyone else — although their children might be even cuter.
As my friend Adele and I drove near Harmony one afternoon, we saw an Amish teacher and two children in front of a one-room schoolhouse, untying a pony with a swishing tail. Nearby, more children in various shades of blue and black skipped down a country lane, holding hands and swinging their lunch buckets.
"Oh, my God, is there anything sweeter?" Adele said.
I tried to think of the last time I'd seen a schoolchild skip — or even walk home from school. In the age of computers, Amish country could be the last vestige of Rockwellian America.
The next afternoon, we came upon a clutch of apple-cheeked Amish children who had just finished making a snowman — an Amish snowman, with a black hat and cape, a blue scarf and a carrot for a nose. They hopped around it in excitement, shy but happy to have us admire their handiwork.
We gazed at the charming scene, barely containing the urge to whip out cameras (Deuteronomy 5:8, "Do not make idols").
"That's worth the price of admission right there," Adele said. "They're so adorable."
To tourists, the Amish are fascinating. The bashful youngsters are irresistible, but it's also hard not to stare at the women in muslin prayer caps and dark skirts and the men in long beards and straw hats, who often are seen clattering along highways in buggies pulled by retired racehorses.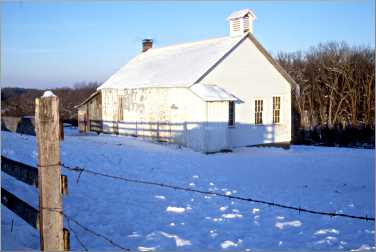 To the Amish, we tourists must seem just as exotic, with our flashy cars and loud voices and plumage as bright as peacocks. But they don't stare, mostly because they're nice people but also because they need our business.
Though the Amish pay taxes, they don't accept Social Security, Medicare, farm subsidies or any kind of insurance. So, many of them save for a rainy day by selling homemade goods — baskets, furniture, baked goods, jams, rugs, soaps, quilts.
It works out pretty well for those of us who are addicted to Amish cashew crunch or need some sturdy furniture. Anyone who sees signs advertising Amish goods is free to stop and shop, except on Sundays.
But when Adele and I visited, we hired local guides not only to drive us around but to tell us all about the culture and the families and farms we were visiting.
Many locals have become friends of the Amish, giving them rides to doctor's appointments and to bus and train stations, from which they travel the country like anyone else.
Our first guide was Richard Scrabeck, whose great-grandfather was a founder of Harmony. It was the holiday season, so we asked him to take us on a shopping tour. As we drove to our first stop, he filled us in on the 130-family enclave, the largest in Minnesota.
"Within a community, everyone does things the same way," he said. "The rules are very rigid, called Ordnung, and they're not written down, but everyone knows what they are."
On the Yoder farm, Scrabeck said, four daughters in their 30s still live at home, where they make quilts and weave baskets in an especially ornate style. But the farm shop was closed, so we pressed on.
"Amish women in this community are not very oppressed," he said. "Women in church do have a vote, and they're allowed to hold office. Men and women might mix their duties; men will go to get groceries and bring them home. Don't get me wrong — they're male-dominated, but not to the degree you'd think."
It was early on a Friday afternoon, but Amish children already were spilling out of a simple white-frame schoolhouse.
"Friday is German day; that's the day teachers teach in German or Pennsylvania Dutch," he said. "They learn reading, writing and 'rithmetic — no science, no geography, no history. A 15- or 16-year-old can teach, but once they get married, they have to quit."
Our next stop was the basket and furniture shop of Tobie and Cevilla Hershberger. There was an open box of money and a sheet for customers to mark down their purchases, and at first we thought we'd have to serve ourselves.
But soon Cevilla Hershberger appeared, an elfin woman in her 50s with dimples, light green eyes and a high, girlish voice.
As we shopped, she chattered happily about her children and an upcoming trip to South Dakota and laughed at the suggestion she might have time to use the second-hand cross country skis we saw propped against the house.
Cevilla Hershberger, Scrabeck said, was first in the community to make baskets, and all of them were dated and signed, some by her son, Aaron, who has cerebral palsy.
It turned out one of the couple's other nine children also has cerebral palsy and one has Down's syndrome; the planned trip was to a clinic that might be able to help them.
But no one could seem more delighted with life than Cevilla Hershberger.
"See, that's why I wanted you to meet her," Scrabeck said. "She's a winner, just a very nice person."
Her upbeat approach, he said, is shared by most Amish.
"That surprises a lot of people," Scrabeck said. "They're happy people. They're satisfied with life."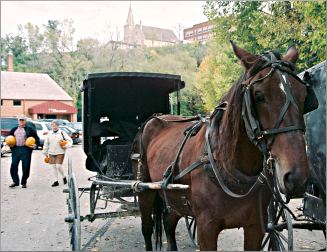 We left with quilted potholders made by Tobie Hershberger's mother, a flat basket with leather handles made by his brother and bags of Cevilla Hershberger's buttery cashew crunch, which turned out to be the best we found all weekend.
At our next stop, Countryside Furniture, we admired a cedar chest, a double dresser with a jewelry rack behind the mirror and a small cherry bench with a hinged seat.
The artisan was Dennis Hershberger, a slight man with black hair and clear green eyes, and when I commented on the dropping temperatures outside, he smiled and joked that his prices ought to drop as well — so he reduced the cherry bench I wanted from $122 to $115.
Many of the Amish, Scrabeck said, have wonderful senses of humor.
"They do laugh," he said. "I love 'em. I get along with 'em pretty good."
We stopped next at the 1865 limestone church in Lenora, a good-sized town until Harmony and Canton paid the railroad to come their way instead. We bought lavender soap on one farm and a quilted apron on another, helped by the niece of the owners, who were traveling.
"The young people, I marvel at the fact they want to stay with that lifestyle," Scrabeck said. "Once I was talking with one of Cevilla's sons on a day when it was slippery on the roads, and he said, 'We can get around better with one horsepower than with your 200 horsepower.'"
The next day, Adele and I toured the Utica community of Amish, north of Lanesboro. Our guide was Marv Eggert.
"This community definitely is more progressive," he said. "The Amish in Fillmore County are the most conservative anywhere. Here the buildings are much less uniform; down there, the shape is exactly the same. I've been inside homes up here, and they actually have decorations on the wall; down there, you wouldn't find anything other than a clock."
In many yards, we saw swing sets, and a pile of red, orange and purple sleds was propped against a schoolhouse. But theologically, Eggert said, the two communities are much the same.
"Part of the philosophy of Amish life is a greater emphasis on the strength of the community than on individuality," he said. "They're much different from us. We always look for ways to stand out, toot our own horn, make ourselves more important. To Amish, that's a totally foreign way of life."
It turned out that most of the community was at a holiday party; we found out when we stopped at the woodworking shop of Orla Yoder.
Five of his children had married five brothers and sisters in Wisconsin and were in town visiting, but they were at the party, so he was holding down the fort at home, where he now lives in the "grandpa house."
He grew up in the Oelwein-Hazleton Amish community in Iowa, he said, and bought a farm there as a young man. But he moved to the St. Charles area so he could have a larger farm, and it turned out to have less tillable land than the old one.
"I thought I'd take it easy, but it hasn't worked out that way," said Yoder, wearing only a frayed cotton jacket in the chilly shop. "It seems as if the grass is always greener on the other side."
Adele bought an oak quilt rack, and as we left, he wished us Merry Christmas.
No one was around at the cabinet shop at which we stopped next, but as we drove away, a red truck with an Amish man in the passenger seat came careering around a corner, pulling a trailer that was loaded with hay bales but had only three wheels.
It ran us into the snow-filled ditch, but after a few tense moments, Eggert managed to inch us out.
"You don't get that kind of excitement in the Cities, and I'm OK with that," said Adele, relieved.
Across the Winona County border, we passed an Amish horse-training facility where a splendid barn was under construction. Nearby, we stopped at Daniel Gingerich's custom furniture shop, filled with tables, chests and the classic Amish high chair that converts to a rocking horse and desk as the child grows older.
"He sends things coast to coast," Eggert said. "You send him a picture, and he'll build it."
Like other woodworkers, Gingerich uses a diesel engine to power the drive shaft that runs the machines. Electricity is forbidden, Eggert said, because it would be a conduit for more than energy.
"My interpretation is, as soon as you introduce electricity in the home, you're opening yourself to the influences of the world," he said. "It's so hard to resist radio and TV. So many things are just things, and the Amish try so hard to squeeze materialism out of their lifestyle."
They may hire a shuttle to take them to Wal-Mart, though, and Eggert says he knows one Amish woman who has Schwan's deliver ice cream that she stores in a neighbor's freezer.
"Amish are people, too," he says.
When we were touring, we weren't able to sample the baked goods Amish women make in summer. But as the days grow longer, the women will be stoking their stoves by daybreak, turning out freshly baked bread, glazed doughnuts, fruit turnovers and pies.
They'll do a land-office business. Because when it comes to that kind of temptation, we're all alike.
Trip Tips: Touring Amish country in southeast Minnesota
Getting there: It's two hours south of the Twin Cities.
Amish tours: Every tour is different, based on the personal experiences of the guide. At Amish Tours of Harmony, people can choose a ride-along guide, some of whom will drive if asked, or go on one of the regularly scheduled van tours. Tours last two to three hours.
Both tours are given Mondays through Saturdays year-round and include stops at Amish farms as well as other attractions, such as Austin's Angora Goat Farm and the 1865 Lenora church. Reserve at 800-752-6474.
In Lanesboro, Bluffscape Amish Tours offers tours Monday through Saturday from the Feed Mill.
Buying Amish goods: Motorists who see signs advertising Amish goods are free to drive onto the farm and shop, except on Sundays. If a family member isn't in the shop, one usually will come out in a few minutes; some sell on the honor system.
The Harmony community is most concentrated north of Canton; the Utica community can be found north of Lanesboro, in the southwest corner of Winona County.
In summer and fall, there are always Amish vendors at Lanesboro's Saturday-morning farmers market in Sylvan Park, and usually there's a buggy parked at the junction of U.S. 52 and Minnesota 16 and outside Country Grapevine Gifts and Cafe in Canton, east of Harmony on U.S. 52.
About a mile north of Canton on County Road 21, the Amish run their own country store.
It's most fun to buy cashew crunch from the maker herself, but it also can be found at shops in Lanesboro and Harmony. Some cashew crunch is better than others; look for cleanly broken pieces of brittle that are smooth, not grainy-looking.
Right off U.S. 52 on the north end of Harmony, R&J Woodgoods has a fine selection of high-quality Amish furniture made in Ohio. It's run by former members of the Harmony Amish community.
Accommodations: There are many lodgings available, especially in Lanesboro. Starting in June, they fill up every weekend, so reserve as early as possible.
For more, see Lodgings in Lanesboro.
For more about Lanesboro, see The belle of bluff country.
For more about Harmony, see Cave country.
Information: Lanesboro tourism, 800-944-2670.
Last updated on February 10, 2022